WAVY – The Last Voyage of Sofie and Captain Crocs, we got Nikolai Schirmer and his friend and cameraman Joonas Mattila to answer a few blackcrows questions…
What got those two together on a boat in the northernmost parts of Norway, skiing couloirs and flying drones while snow covered the ground to the frozen shores?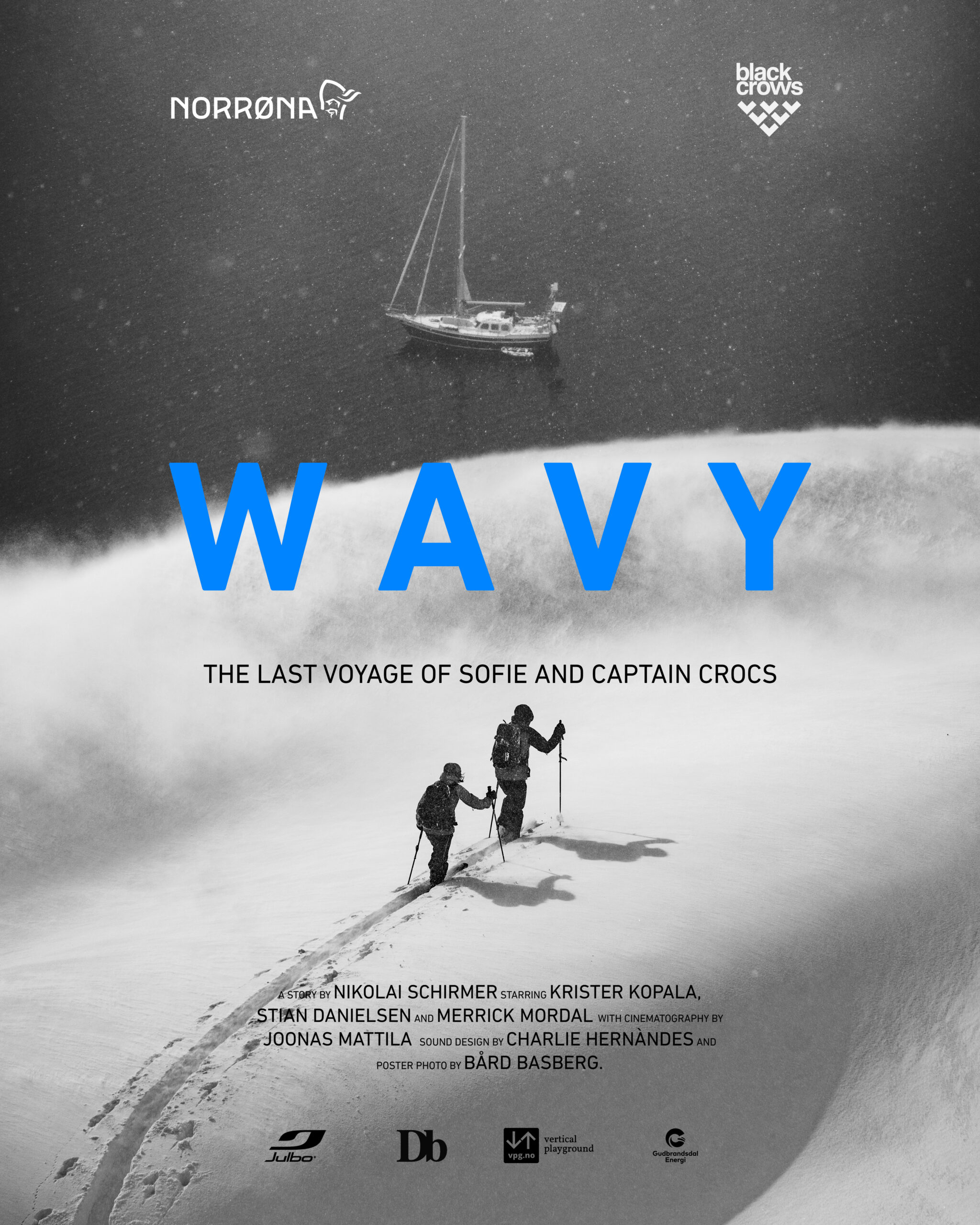 blackcrows : Joonas, Niko, can you describe one another? Who is this guy?
Joonas : Nikolai comes from Tromsø, Norway. As his family lived in different countries throughout his child and teenage years he's really fluent in English and gets along with any kind of people. Skiing became to be his main passion and he was smart enough to combine student loan, studying online, filmmaking and skiing to a lifestyle where he would be in the best places to ski and make films and still pass the annual exams in the spring. [Niko is a full fledged lawyer now]. He is one of those persons who seem to succeed in everything he does, but being this good comes from a lot of training. Together with his siblings they each needed to do one dish per week for the Schirmer family : Nikolai made Pasta Bolognese for 10 years straight. He's very good at it!  
Niko : Joonas is from Rovaniemi Finland. He grew up with the classic Finnish jib kids, and like them he was way too good, doing double flips while there was still a fairly exclusive club doing them. After a teenage knee injury that would only years later be diagnosed as a torn ACL, Joonas is not one to complain about pain, he turned his focus to filmmaking. After serving his compulsory time in the army film division, documenting the neighboring Russians with the longest of lenses, he went straight to work making ski and snowboard films, splitting his time between the old snowboard crew turned real production house at Flatlight Films and his independent projects.  
Joonas has a special eye for the mountain, is a master of the drone, and will not stop working unless you force him to. A lesser known side of him is his unrivaled salmon casserole.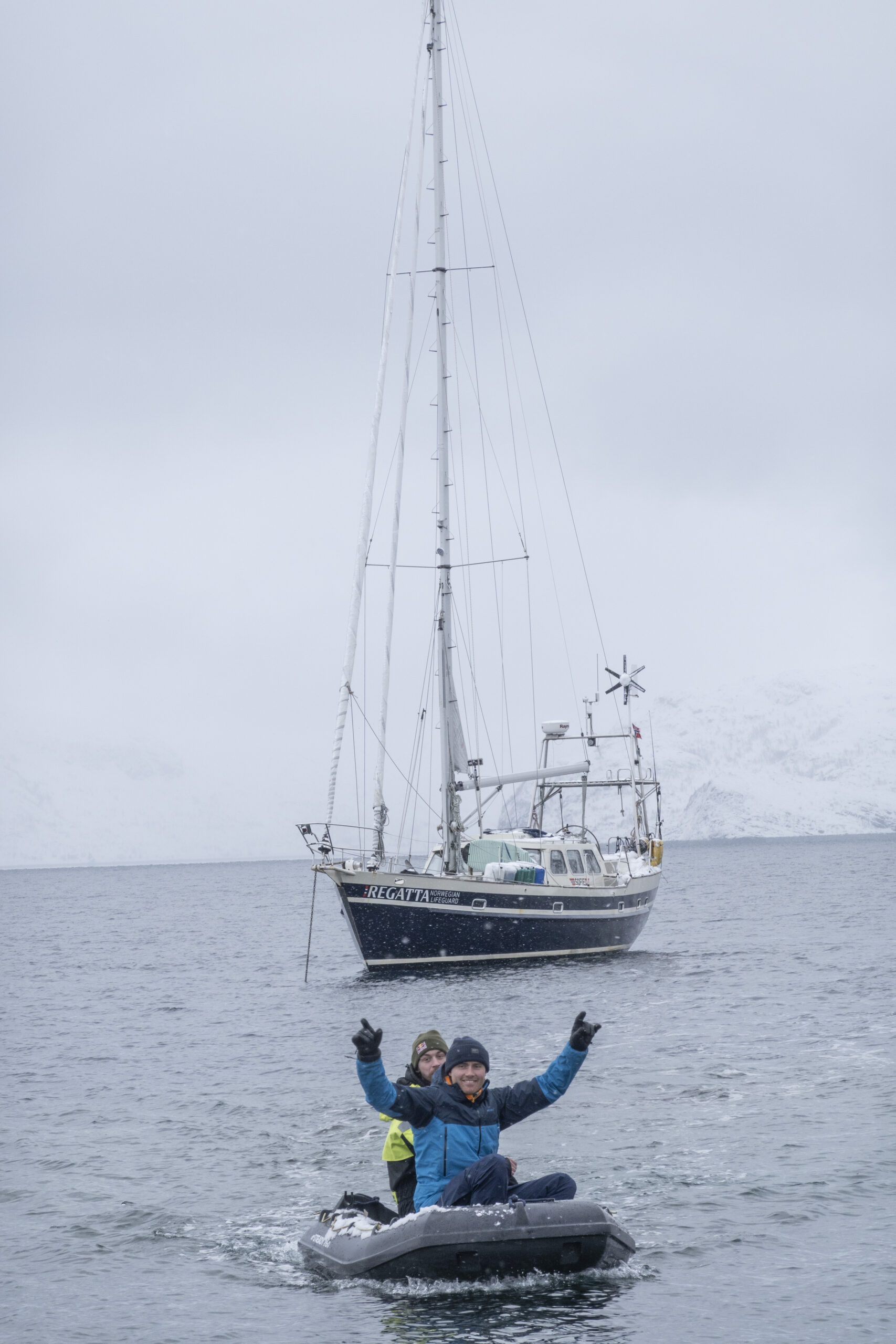 How did you two meet? 
Joonas : We met through a common friend called Jussi Taka. I visited Jussi when he was living in Chamonix in 2016 and he introduced me to Nikolai. After skiing together a couple of days and showing my past ski film work to Nikolai, he invited me to a shoot in the next winter. It was a total game changer for me and it offered a chance to start shooting on the alpine peaks. 
 Niko : After the season ended in France one spring, I brought home a Finnish buddy, Jussi Oskari-Taka, who turned our collective of six bums living in a run down house to seven bums living in a run down house, with one living room turned into a bedroom. Jussi grew up with Joonas, and had him visit to make a watch advertisement together. I saw what Joonas was able to do with the drone and invited him to join me in Canada the following winter to film for the Shapes film that I was making with Flo Bastien.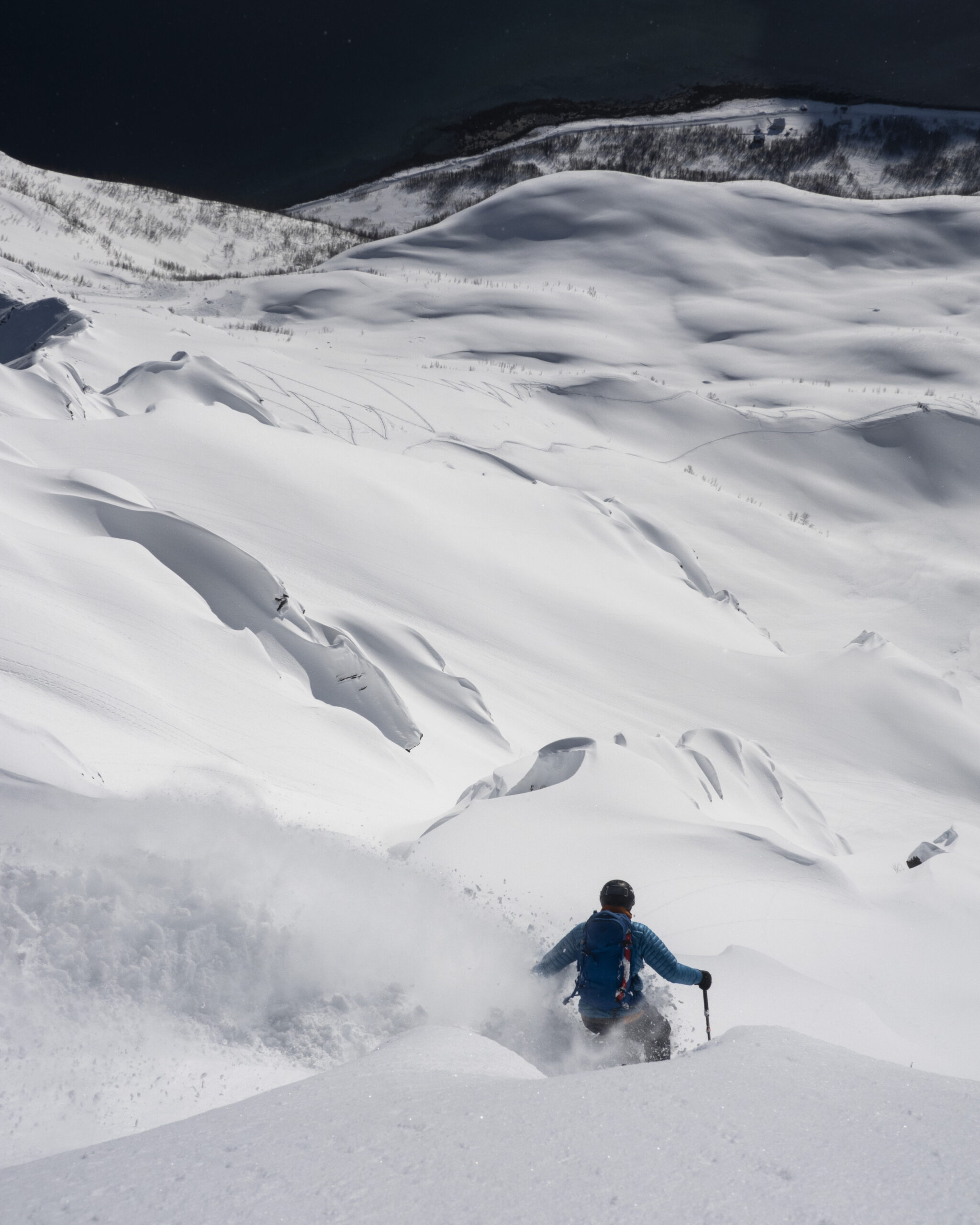 When and how did the wavy project start? 
Niko : I went to high school with one of the owners of Sofie, the sailboat in Wavy, so I called him and asked if we could use her for an exploratory cruise up north. My high school friend is color blind, so he's not allowed to captain a boat of that size. In steps Captain Crocs.  
 Joonas : In the early season we were quite productive with NOK series with Nikolai. All 10 episodes were filmed before April and therefore we had time to create something else as well. Nikolai had all kinds of ideas and for Wavy all pieces kind of clicked together. Good mix for making a movie: Captain Crocs and his boat, inspiring new zones to ski and the rough Arctic Ocean. 
 Niko : My goal for the trip was partly to ski Kvænangstindan, a looming, dark, vertical, mass of rocks way out in the ocean. But also to just be out there in adventure mode for a more sustained periode of time. Our film productions run through the winter, so sometimes it feels like a 9-5 office job broken up by the occasional ski tour, and I wanted to just get away and feel the vibe of seeing new places and skiing a ton.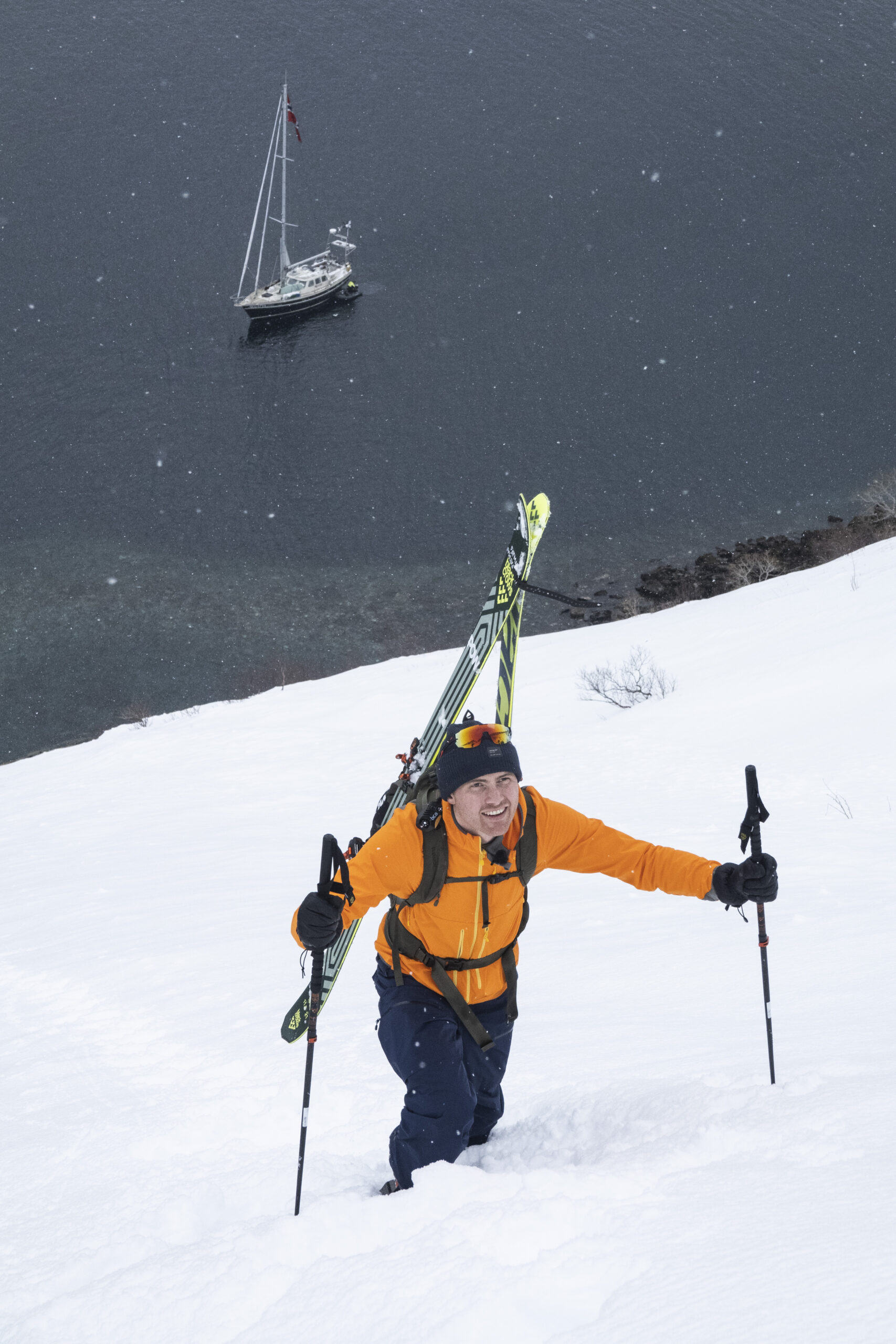 "When ski touring, the goal is generally to get on top of a mountain that's as far up from sea level as possible and with a boat you are always starting way down there at sea level."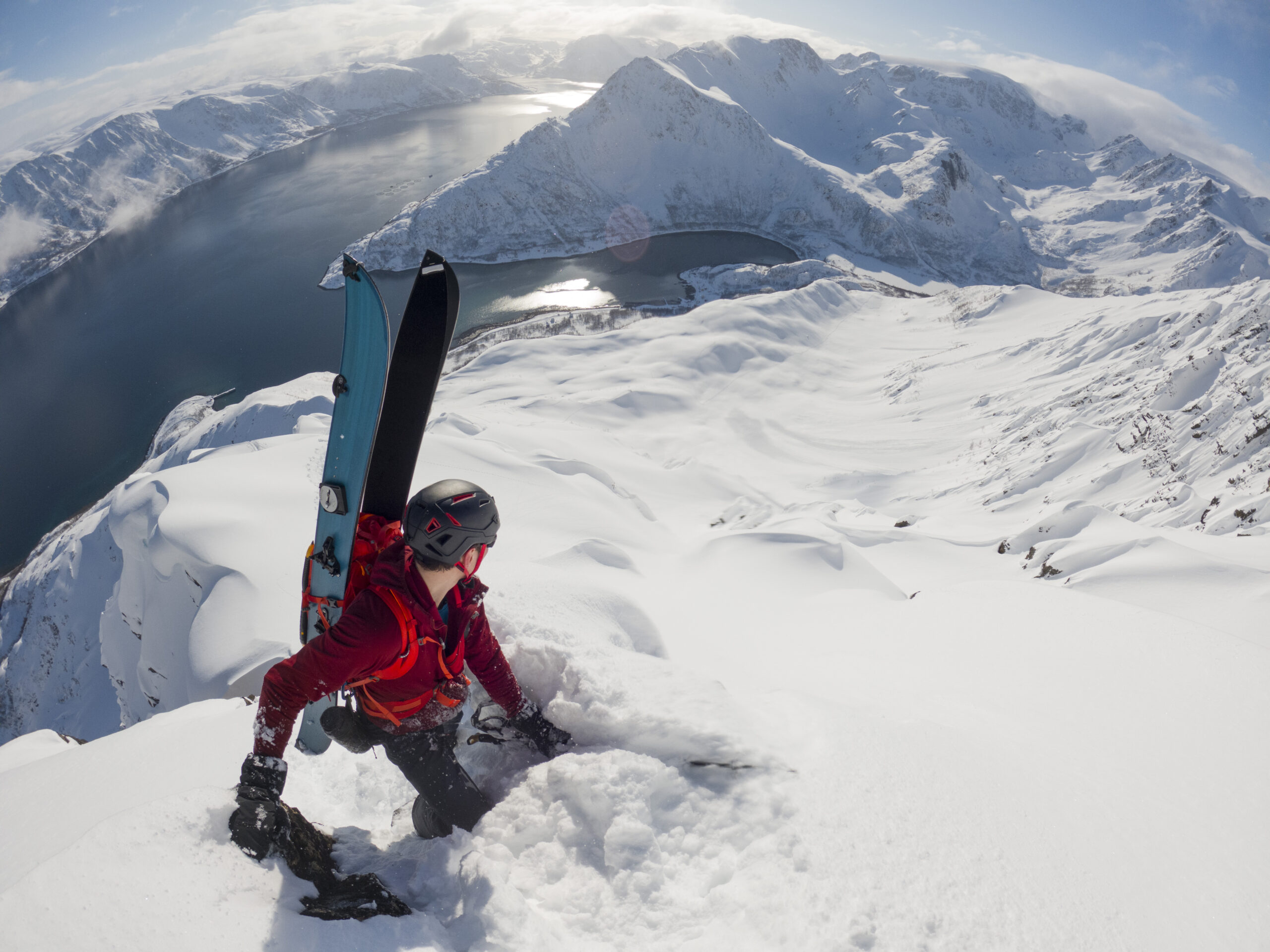 Sailing. In the winter. What can you tell us about it? It's a lot of constraints right? 
Joonas : Sailing for skiing in the winter was a dream setup for a cinematographer. We were all the time on "the movie set" and I could grab a camera whenever there was something happening like dolphins jumping around us. Luckily there was good and reliable electrics build on the boat so charging and transferring the footage was just like in a normal apartment.  
Niko : Frozen ropes gnawing at your fingers, a blizzard whipping your skin, it's terrible! I luckily didn't get seasick till the last open water crossing. When ski touring, the goal is generally to get on top of a mountain that's as far up from sea level as possible and with a boat you are always starting way down there at sea level. Cars can generally give you a little bit of a boost, vert wise, to kick off your ascent. That being said, the access is what's amazing about the boat, being able to go to all those places where there are no roads. There's also that element of van life, where you get down from skiing and you're already home, except a boat is way bigger and more comfortable than a van. Having a dedicated captain was pretty luxurious too, so he could sail while we were tired and/or sleeping.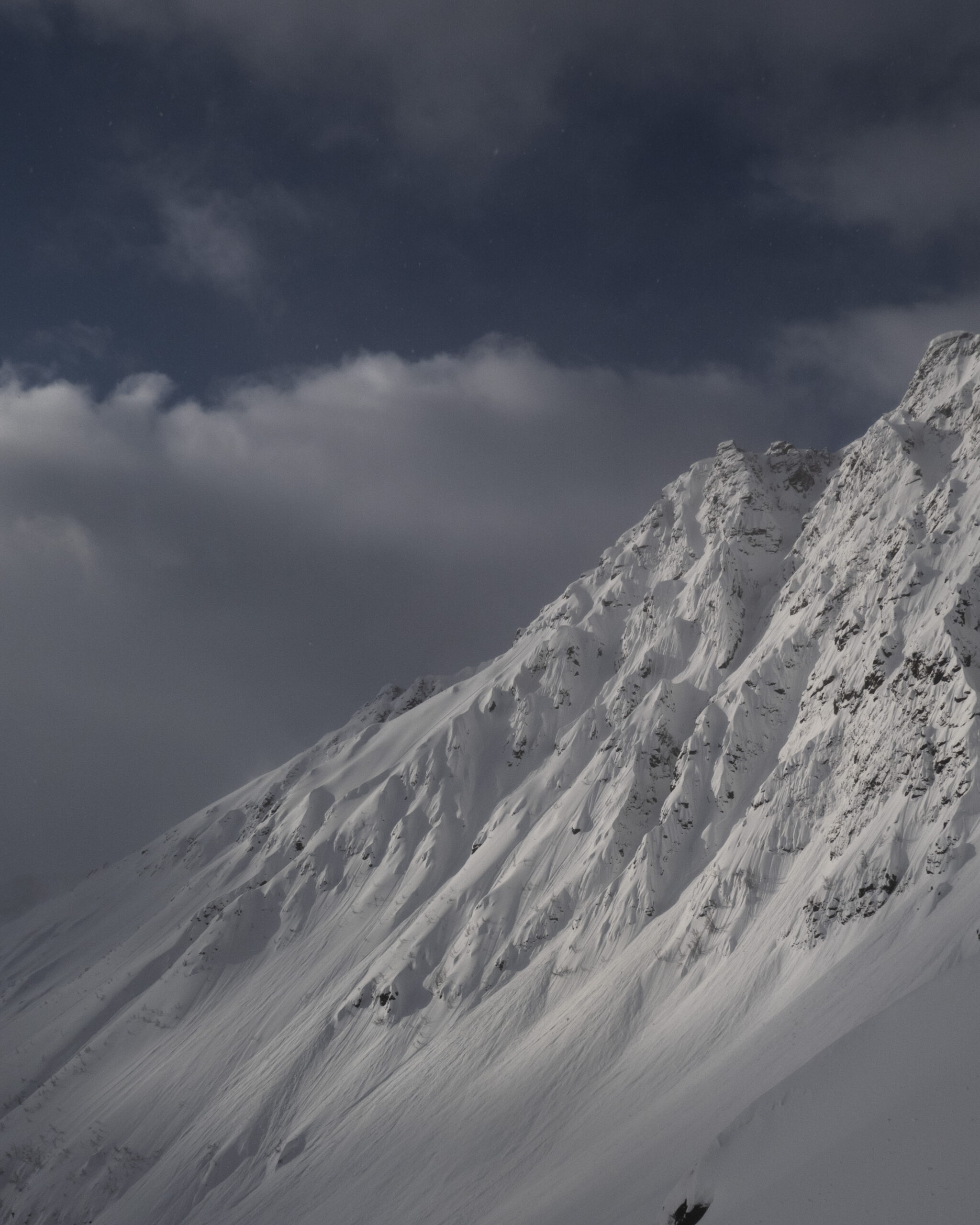 We can see you using those flat snowshoes, can you tell us more about those? 
Joonas : When I have got a chance to borrow those it has been a lot easier to follow these Norwegian beast on steep couloirs. Steep and deep is the best kind of terrain for that kind of snow shoes. On our first skiing day for Wavy we climbed easily one couloir which ended up being really icy on the top. Luckily there was easier way down on the other side so I didn't need to straight line like Niko and Krister! 
Niko : I've been using snow shoes like that since 2014 I think. It really is the most amazing tool for ascending when it gets too steep for skinning. You'll never want to do the regular post hole boot pack again. The ones we use in the film are the most advanced I've owned, made by the Swiss guys at Auftriib. Carbon plates make them half the weight of my old ones, and they have crampon toes for more versatility when the snow gets hard. 
Joonas, It seems like half the time it's very bad weather, how do you manage to film and fly the drone? 
Joonas : Warm inside cabin of the boat made the flying part easy on the Wavy shoot. Problem ended up being the landing : there was no way to stop the movement of the boat and there were a lot of ropes all around the deck. Somehow I avoided crashing the drone on that trip. Having a backup drone makes flying less stressful and I often try Mavic's limits. I haven't found them yet. It can handle really harsh winds and even little ice on the propellers won't make it crash. I guess I'm a bit of a reckless flyer. The worst is being cold and losing the feeling on the fingers.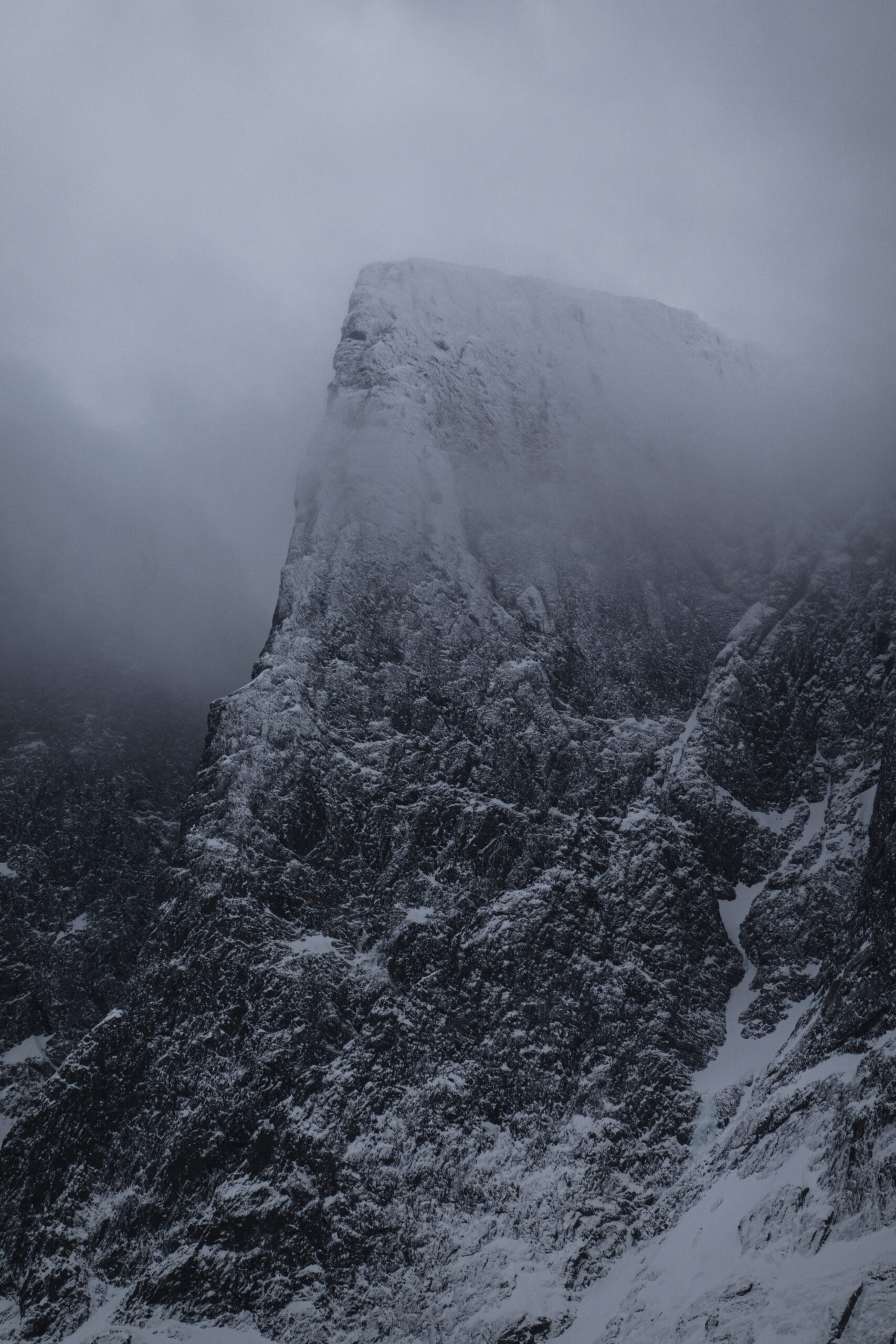 How would you best describe this trip, now it's a memory?  
Joonas : It was sure one of the highlights from the last season! For me it was the first time being on a boat like that and immediately when I stepped on board I realized that boats are like RVs, moving homes. As I have spend a lot of time on RVs (writing this also in one) I felt that I was in familiar environment from the beginning. I would hope that on the next sailing trip the boat would be a tiny bit more quiet though. It was quite rough to listen the boat make all kinds of noises all night and then wake up early to ski. We also hit challenging weather window on our two-week trip. Over half of the time was spent inside the boat waiting for the wind to calm down. I kind of liked it because it gave us a lot of down-days to rest.  
Niko : I've been describing it to my friends as the Lord of The Rings films: wildly entertaining, but given the choice you wouldn't want to live Frodo's experience. I skied the best snow of the season – the worst snow of the season. Feared for my life – had the time of my life. Just the full spectrum. The worst time for me was either being stuck in that storm for so long, or trying to get out of that avalanche. The best time was probably finding the zone of dreams.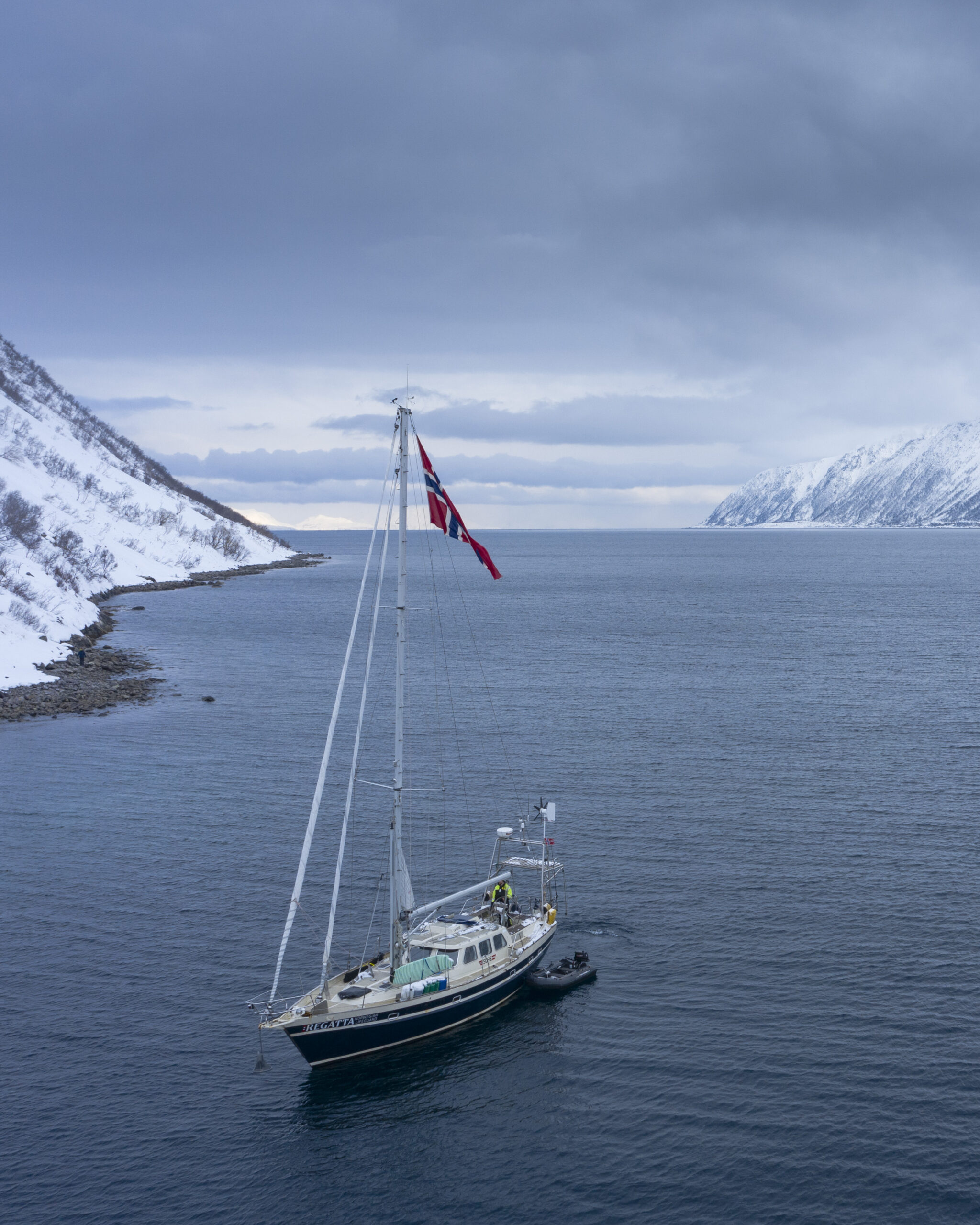 Joonas : Captain Crocs was the perfect captain for us. He wasn't afraid to try anchoring on weird places. The rest of the crew didn't basically know anything about anchoring but we were the ones saying where we wanted and Captain Crocs delivered us there. As a celebration of a successful trip we all jumped into the freezing Arctic Ocean. Stian was mental and jumped all from the top of the mast but for the rest us the little platform on the deck was totally enough. I think I have never swam as fast as coming back to the boat.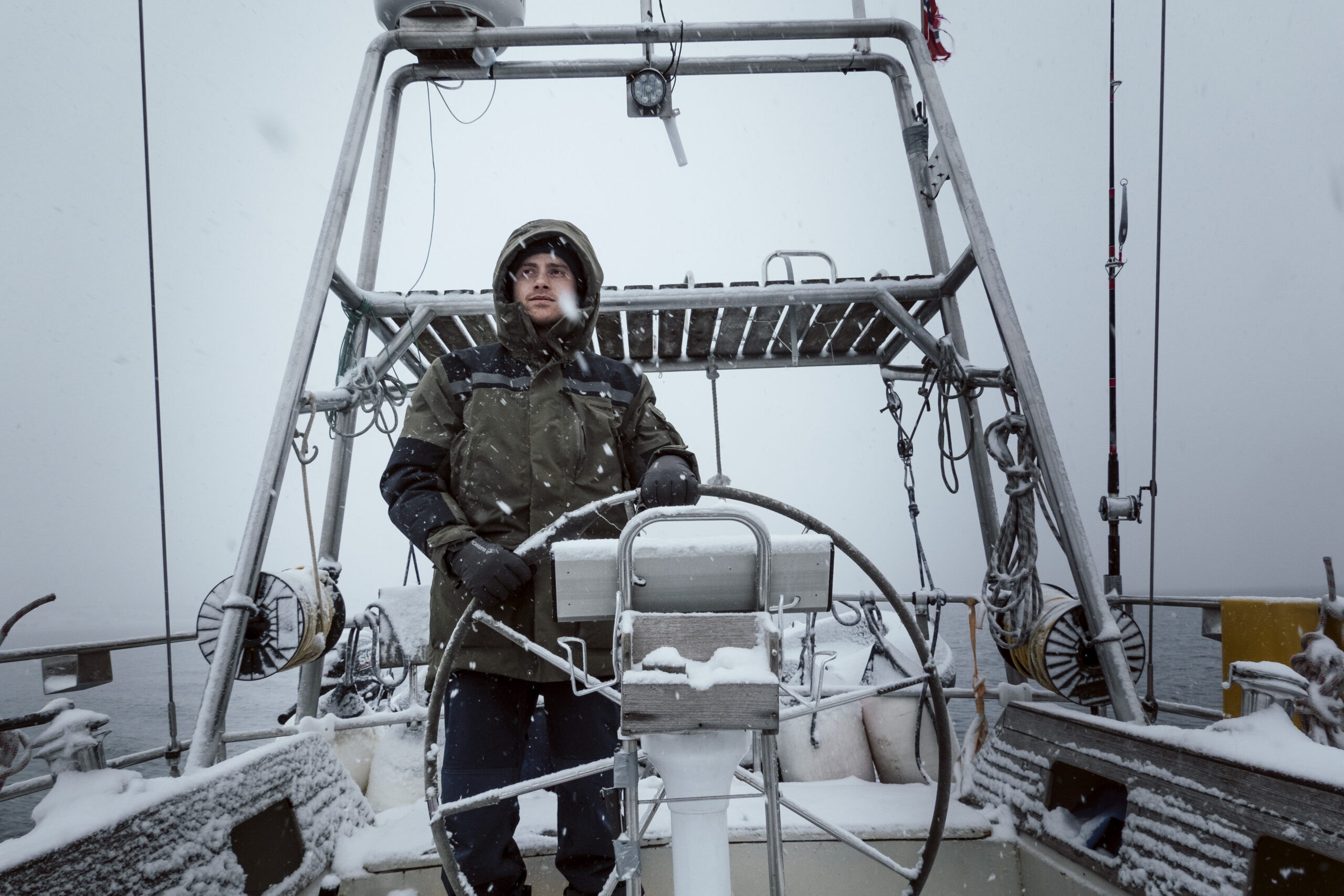 We also asked both skiers to ask 4 simple questions to one another, and we got a few more golden nuggets of ski wisdom. Here are Nikolai Schirmer and Joonas Mattila getting deeper into their relationship.
Niko : Joonas you grew up in Finland, which is pretty flat, how did you get such a good eye for capturing the alpine mountains? 
Joonas : I think it comes from spending my childhood and teenage years watching ski movies, Sherpas Cinema, Field Productions and Level 1 to name few that have influenced me. And as I started my filmmaking career in Finland I needed to make most our flat land and that required finding the perfect angle, suitable gear etc. Basically I had a lot of ideas and techiques ready even before filming on the alpine mountains.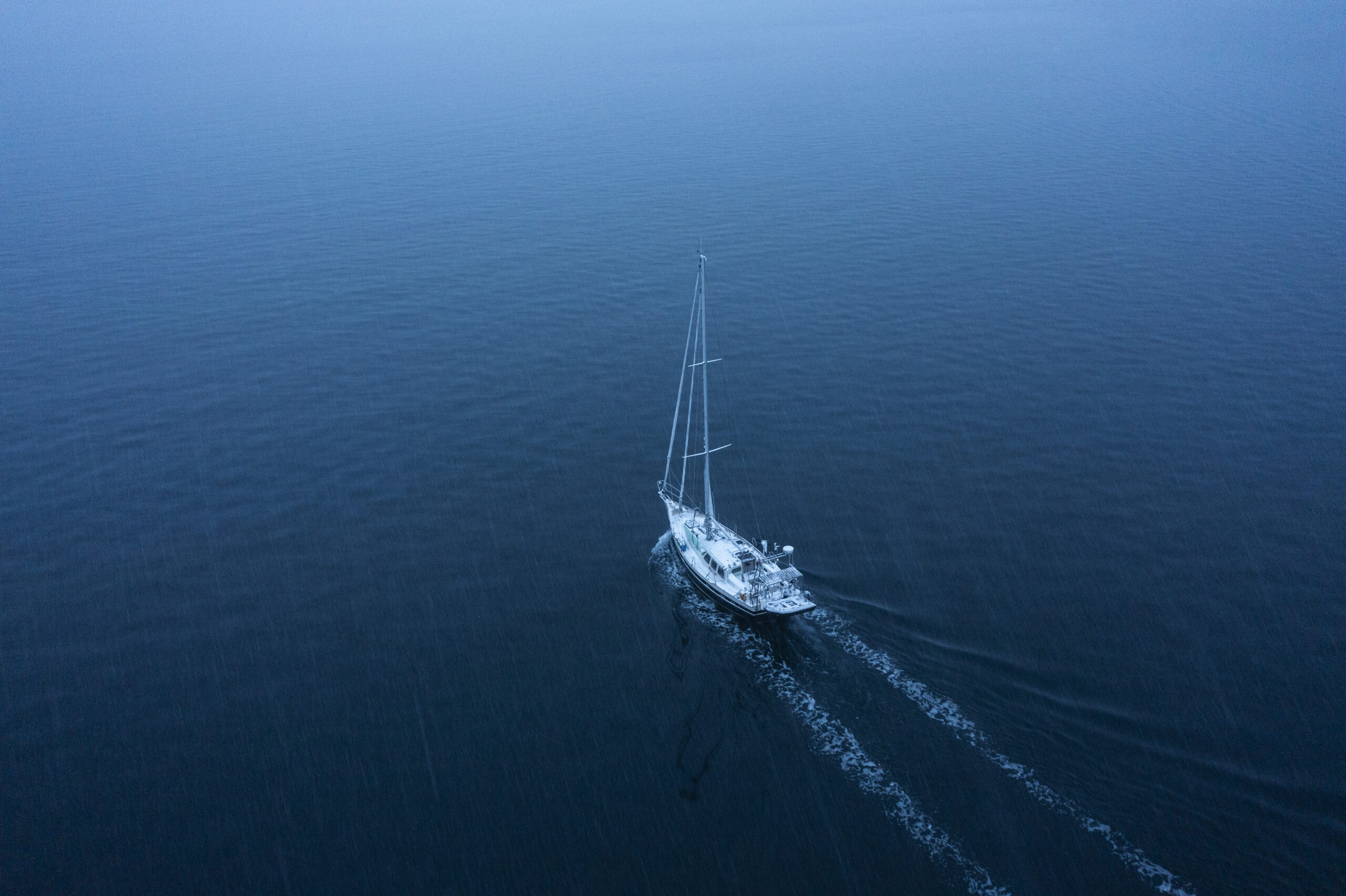 Niko : doing these productions that are more documentary focused, is it hard to keep the artistic touch you are known for? 
Joonas : At first it was a mental challenge to let go from multiple takes and controlled environment. On documentary style work I'm trying to be one step ahead of the action and predict what will happen next. That way I'm able to shoot more controlled and add some artistic touch. To be honest, being one step ahead of you and Krister was quite a challenge and luckily you boys were okay to wait for me in the middle of a couloir when I'm setting up the drone. 
Niko : what's the worst part of traveling with Norwegians? 
Joonas : One big difference that I have found out as a Finn to almost any other Nationality is eating rythm. In Finland we are used to having a free proper lunch at school and after finishing the school eating good lunch stays as a habit. In Norway people are used to eat only sandwiches and sometimes people look at me funny when I'm preparing a proper lunch.
"I had all kinds of crazy plans to ski through the wilderness area to Norway but luckily Nikolai was smarter than that and got me in legally."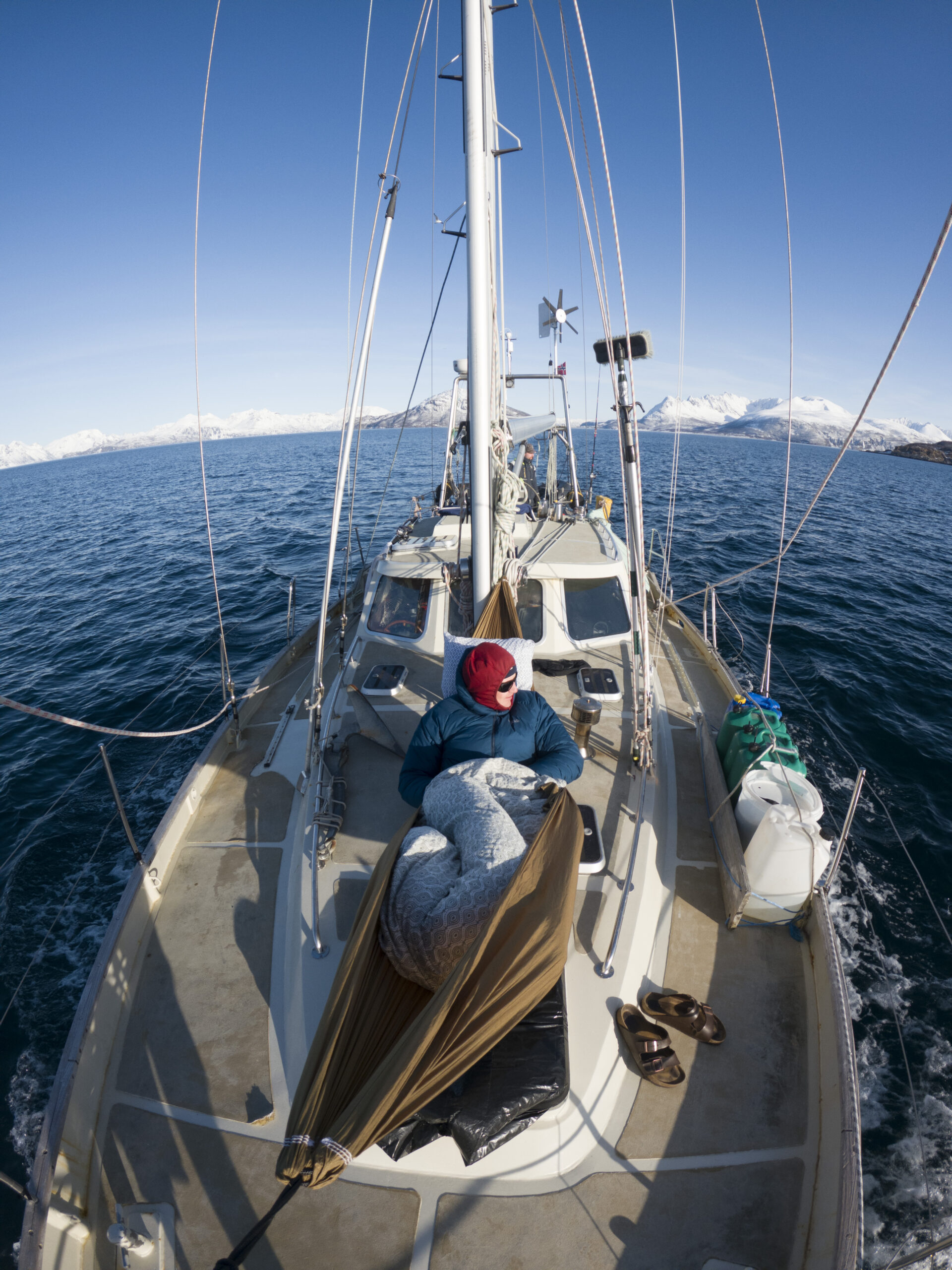 Niko : what were the biggest challenges working through covid? 
Joonas : Crossing the border between Norway and Finland. Last winter started well with easy to understand rules for travelling when covid numbers were low. All changed when I was visiting my family and girlfriend Salla in Finland during February. Suddenly Norway decided to make all travelling impossible. The news came out so late that I wasn't able to cross the border before they changed. I had all kinds of crazy plans to ski through the wilderness area to Norway but luckily you were smarter than that and got me in legally. I needed to stay in Norway the rest of the season because crossing the border was so uncertain. I'm glad that it paid of and we were able to produce NOK-series, a segment for MSP movie and even this full lenght documentary Wavy.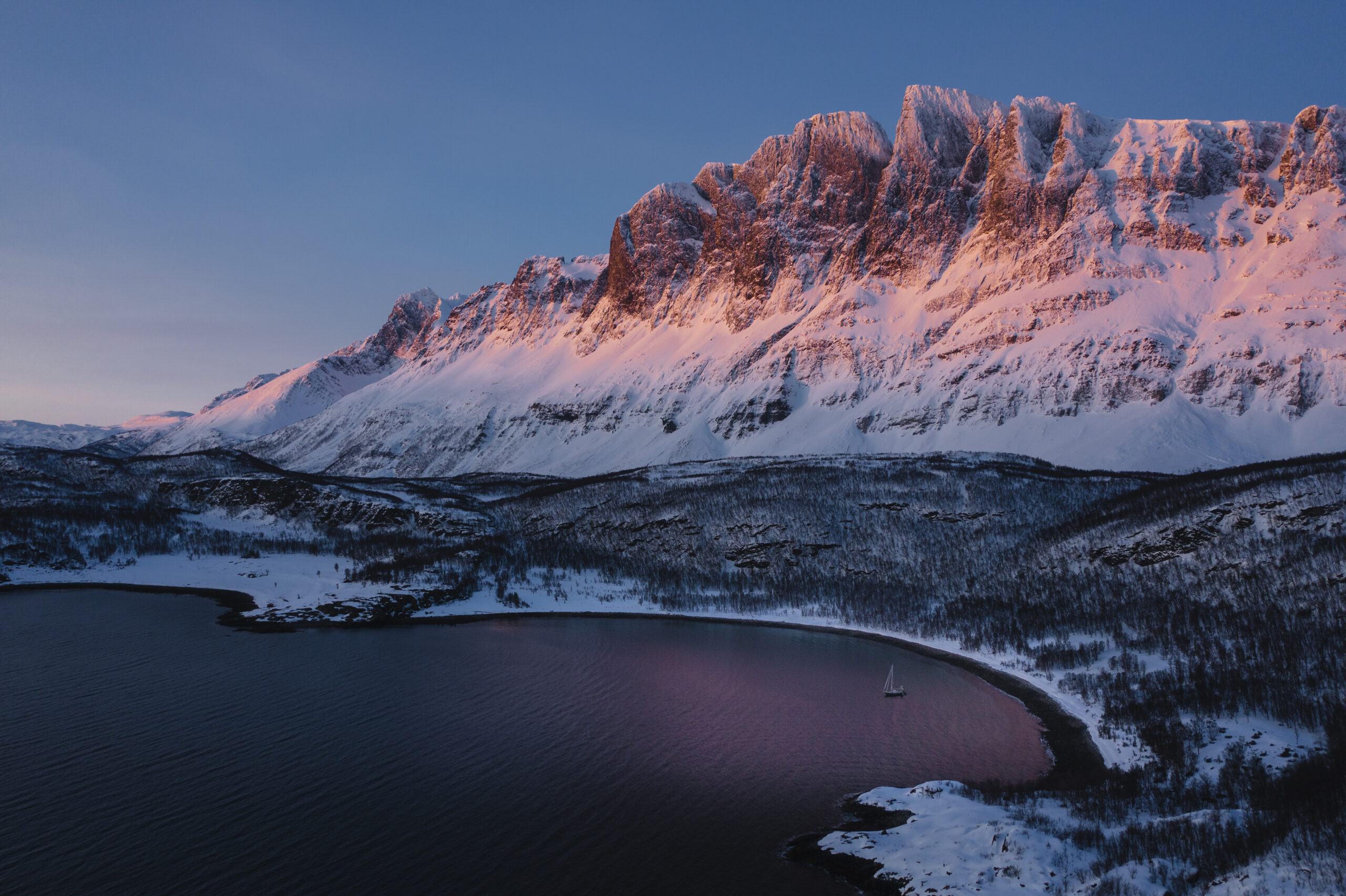 Joonas : Previously you have done quite a lot of film work as one man band. For example some of the Black Docs for Black Crows. Has it been difficult to let go from camera work and focus more to directing? 
Niko : It was definitely a bit stressful at first to not be able to look through the viewfinder. I'll admit I'm a bit of a micro-manager, and will stress about whether we get the best angles or not. It only took me one trip with you though, back in 2016, to realize you would generally do a better job than me at the whole camera game. Having you take care of that is amazing, as I can focus on my skiing and the broader picture of whether we're capturing everything we need to tie the story together. Division of labor is a great concept.  
Joonas : Were you worried when you started working with me on the mountains as I come from flat Finland? 
Niko : I think I was a bit reckless back in 2016 when we started working together haha. I should've definitely had more respect for the mountains. I had just been touring since I was a kid, and so I thought of it as the most natural thing in the world, and that anybody could do it. You are a good skier (I had seen your classic kangaroo flip), so I didn't really think twice about your skills in an avalanche situation for example. If I were to do it again I would've made sure we trained together before going out, so we both knew we could depend on each other if an accident were to happen.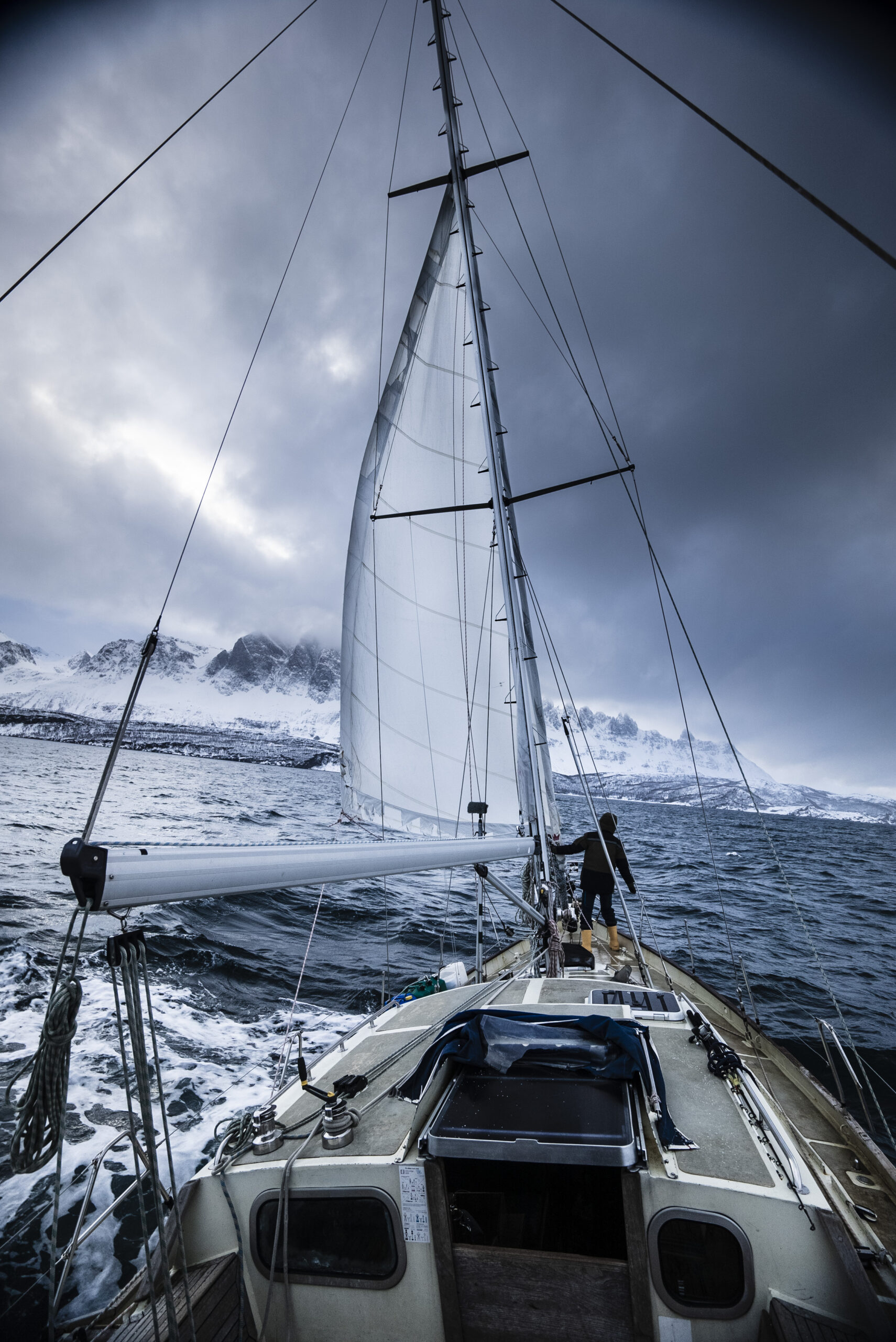 Joonas : What's your opinion about FPV drones?  
Niko : FPV drones seem incredibly hard to control! But I do like what they can do. You were just getting into them when we did Wavy, so I'm excited to see where you are at with them next winter.  
Joonas : What was the most memorable moment from Wavy-trip?  
Niko : I think what's etched into my brain the most from the Wavy trip is when we discovered the dream zone. I was really tired and beat up at the time. It had been a long winter, and I was feeling it. My motivation was really low. And then to find the terrain of my dreams it was like the fire was reignited. To feel that pure motivation to ski – that unquenchable thirst to get up there and shred – was very pleasant. 
interview made by Mathieu Ros
pictures from @bardbasberg