A story of love, death and lost skis in the Julian Alps, a mystical mountain range at the north eastern border of Italy, with the maestro crow Enrico "Moses" Mosetti.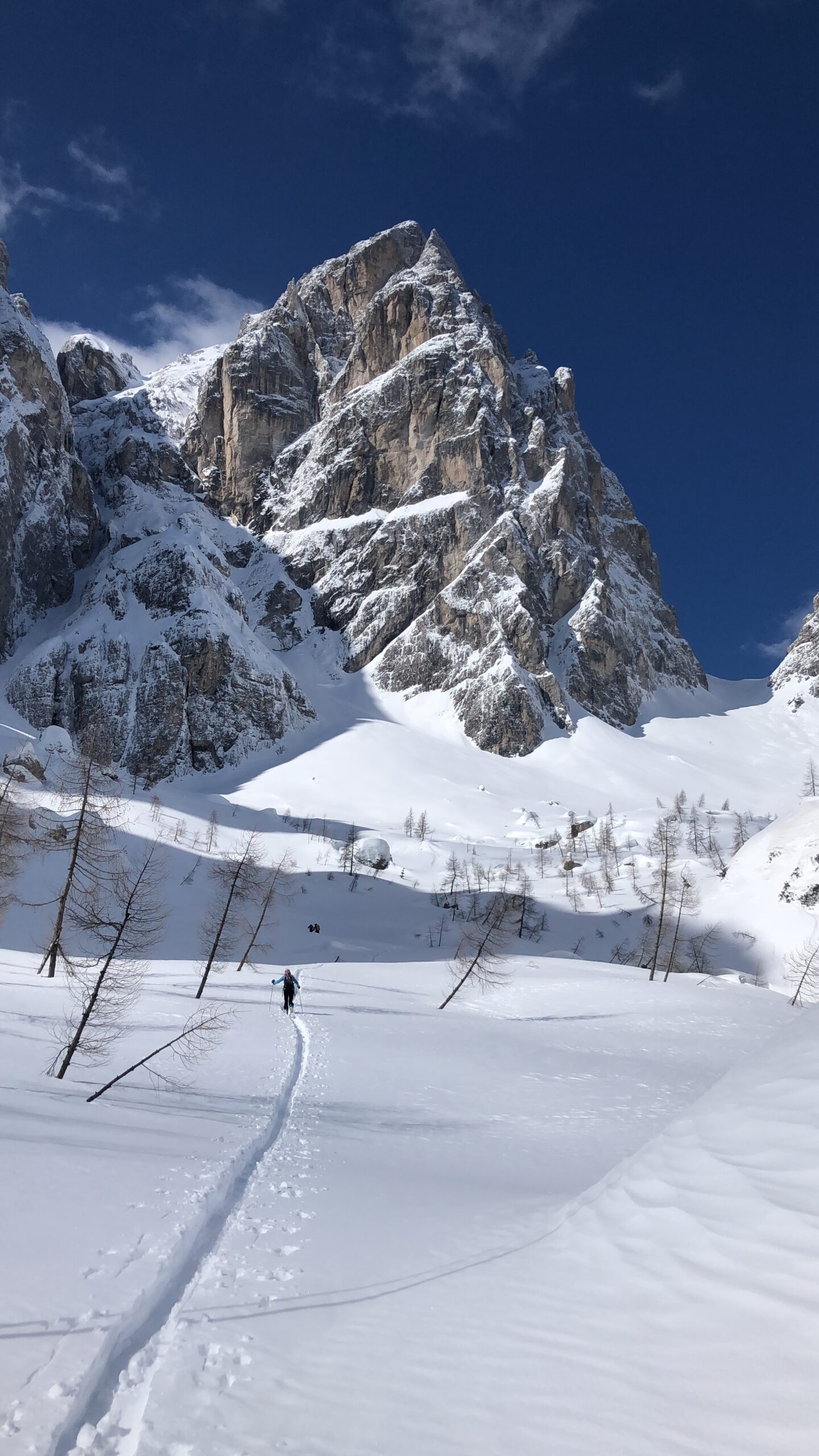 The best snow lies in the shady corners of the mountains, and especially in Julian Alps, where highest peaks does not rise above 3000m, and shade is something you aim for and live with all winter long.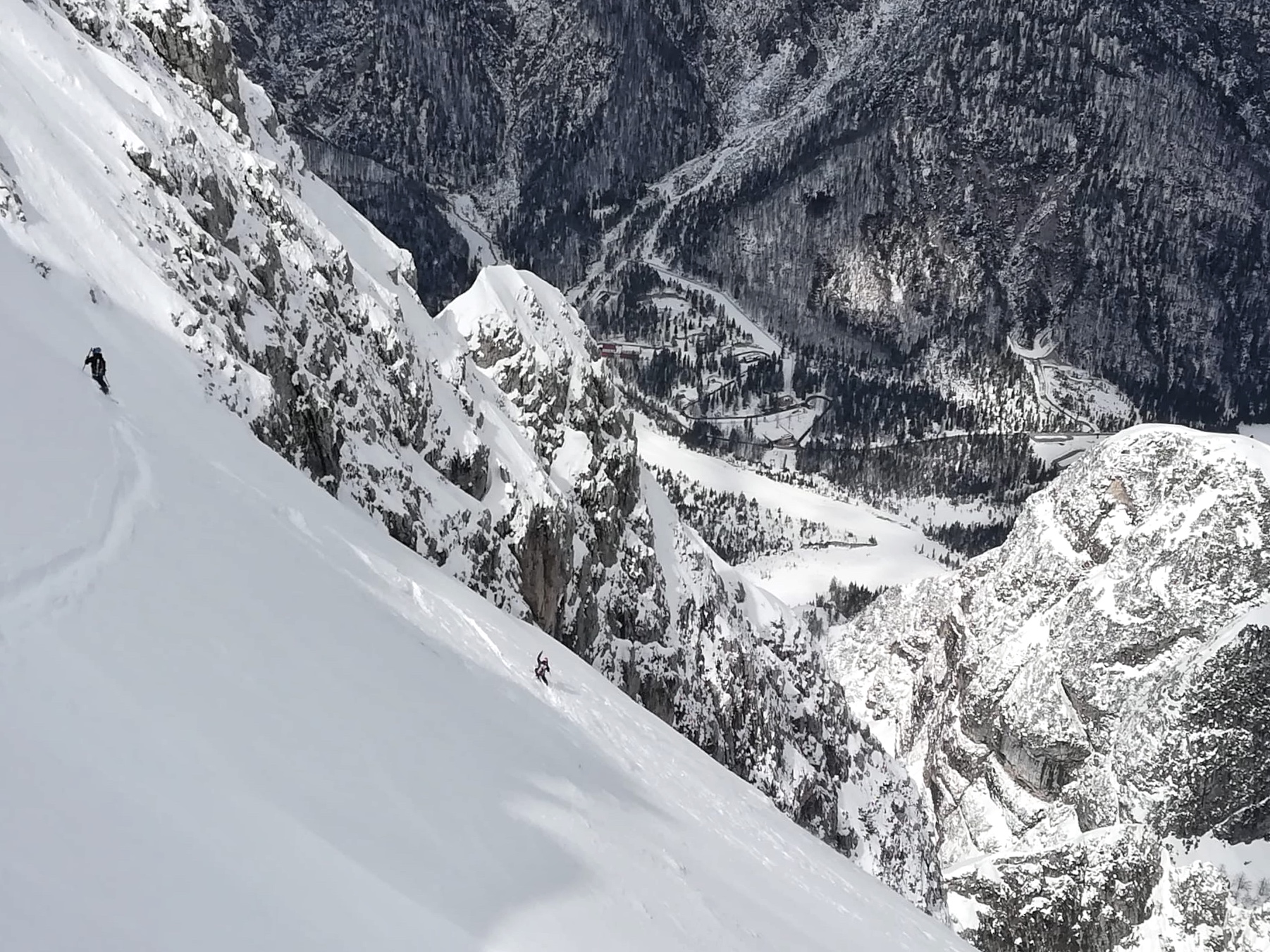 "Luckily most of the best and steepest lines in this corner of the alps are north facing, and often deep couloirs."
Valbruna – or Valsaisera – litteraly "dark, shady valley" is home of many and most popular couloirs on the italian side of Julian Alps. It is a short valley barred by the big north walls of Jof di Montasio (2754m, second highest peak in Julian Alps) and the cirque of Jof Fuart (2666m, fifth highiest).
Every season I make my personal pilgrimage in the valley skiing one by one the classic couloirs, and every time my eyes and my mind point to the few ones that I've skied just a couple of times or just one time, dreaming to ski them again in deep soft pow.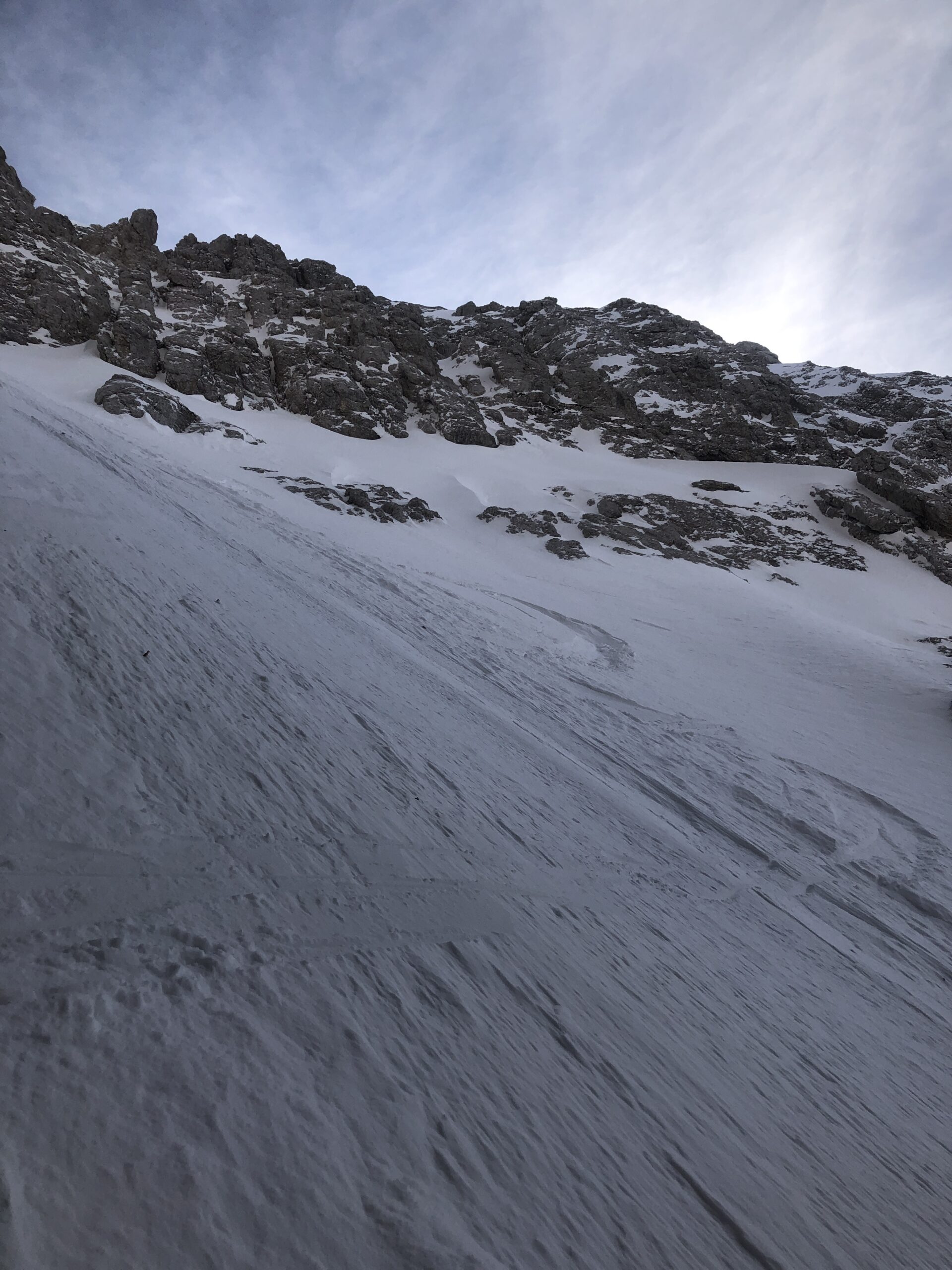 Northwest gorge of Jof Fuart
Until last season, only one of the multiple lines of the valley was still unskied by myself, and also not skied since 1995. It is the north west gorge of Jof Fuart, a line first climbed in 1911 and first skied in 1987 by a local guide, Mario Di Gallo.
It is a sort of deep couloir that lies on the north west side of the mountain, its wildest side, about 1000 meters long with a 100 meters cliff at its bottom. In summer, this is a grade III/IV climbing route, not often climbed due to its remoteness and the classic Julian Alps rock quality.
"Mauro Rumez, a pioneer of steep skiing in eastern alps, repeated the line once, in 1995. Then nothing."
I knew about the line since many years, but never had the chance to try it and never been really intrested, mainly because of the big cliffs at the bottom. In addition, this gorge is always partially hidden by other peaks and you have few spots to check it properly.
And of course you need a special winter just to think of skiing there.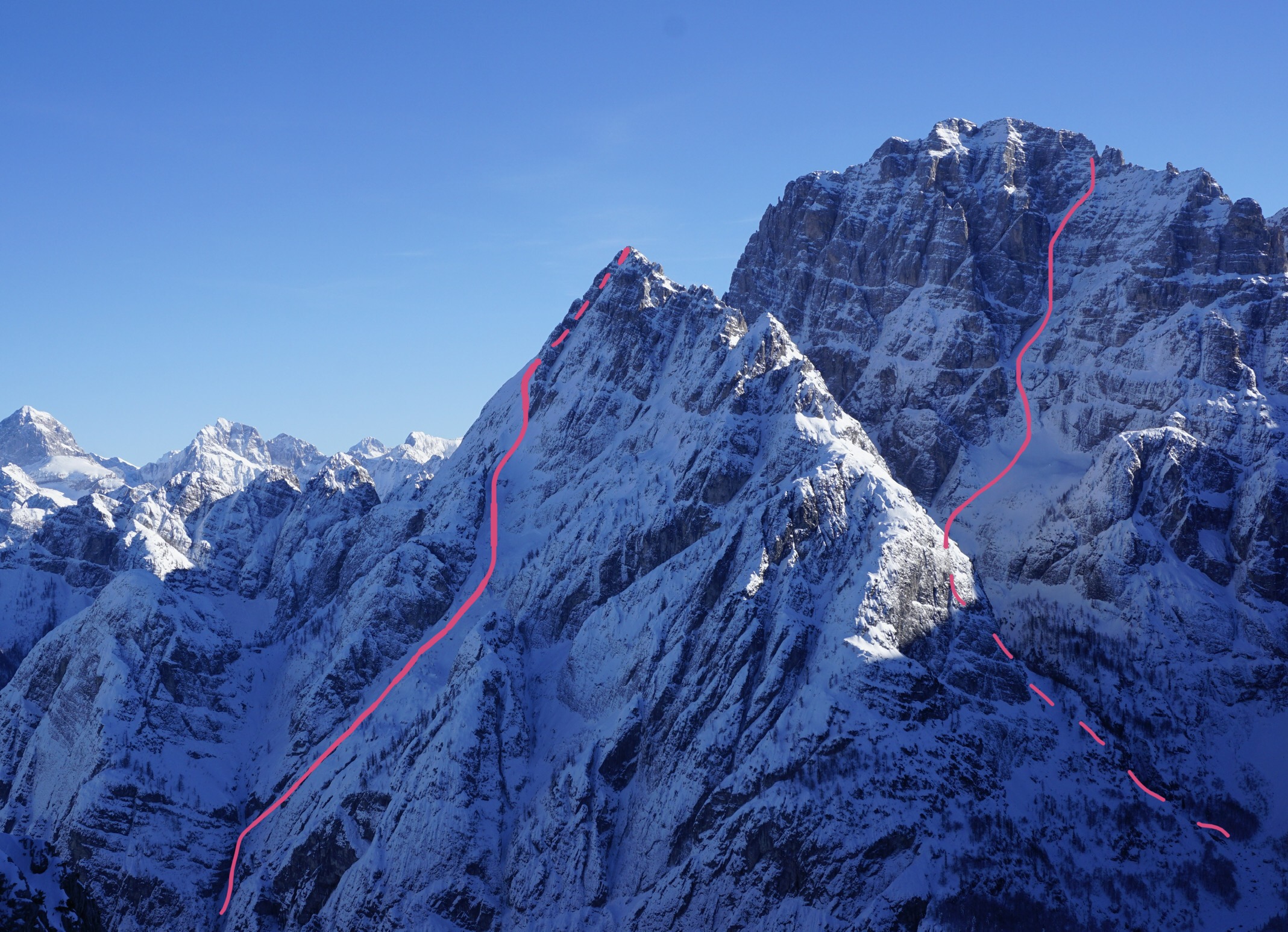 Last season, the special winter finally arrived in Julian Alps. I started to think about all the lines that I was still missing and the north west gorge was on the top of my list. At the beginning of march, guiding some clients on a couple not so popular tours, I finally had the chance to check the line well. Even if I was quite far away, it looked perfeclty filled in and not too much affected by the wind.
"A new storm was coming, so I just needed to be a bit more patient to ski it in deep snow."
I pulled the plug on the fithteen of march. No way to climb directly, so the approch is from the south side of Jof Fuart. A pretty long classic tour for the first 1200 meters, and another 400 meters on more technical and exposed terrain. The line starts downclimbing into a natural rock arch, a sort of portal to the dark side. Ten meters rappel on a stopper, then real skiing could begin.
The couloir its never too steep, first skiers said 50°-55°, I do belive it never goes up to 55° but maybe I just had really perfect conditions. Soft and not too deep snow made the skiing fast and fun, until the final cliff. Here's where the troubles started.
I tought I would find bad ice to rappel, so I brought with me just a single ice screw, and hopefully some good cracks to place some pitons, so I brought four of them. The reality was the ice was shit, and the rock even worse.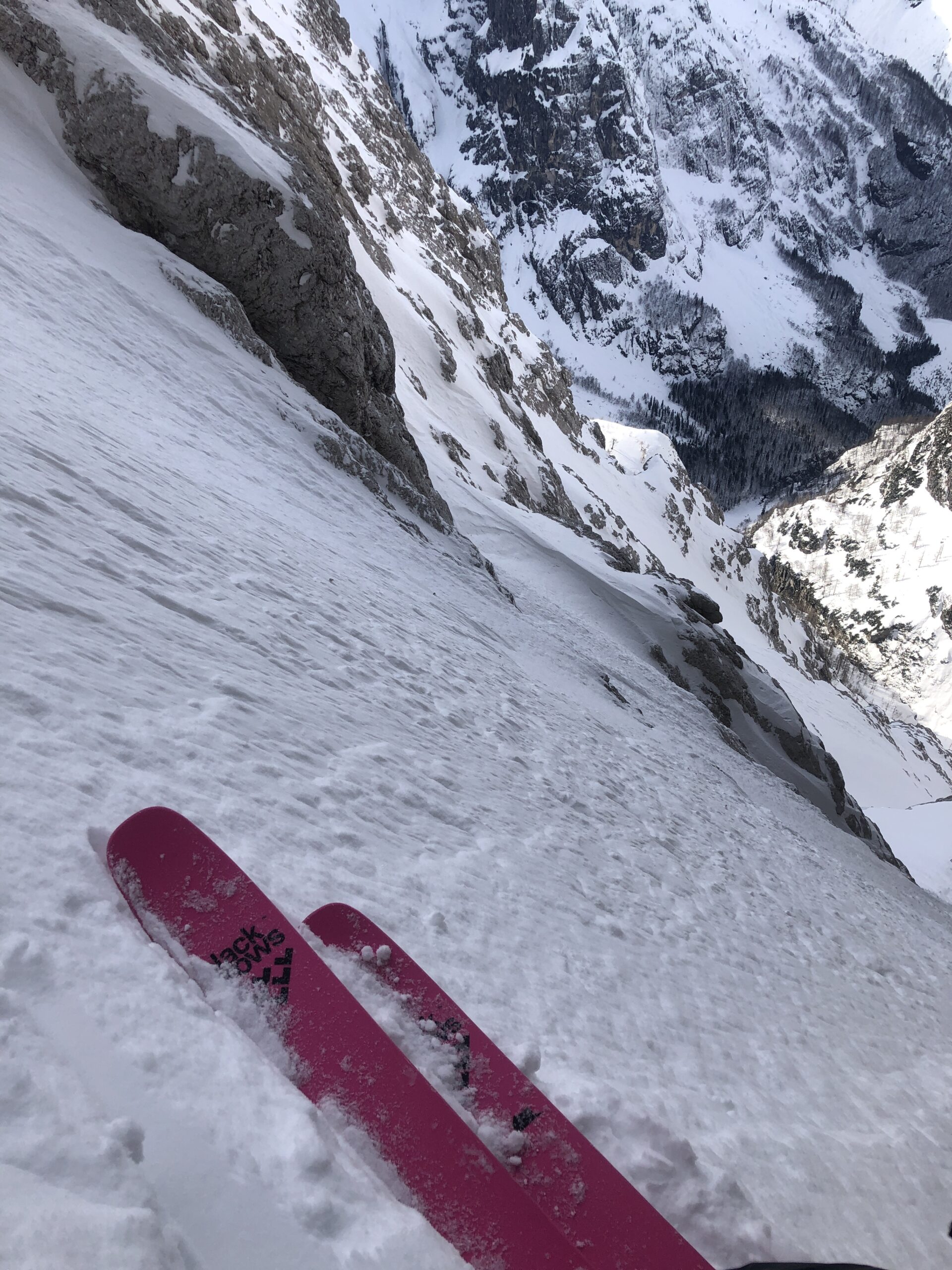 I managed to make a double abalakov on poor ice to rappel just on the edge of the 100 meters cliff. There, I placed my only screw and rappeled 55 meters into the void, hoping for some good rock lower down. On a small ledge I fouhd some hard snow and no rock at all, and no more ice screw. I pulled my 6mm kevlar rope and the escaper system down and dig a sort of spike into the snow, a snow mushroom. Another 50 meters rappel on overhanging terrain, and I was safe on easy terrain, even if I had to ski down another 800 meters to valleyfloor.
"I've lost about 40 minutes to try to get my rope down but the escaper decided not to work. I realized it was late to go down andv call home to say I was ok, since there was no signal from the top of the line till the carpark at the end of skiing."
In august, I came back and took home my kevlar rope and the escaper.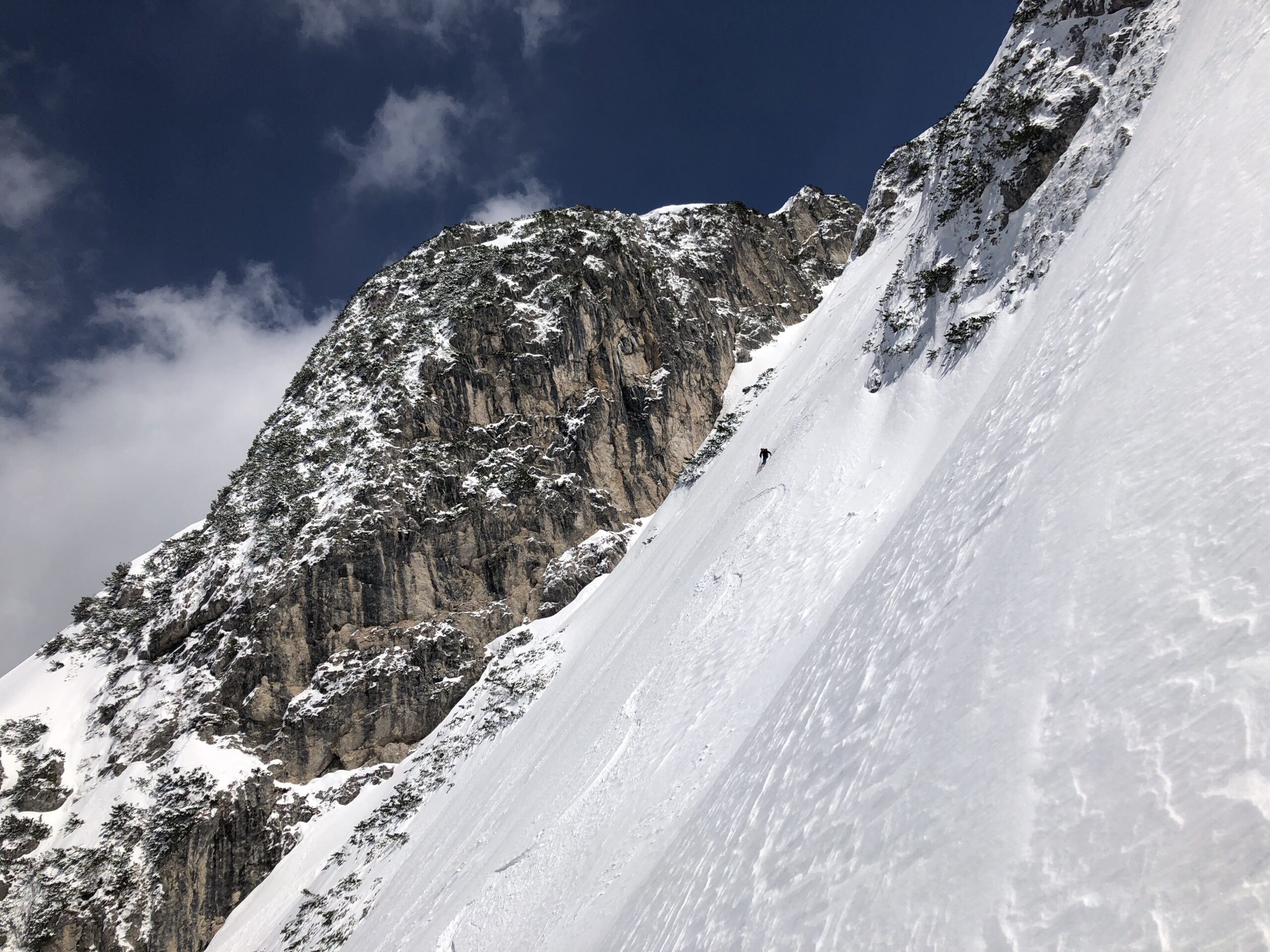 North Face of Grande Nabois
The north face of Grande Nabois (that sound cool also in french if you want) lies just in the middle of the valley, perfectly visible from Valbruna village and even from the highway. It is a 1400 meters high peak, steep from top to bottom.
It was skied first in 1986 by Mauro Rumez and Claudio Gardossi in a half meter of deep pow after a sping snowfall. It is an usual line for Julian Alps, not a couloir but a big wide open and extremly exposed face.
In 2016 I skied there with my friend Zeno and we took the left "couloir" as an exit from the face, making just a 25 meters rappel. Every time I drive in the valley, I dream to make some turns in the upper face again, where there is a 1000 meters cliff below your skis. That section remember me the upper part of the Mallory on the Midi, it's just a bit steeper and you don't have the lift to take you up. Plus in summer it's a shitty limestone slab.
Stars alinged one more time and my dreamy pow turns on the upper face happened again the 14th of april, this time with Dade. On the lower part we took a different exit from my previous descent and found a way to ski all the way down, no rappels or downclimbing, just a 1400 dream line.
"I tought my steep skiing season for Julian Alps was over, I would be some days in Livigno and then it should be too late for the lower elevation of my home mountains. But I was wrong."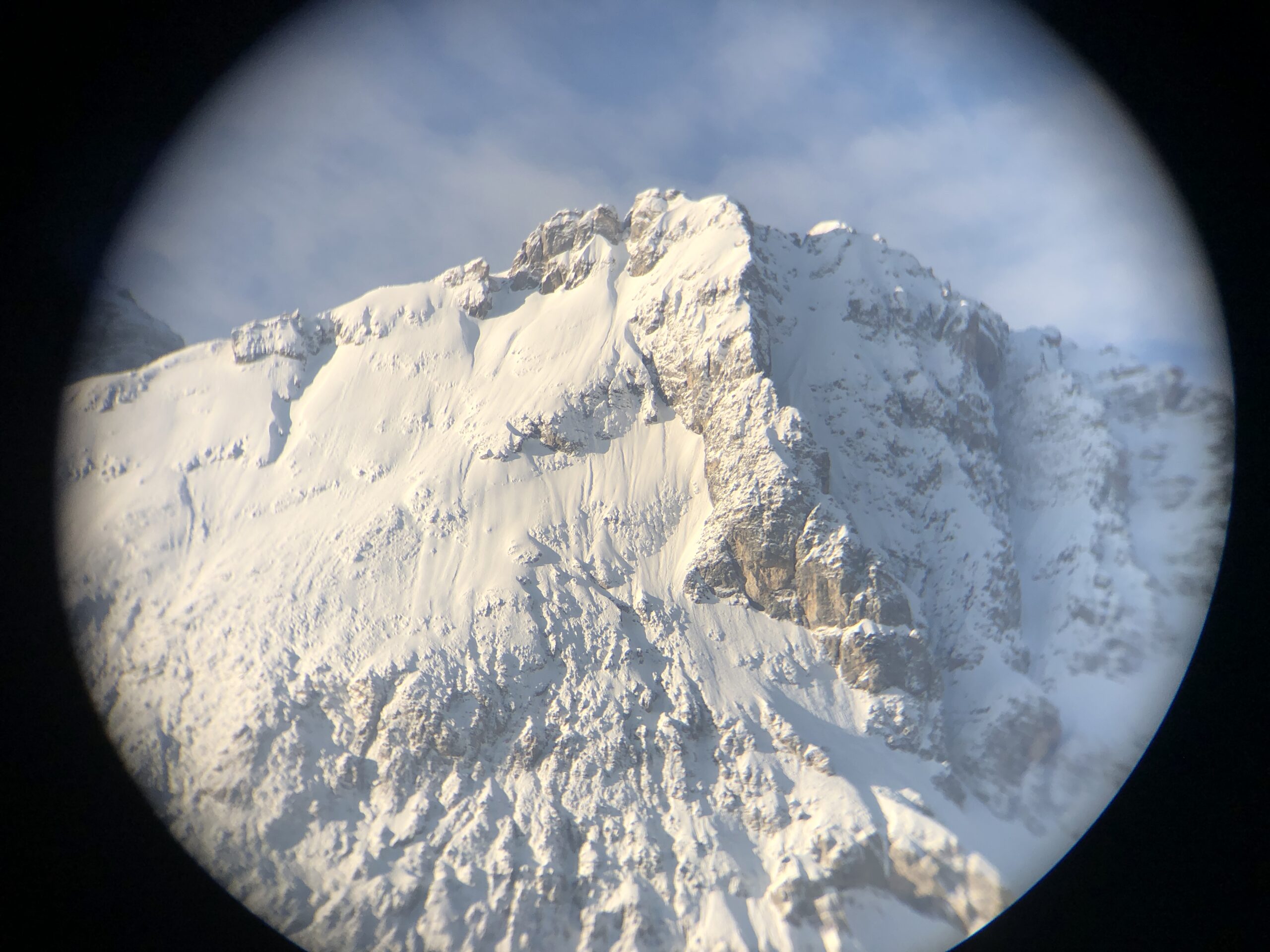 Northeast gorge of Jof Fuart
The north east gorge of Jof Fuart is the "not so little" sister of the northwest one. It's still an 800 meters complex and deep couloir. In the last seasons it became more and more popular with a bunch of descents every year. Not a classic, but a prime steep and exposed line that still not many could write in their curriculum.
After my first approch to steep skiing when I was seventeen in the Huda paliza couloir (800m, 50°/40°), the north east gorge had been on the top of my "to ski" list. I first skied there when I was twenty years old, and again a few other times, with friends or solo, for training and for the quality and the aesthetics of the line.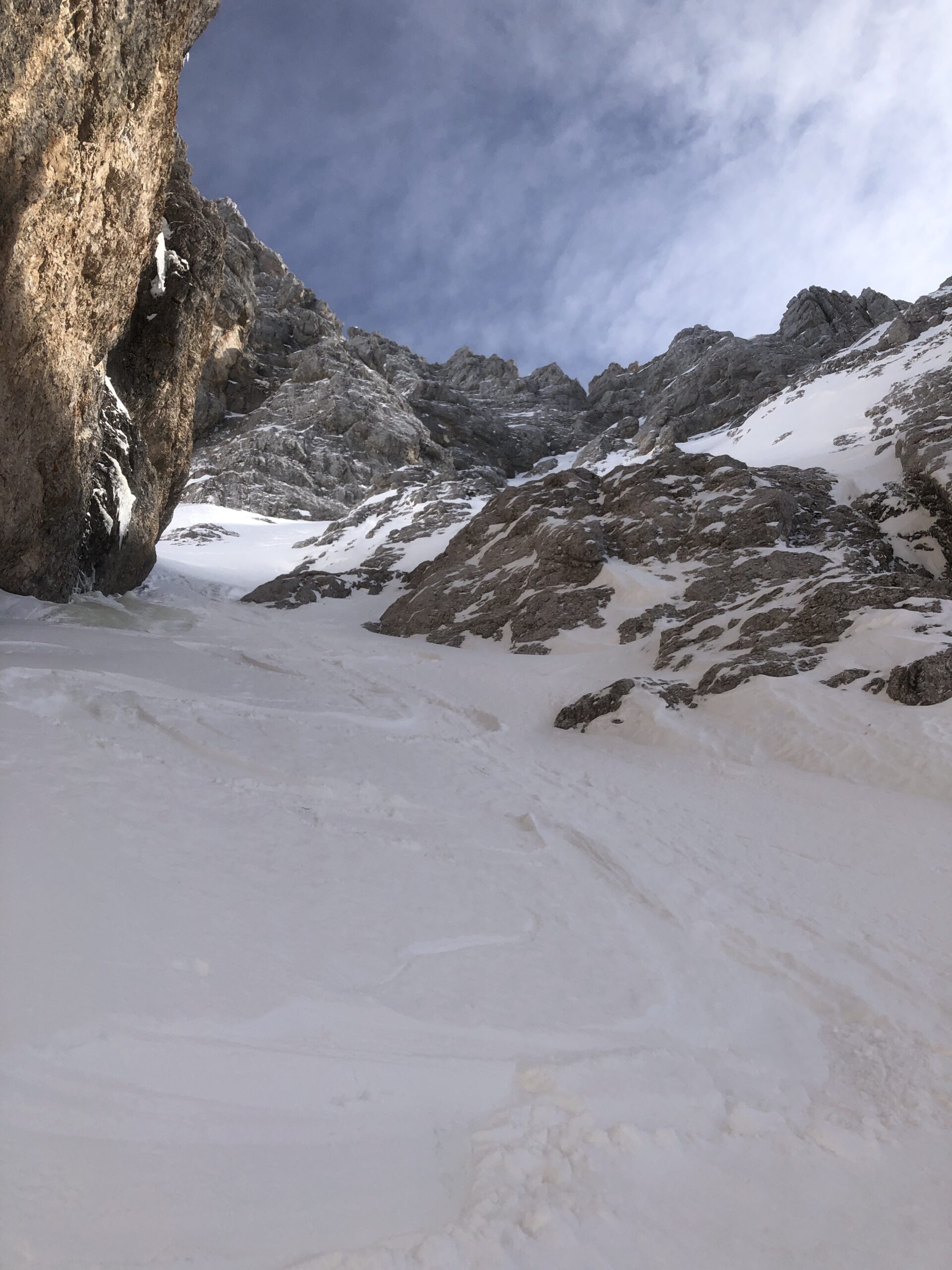 It never gets any sun, the snow remains soft and cold even during spring time. Last year, many people skied it, for Julian Alps standards, and in mid april it was still looking good and fat.
I got the message on the alpine rescue chat when I was testing skis for Skialper magazine in Livigno. I knew that three good friends of mine were skiing the gorge that day, they called me the day before to ask about conditions, my toughts about riding there and about the anchors for the rappel in the middle of the couloir.
"Avalanche in the north east gorge" the text said, "two guys involved, one unharmed". I knew too well what it meant.
One of my best friend survived just because he stopped a few meters more on the left and the slab did not catch him to took him down for 500 meters and several cliffs like the two others. It happened above the rappel, in the middle of the gorge. He was not carriing the rope, so he could not go down and his only option was to call the rescue and wait. He had to leave skis and poles in the couloir, both a gift from Bruno Compagnet. It was from his first visit to the Julian Alps : I was living in a 30 square meter flat that I shared with Andrea, and when Bruno left he gave him his poles, and at the end of the season he also left him his skis, a pair of "special" navis freebird.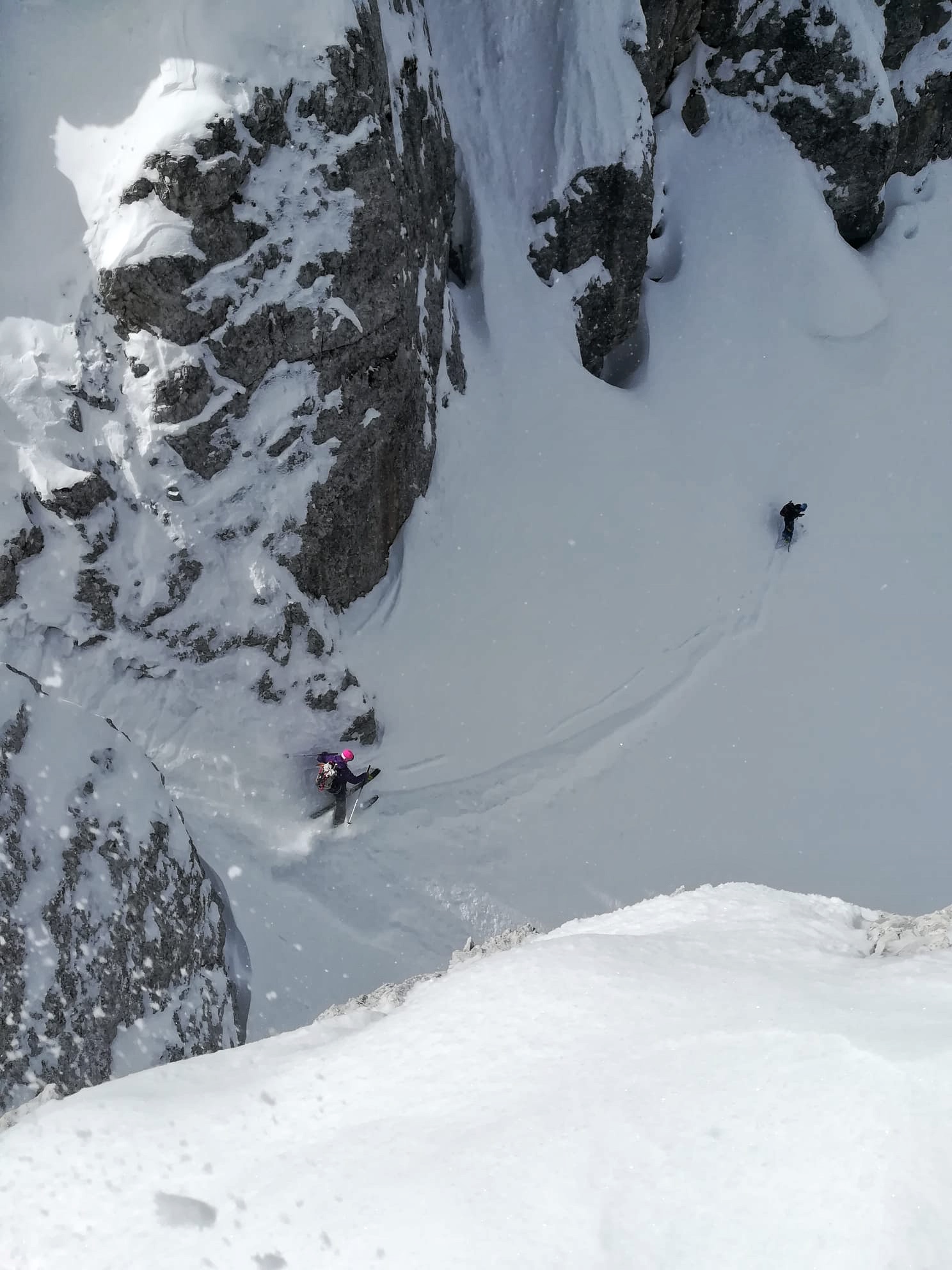 When I came back from Livigno, a few days later, the temperatures were still low. I knew that as soon as it would get warmer, the avalanches would smash Andrea's skis and poles down the couloir. Maybe it was stupid and way too risky, but I had the feeling I had to go and carry the skis down for my friend. I also wanted to undersand what happened and see it with my own eyes. I can easily say that this has been my hardest descent, and not just because of the extra weight on my backpack. I had ghosts and the darkest toughts in my mind all the way down.
"Avalanches started when I exited the final couloir."
Was it worth it? I dont know. Maybe not. But I remember the smile on Andrea's face and the happiness in his eyes when I got him the skis and the poles, and for me that was more than enough.
In memory of Carlo and Federico.