Ghost Resorts is about absence, in places where skiers once frolicked freely. Those moments of joyful laughter on the slopes have been replaced by a mysterious sense of emptiness. But the skiing remains, still.
"the Ghost Resorts series is an exploration of the ski culture, of an heritage, a golden age, those places where there was life, that have closed, but where skiing still remains"
The name clatters like a heavy door that closes, like a flag floating in a storm
Here the soul of skiing blossomed with a noisy culture, marked by the sweat and moustaches of a fluorescent and pastel era. The beginnings of freestyle, mogul skiing, memorable parties, and family weekends. The cries of excitement still echo on the steep walls for those who know how to listen.
In the heart of the Rockies, Fortress Mountain stands as an iconic landmark, at the top of the Kananaskis Valley, on the British Columbia/Alberta border.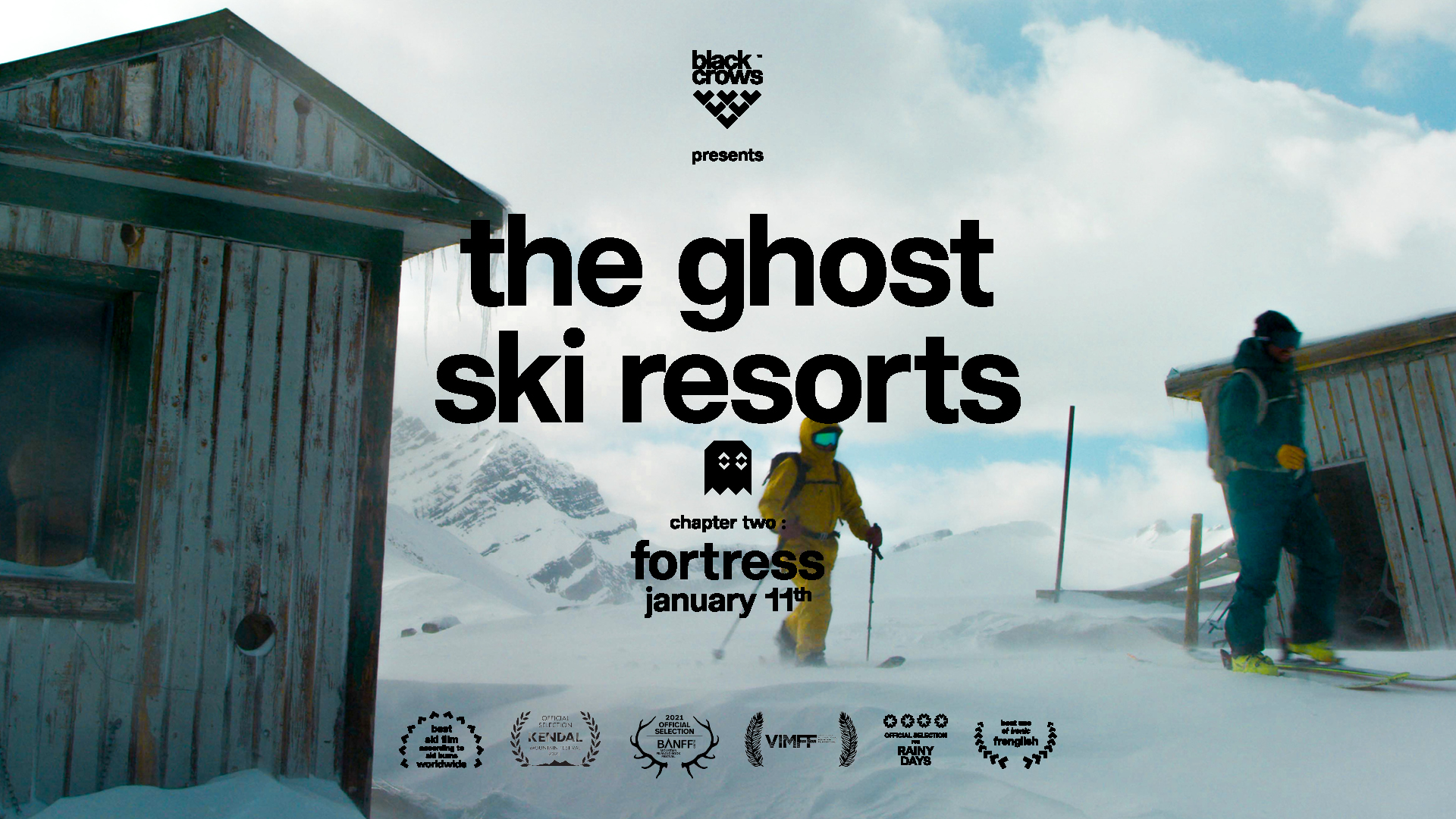 The resort in the shadow of this formidable peak has been abandoned since the winter of 2004: broken windows and rusty chairlifts inspire Hollywood, which regularly shoots gloomy scenes (Inception, Brokeback Mountain, The Revenant, etc.). 
Forgotten buildings, abandoned architecture, lost summits, lifts that squeak silently in the cold, and more than 23 feet of snow per year that falls without witnesses. We love abundance, especially when it rhymes with nobody. 
Mark Abma knew the resort from his days of mogul skiing, and he returns here with Callum Pettit, an ideal partner to enjoy one of the countless storms that come up against the mass of rocks and cover the past with a merciless white.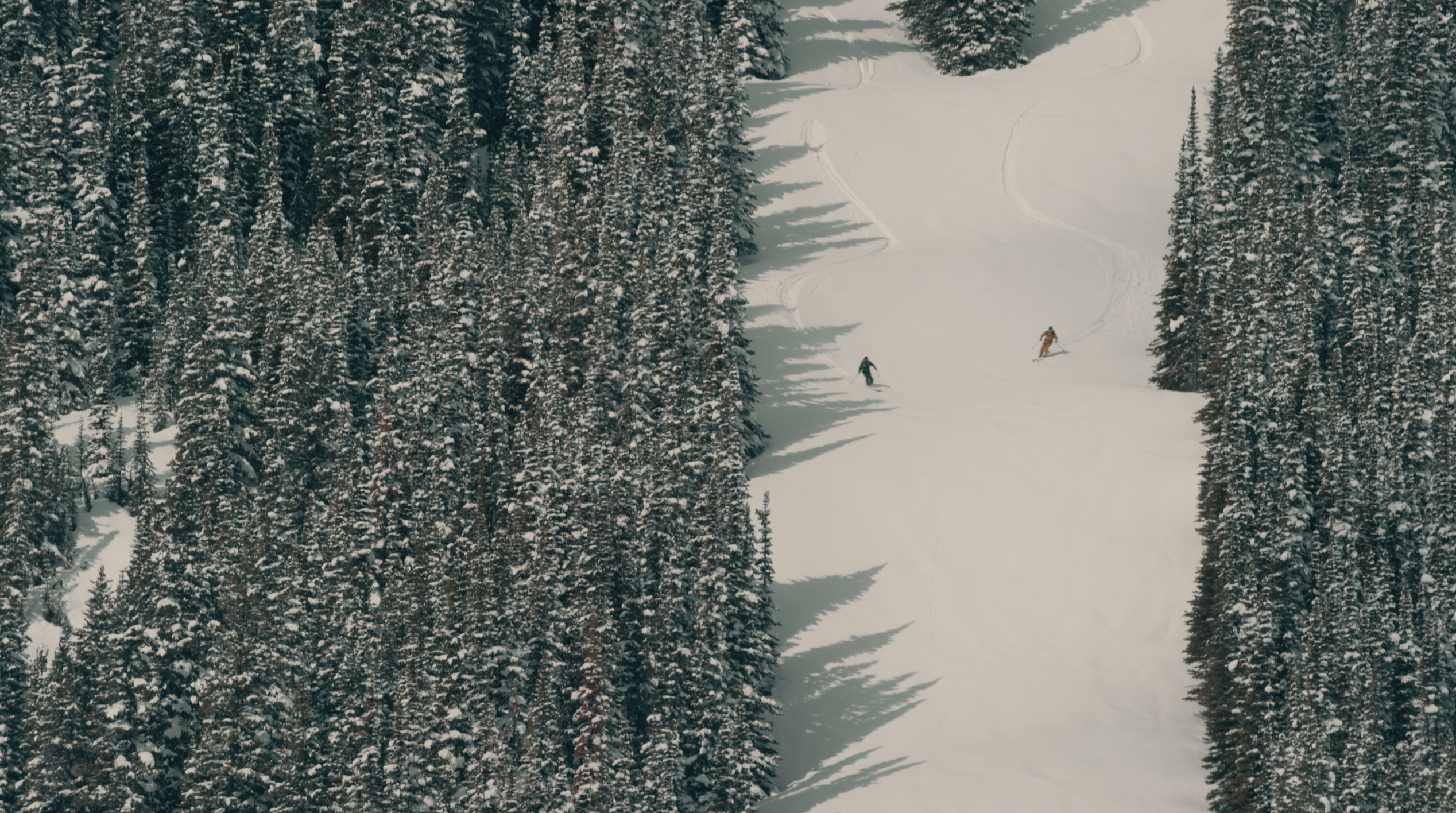 Fortress Mountain, technical info
Location : (50.82, -115.20); Kananaskis Country aka K-country; 2h drive (75 miles) from downtown Calgary, including 3 miles of trail from Fortress Junction gas station. 
Dates : First lifts and lodge opened 1967-2004  
Lifts and trails : 3 chairlifts, 3 lifts, 47 trails between 2040 and 2370m altitude. 
Thanks to all the people we met for this movie:
Chris Mueller and Chris "Chev" Chevalier, two well-known figures in the Canadian ski industry, involved in the project to restart the resort. They have been taking skiers in a 14-seat snowcat on the 330 hectares of former ski runs for the past 10 years, while waiting for new lifts to be put into service. 
Rob Stevens, a legendary snowboarder whose name is closely associated with Fortress, where he began his career as a dishwasher in the lodge's restaurant. 
Mel, a former handyman, and janitor, has lived here for 35 years, 20 of them in his mobile home. He is the true living memory of Fortress. 
More info on www.skifortress.com 
Credits:
Producer: Reewater Productions et Camille Jaccoux
Filmed by Bryan Smith & Cameron Sylvester
Edit by par Cameron Sylvester
Skiers: Mark Abma & Callum Pettit
Special thanks:
Chris Chevalier
Chris Mueller
Montagne Mel
Rob Stevens
KPOW Cat Skiing
Music:
Artlist.io
Musicbed.com
Série Ghost Resorts: Written by Camille Jaccoux & Julien Regnier