Nothing stops Jochen Mesle, the cool scientist starving for snowflakes. This brave skier with German-made calves of steel comes as a new addition to the blackcrows family. Whether it's biking or skiing, he climbs clean, goes down steep, and definitely caught our eye. We met our new recruit in Munich.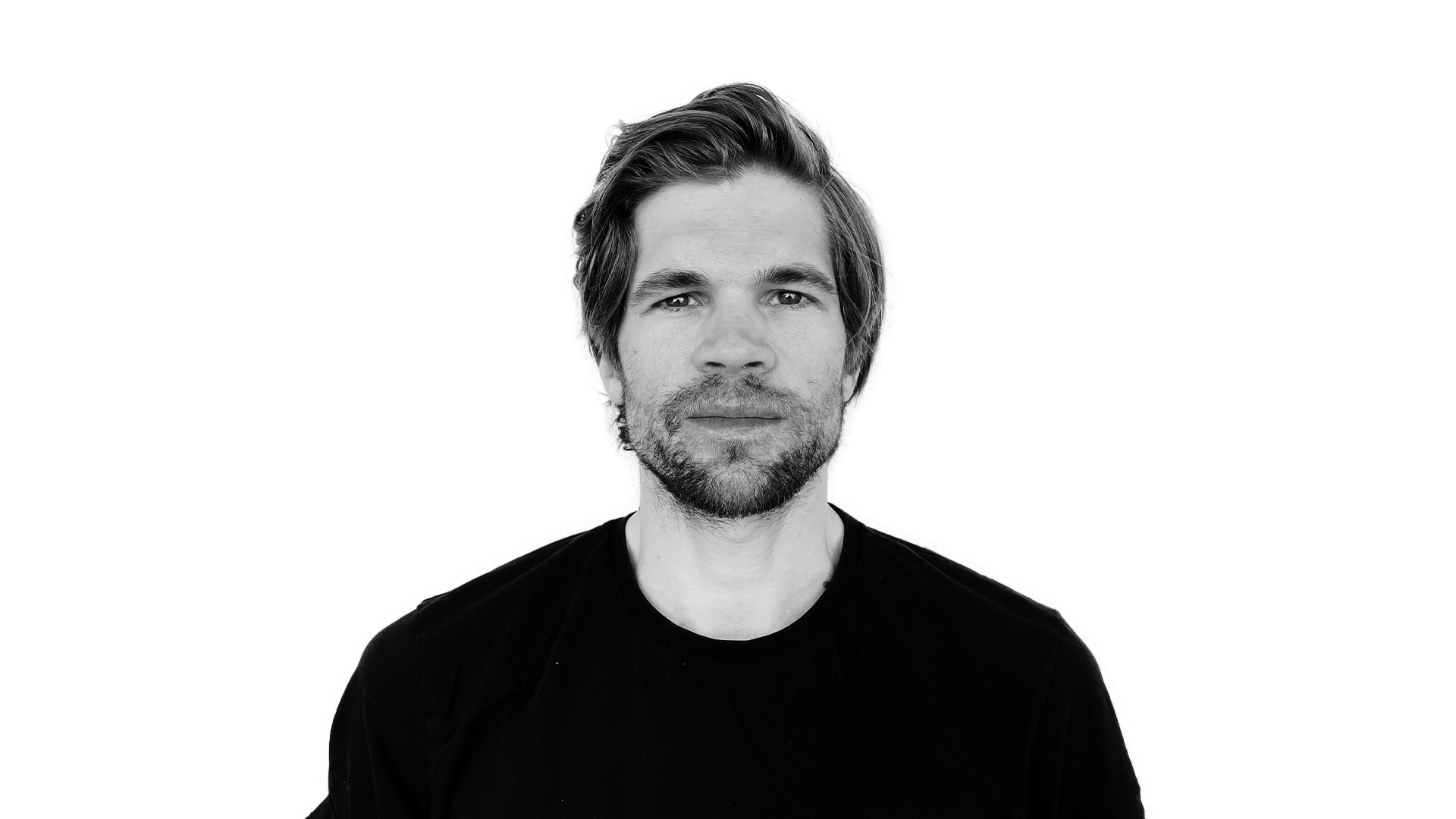 Hey Jochen, did you have a good weekend so far?
Definitely yes! We've been on a little biking-ski trip with my longtime friend Max Kroneck through the wet and cold April days in Germany last week, so it was relaxing days at home for me this weekend finally…
Can you tell us about your ski background and how did you manage to be where you are right now?
Right now, I live in Munich, I'm 32 years old and I'm a freerider. The fun thing is I used to be a cross country skier until I was 17 years old! Then I moved to Innsbruck and started skiing in the steep regularly and discovered big mountain skiing. This place is just perfect to create connections between skiers. I made a lot of friends there and it was easier to get pushed. You can study in the morning and shred some pow in the afternoon. With more than a hundred days on skis, my skills got improved and my passion was born. It was a new life for me, and just the beginning of my ski career. Every time in spring I love to do a few park runs to play with my freestyle abilities, but I was always more into backcountry and freeride skiing. I like to be creative and mix it with technical skiing in the mountains. And Austria has a big potential to express your best ski level.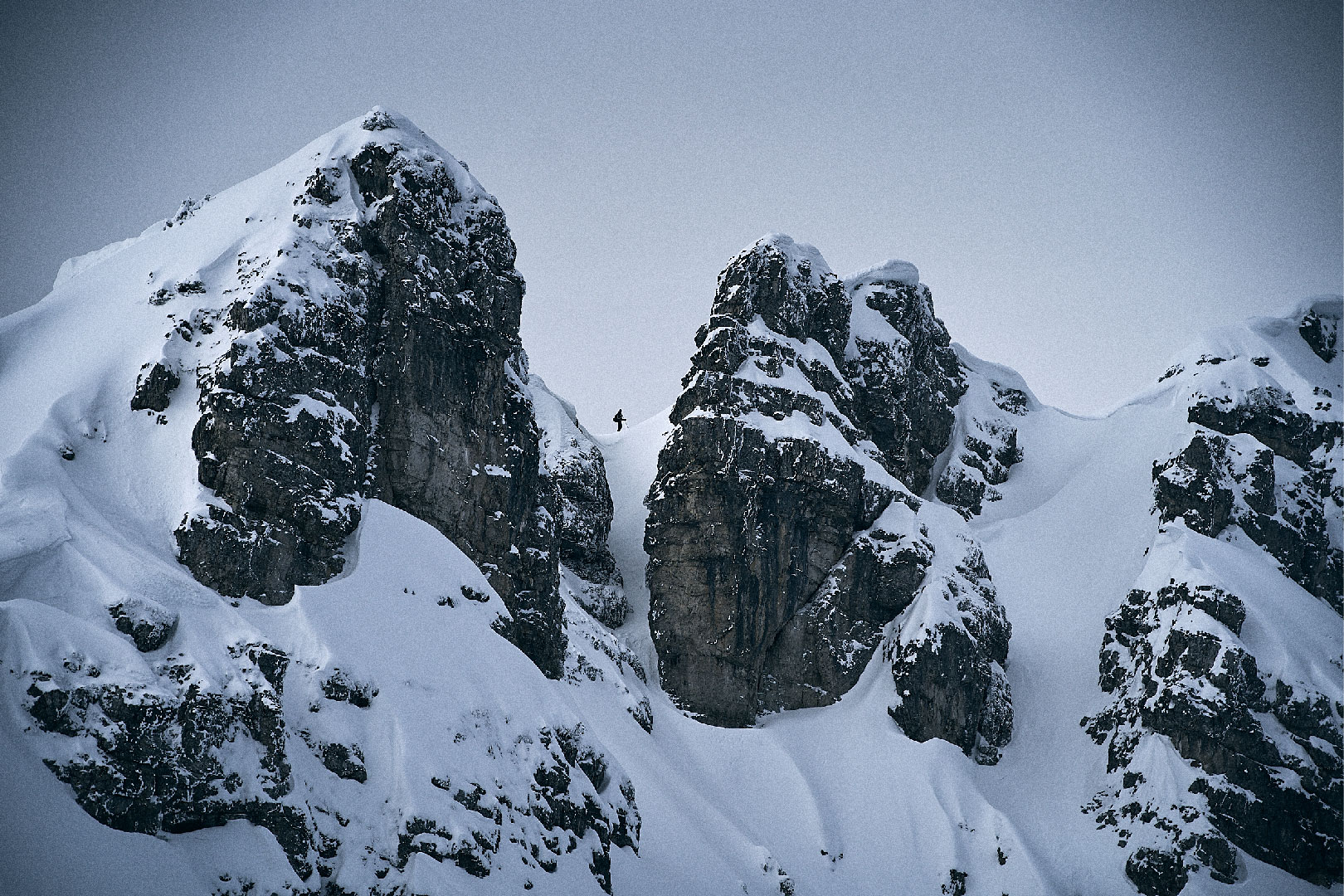 How was your winter in Germany despite the pandemic situation?
I spent most of the time in Germany. The ski-lifts were closed, and the ski resorts were abandoned. We had a similar kind of winter season than France I guess… but we had some good days for ski touring, it was tricky regarding our movie projects, we had to postpone a big project to next year. But I hope to achieve one last project with my new teammate Arnaud Cottet later in May. We want to go on the Aletsch Glacier for ten days in a row. We will sleep in a tent, ski some big mountain lines, and explore the backcountry possibilities around the glacier to have a bit of fun in late-season skiing. I'm really looking forward to this project because yeah, it's been difficult this winter. We managed to get some good shots and saved our season so let's stay positive.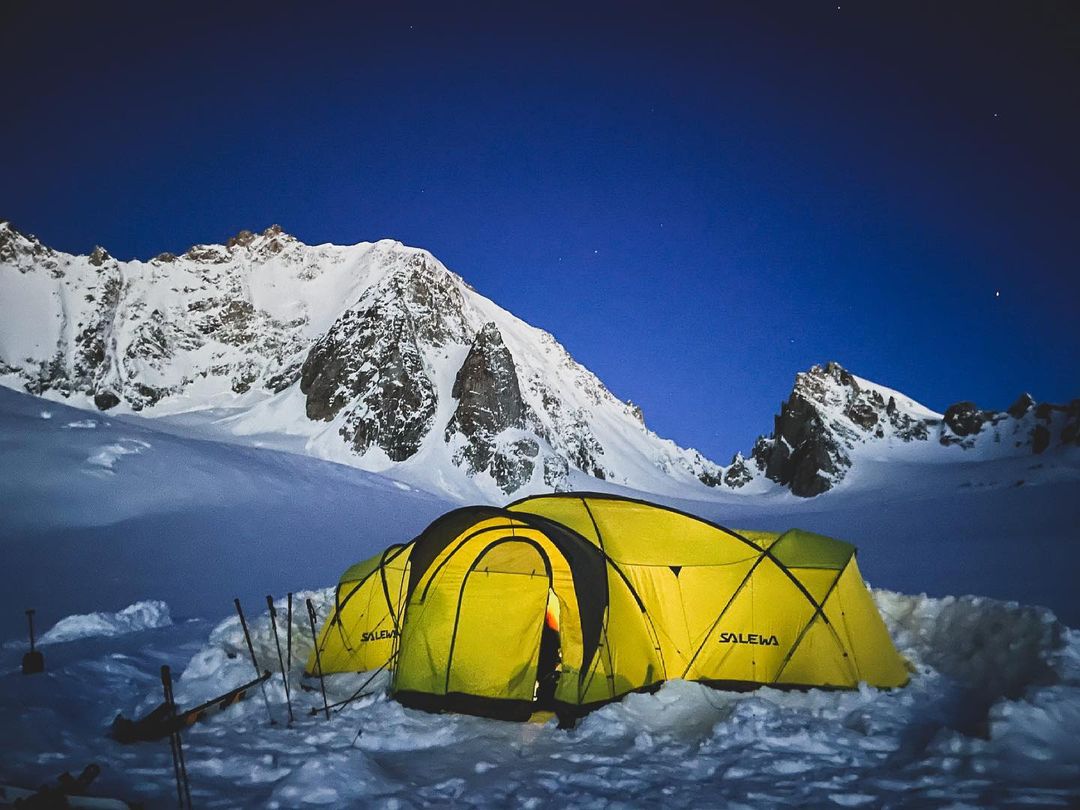 Are you doing anything else besides skiing or are you focusing on your ski career?
I studied Physics in Innsbruck, and I've been working now as a scientist in this area. I've been doing research in solar cells and green energy recently, so it gives me ideas for my next trips at the moment. It's a part-time job I've been doing for three years now. I'm quite flexible in time so I do more physics in summer and I have free time to ski in winter. For the moment I manage to mix everything like that, and I hope I can carry on this path.
Do you practice any other sports during summertime or are you still after skiing?
I don't really like to ski on the glaciers. In summer I try to do something else. I get way more excited for winter to start again the next season. I climb a lot, I do bicycle trips to stay fit. I need a good balance between summer and winter to keep my passion alive. And I miss surfing a lot. I love to go to Morocco searching for waves. I would be really excited to go surfing again. River surfing in Germany is really trendy right now but it's not really my thing, I'm way more attracted by the sea.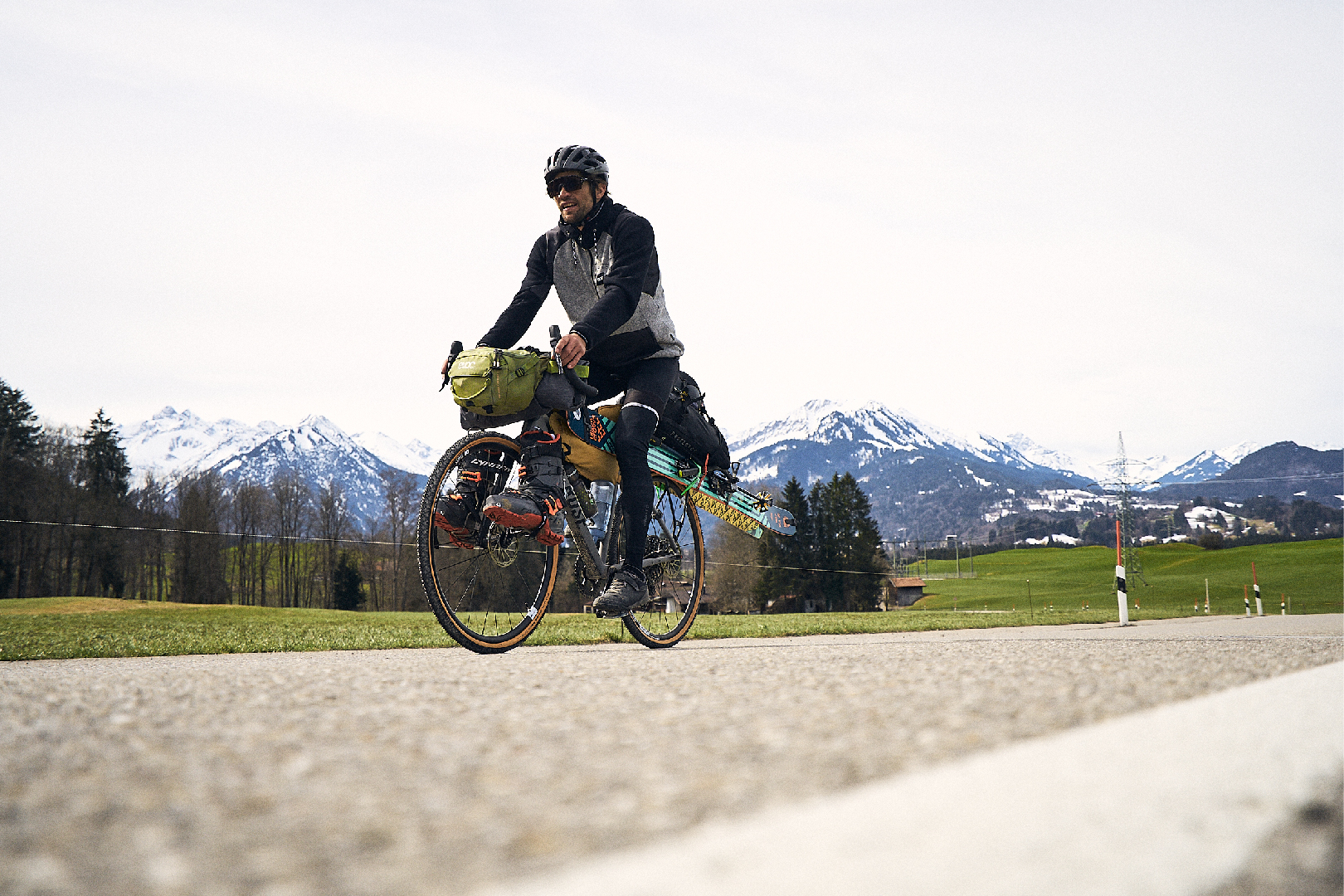 photo @maxkroneck
According to your latest adventures, I recently watched, you really look for ski-bike adventures close to home nowadays. Is it becoming a new way of traveling for you?
With bikepacking I found my way. I don't want to take the plane anymore for skiing. It makes no sense to me because I realized what we can find at home for the same price. Travel to an exotic place searching for powder. I like the speed of traveling, you are still fast enough to travel from place to place, but you are slow enough to see the landscapes changes and see the people change, meet them along the way and make the most of your trip in a good mood. It requires some motivation and energy because it's physical for sure. But Max Kroneck and I really enjoyed combining skiing and bikepacking these last years. With the covid situation this year we decided to stay in Germany, and we pretty much crossed Germany from the West to the East from Bodensee to Konigsee. So, we pretty much saw the whole mountain range of southern Germany. It was a little bit tricky with the conditions sometimes but overall, we had some good days and got inspired with new ideas for next winter, without going too far from home. A green and great type of travel.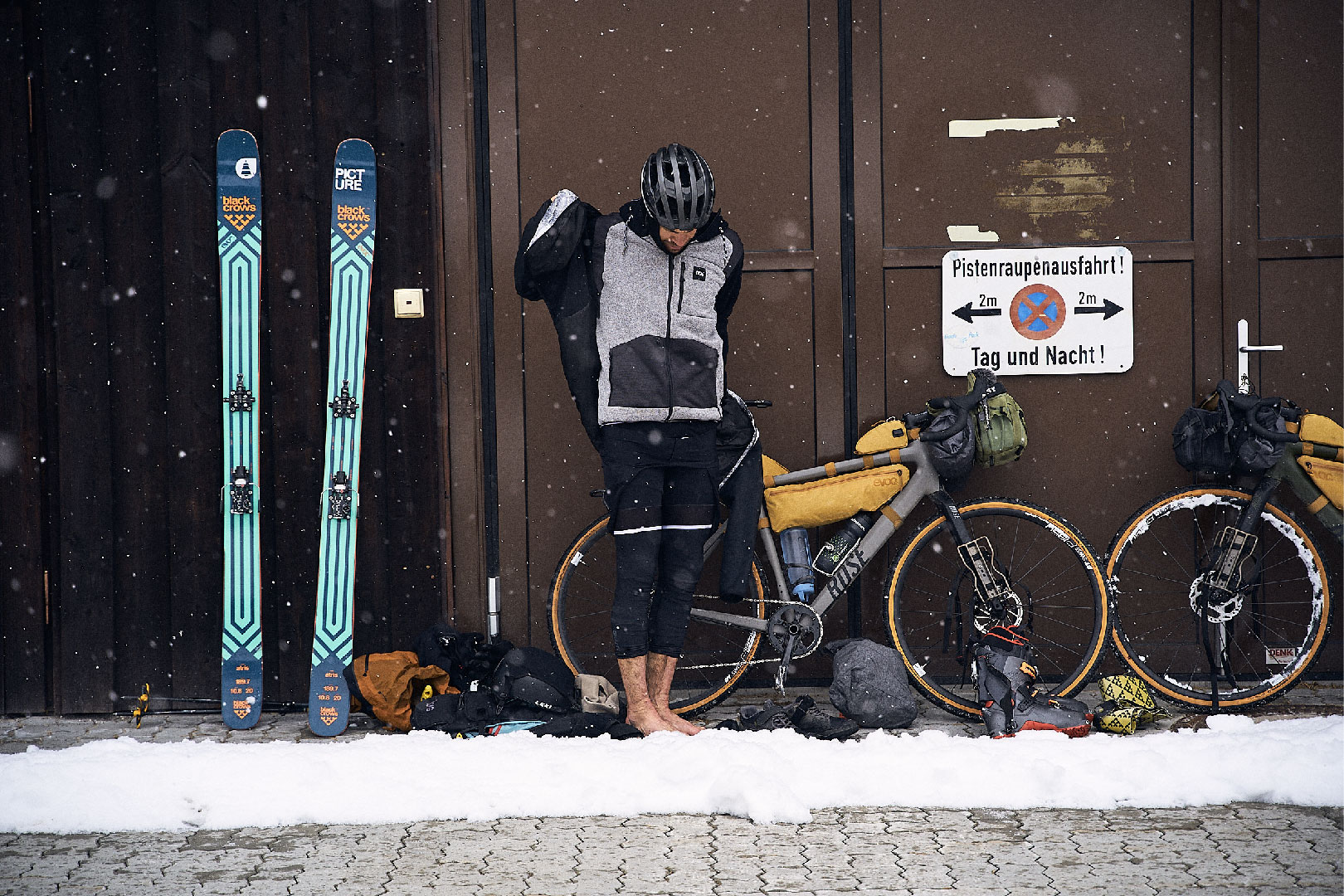 photo @maxkroneck
Are you using electric bikes sometimes? Do you have a Filmer along the way to help with your movies?
All muscles! We want to stay green. We want to use our own energy and be proud of how we move from place to place. The bikes are around 35 to 40 kilograms, so as soon as it goes upwards it's really hard of course. but on the flats and downwards it's all about fun, it's still possible to cover a lot of distance so it's all good with classic bikes. We would have no chance to recharge batteries every day on the road, we prefer to carry all the video and photo cameras instead. it's heavy enough like that! We have a Filmer for one-third of our trips, and two-thirds we are doing it by ourselves. At key mountains or key days, he comes to capture both of us with long lenses and it's a really cool moment every time because we can just focus on skiing.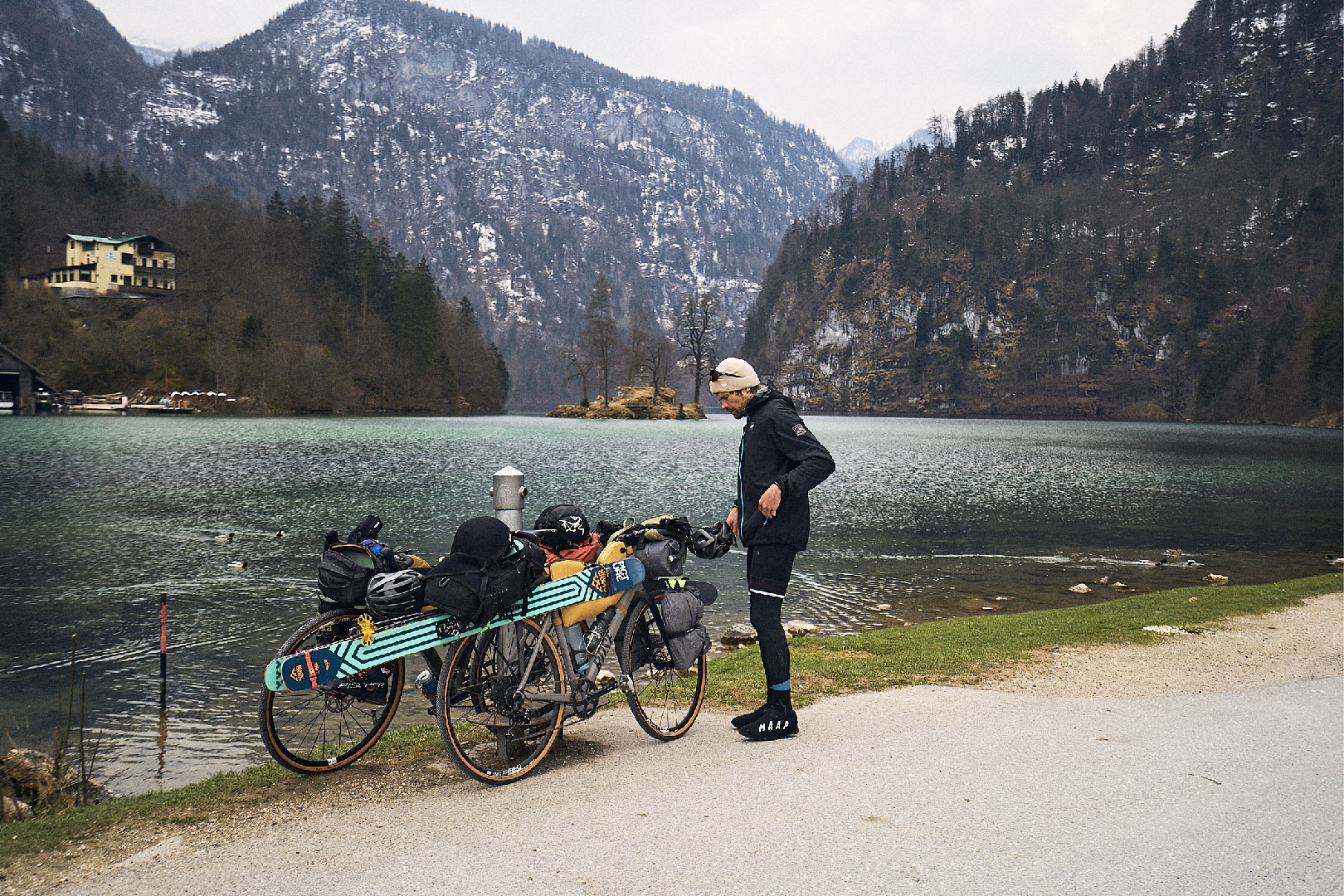 photo @maxkroneck
I'm really advising people to watch "Ice and Palms" produced by El Flamingo, your movie was a crazy and impressive adventure. Can you tell us about it?
It's been like a dream project for Max and me. We've been thinking over the years a lot about what we wanted to do, it felt somehow like back in the days when we were still young. Start from home and see from day to day how far you can go with a pair of skis, a tent, and a bicycle. I really like the traveling speed with the bike. You see more of your own mountains and your surroundings. The project was produced in 2018 by my friends at El Flamingo. We've been working with them for 10 years now, we are pretty much a family and things are easy like that. We planned the trip for 6 weeks and skied about 35000 vertical meters. We started from Durbheim in Germany and covered all the big summits in between. Passing by Germany Switzerland, France until the city of Nice on the French Riviera. we did 1800 kilometers with our bikes and got crazy memories on the way. Skiing was the hardest part of the trip because we had to go across closed roads carrying the bikes on our backs with skis on, scary moments for your knees…and we had to switch gears regularly to be back on biking mode right after the ski downhill. Also, we had to wake super early to climb the 4000 meters high tops on the way so it was a short sleep every night. The best souvenir for me is probably the hike to La Barre des Ecrins. From up there, we could see all the mountains we just crossed and on the other side, we were watching the Mediterranean Sea which was the final destination for us. Definitely one of the highlights of the trip.
Ice & Palms (Full Movie) from El Flamingo Films on Vimeo.
Is this kind of eco-friendly trip a new awareness for you or have you been growing up thinking like this forever?
Both Max and I have grown up like that, stay within our home and appreciate the mountains we have close by. Our parents showed us the way, they respect nature as well. We have so much potential in Europe so sometimes it's good not to look too far away but look closer to the surroundings you have at home.
Are you planning a new movie project with blackcrows?
Yeah, we don't want to say too much about it but Max Kroneck and I would like to travel with bikes and ski touring again next year across Europe. We want to turn viewer's eyes on the local people we meet along the way and the different cultures we meet in unknown mountains and of course ski some big powder lines in a variety of different places. It will be filmed by El Flamingo again. Fingers crossed for the Covid situation to get better then…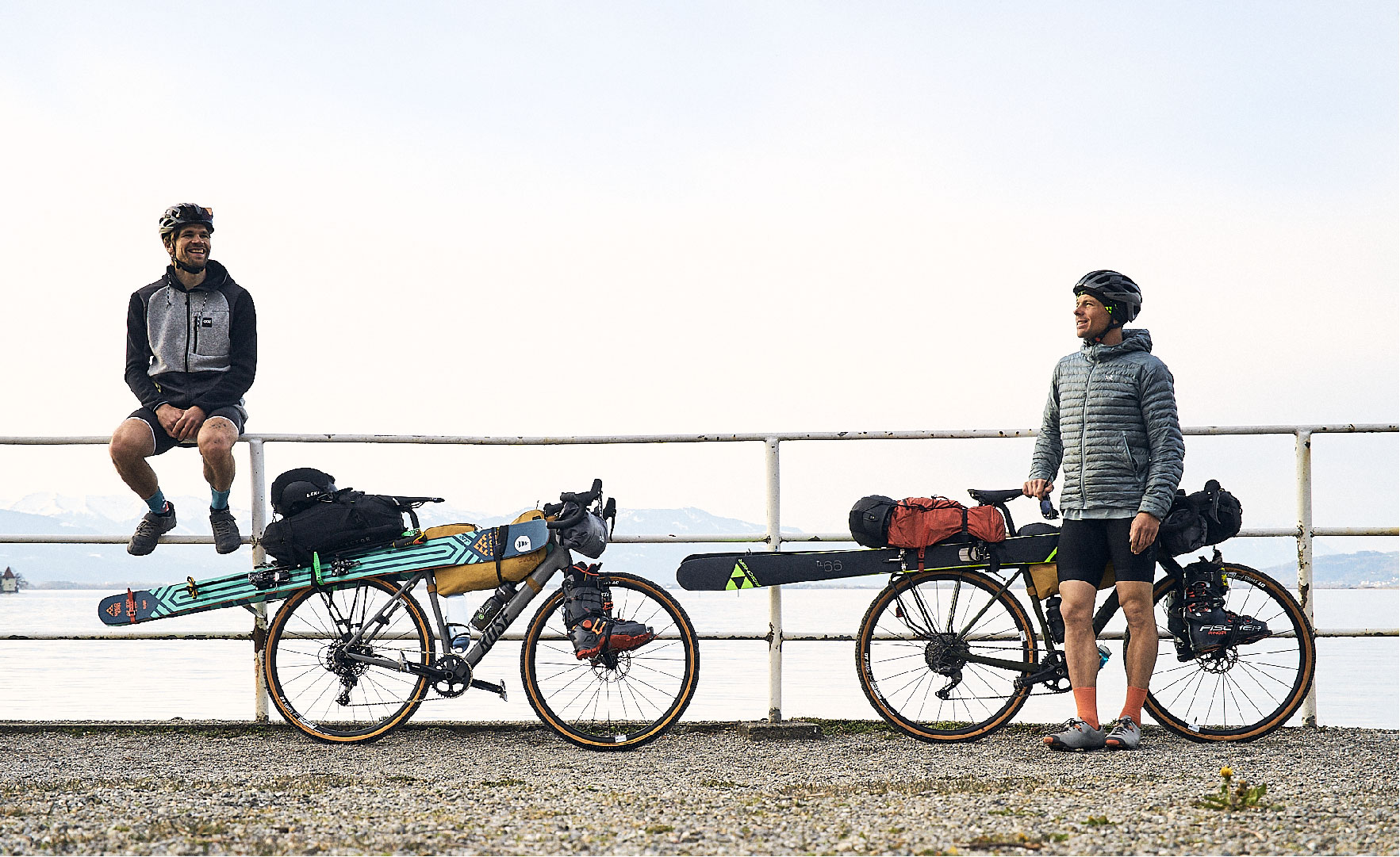 photo @maxkroneck
How did you meet the path of blackcrows? Which model are you riding right now?
I was looking for a new ski sponsor and I have always liked the blackcrows spirit. Tom Leitner is a friend of mine and he told me he was so happy about the team, the brand, and the skis. I got into contact with Flo Bastien and I'm really excited to join the team for the future of my career. At the moment I love the Atris for everyday skiing and touring, I'm a super fan of the Anima for charging bigger lines, and the Nocta is the most playful ski for the fun days in deep powder.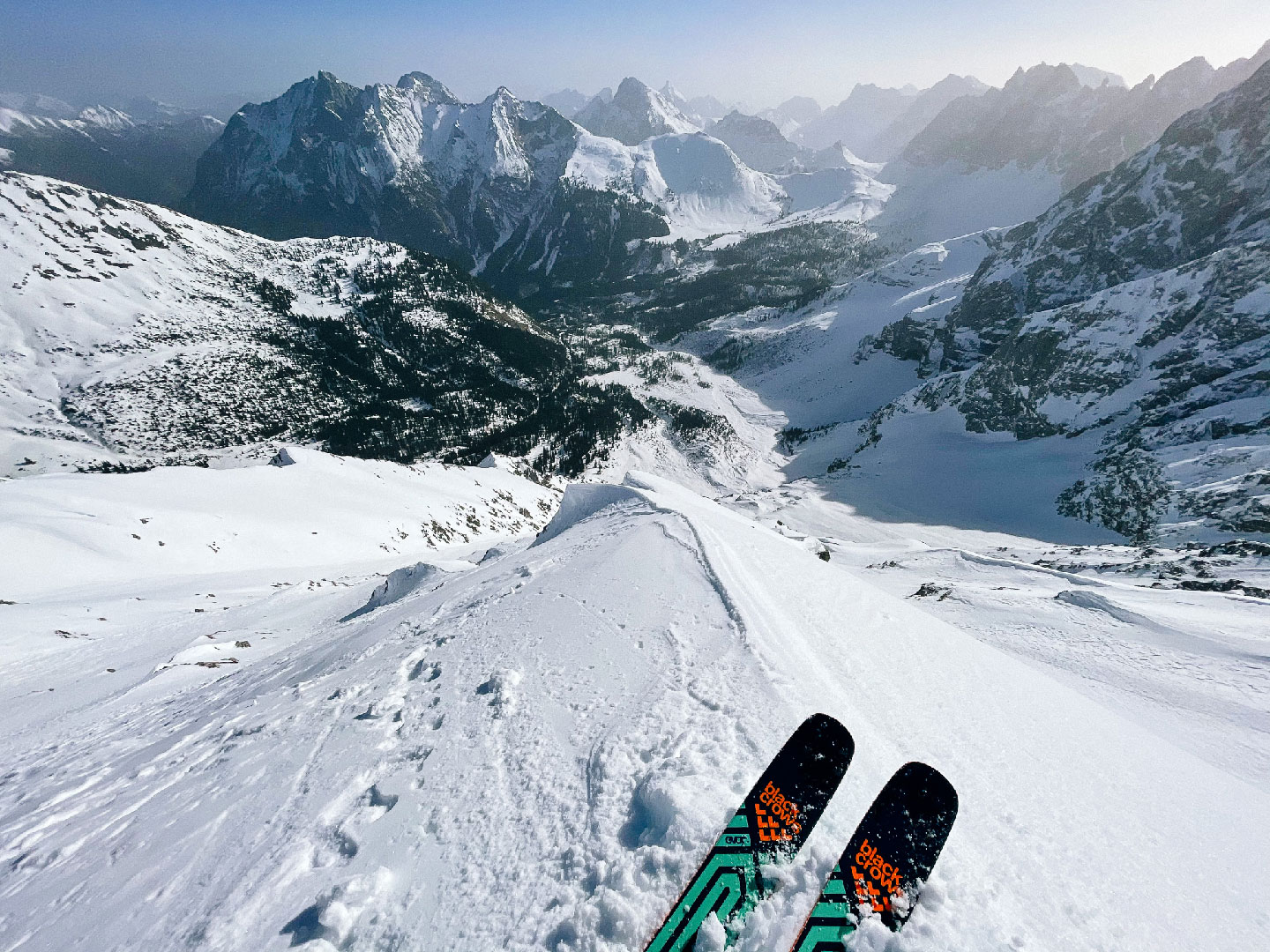 How do you see yourself in 20 years?
Hopefully still the same, like being inspired by nature every day. Appreciate every small thing around me. Be able to enjoy skiing if there is still snow of course. Do sports in nature with the same passion I have today. I want to inspire kids to get out there and respect nature. So, I will probably carry on filming and spread some eco-friendly messages in our movies. I'll possibly work as a scientist again and I will try to build a green future for the next generation, we are not supposed to kill everything on this beautiful planet, solutions exist and it's possible to be a force for positive change in the world.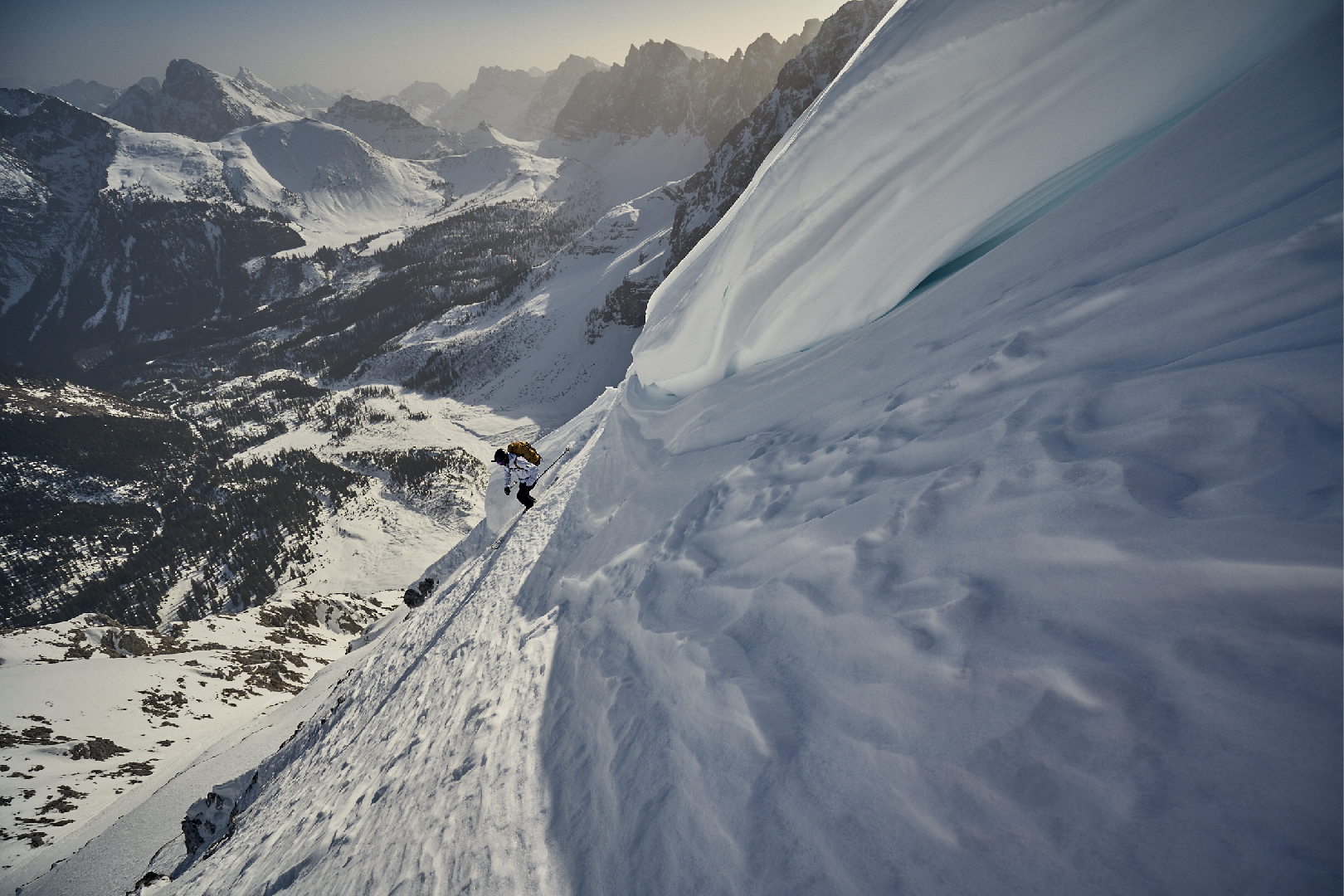 photo @maxkroneck
A conversation made by Maxence Gallot