Last spring, things aligned for some outstanding adventure skiing in the northern Teton Range. Beau Fredlund recounts a new day on the hill, one of those adventures we skiers are craving for, and that life unexpectedly throws at us, like jewels in the cracks of high rocks.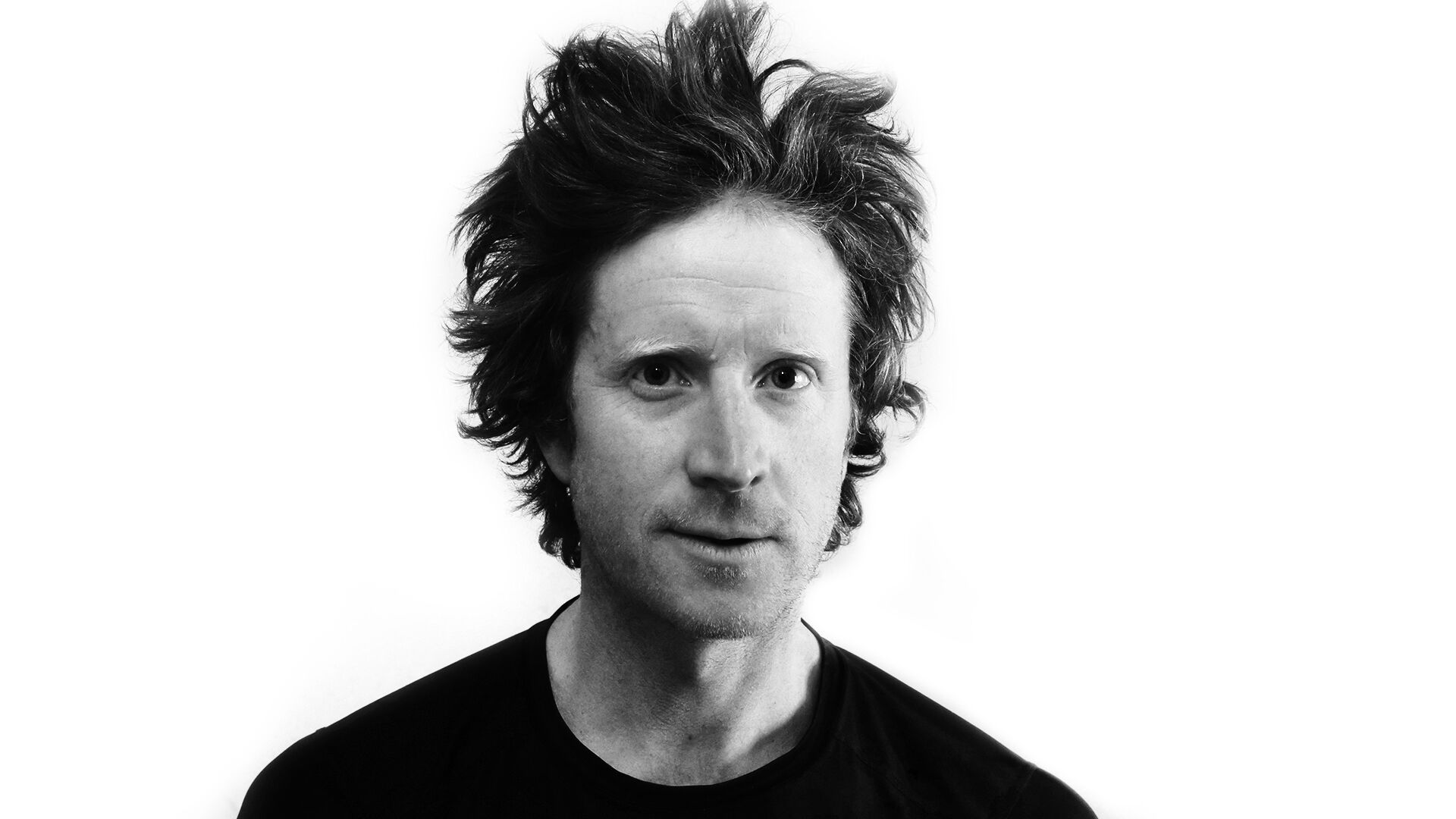 I was in Jackson Hole to rendezvous with a couple of old friends, Adam Fabrikant and Billy Haas. Adam and Billy are amazing local mountain guides, funny characters, and dynamite skiers. I'd gotten to know them on a ski trip to New Zealand six years before, where we had collaborated on some magical days in the mountains. We were psyched to be able to spend a couple of days skiing together again after a busy winter of work. There was a lot of camaraderie between us, and curiosity about a particular project on Mt. Moran, one of the more spectacular mountains in the Tetons.
Adam, Billy, and I had set aside 3 days to ski together, six months prior, so we hoped conditions would align for something fun and of quality. Now we just needed to see if our motivation lined up with the current conditions for this exploratory Mt. Moran idea. We all had a solid interest in seeing some new terrain, in a spectacular location. Would it be what we were after?
The inspiration for this line had come some years before. Had it been skied? It didn't really matter but it sure seemed like a logical, exciting, and fun route.
There had been a period of dry weather in early March, but the day I arrived to meet them, an exceptional snowstorm started, and we found ourselves skiing about 30cms of fresh, fist hardness snow. Incredibly good mid-March powder. Since then the temps had remained cool, with relatively light winds. The conditions on Mt. Moran could be ideal.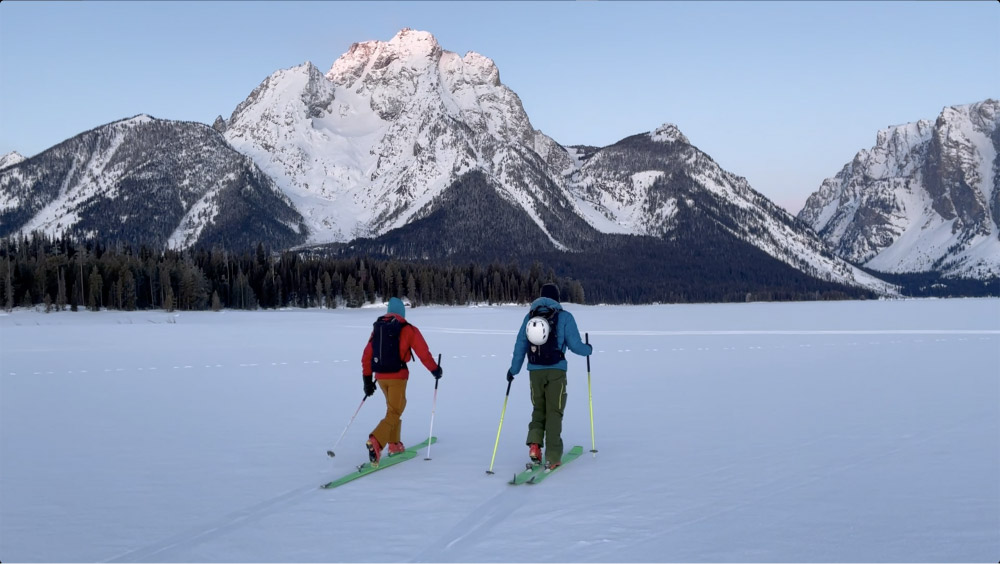 The skiing had been phenomenal in the mid-elevations two days prior, but we thought we might be pushing it. Was it too soon after a big snowstorm to head into that type of terrain? There are lots of options in the Tetons, sometimes too many it seems, so the decision to head there was definitely tricky. We needed a reasonable safety margin. But we might have just the right timing to ski some wild new terrain, and really soak up the excellent (stable) powder conditions. More though, we wanted to find the right balance of adventure (and uncertainty), and mountain aesthetics, the perfect mix of logic and safety and exhilaration.
We decided to check out NE Moran, and began our ski mission about an hour before dawn. It was a new moon and a very dark night, but the atmosphere was crystal clear, so our initial views of the Milky Way that were truly spectacular!
The crux of the route was our decision to ascend the Sickle Couloir that morning. After initially arriving there, and putting on our crampons, we had a small natural sluff come down the couloir about 15 seconds after we committed, which sent us running back to the shelter and safety of the rock eddy at the bottom. There we hemmed and hawed for a solid hour, discussing whether to bail on the project, and the nature and cause of the sluff, and whether we were likely to encounter another one while climbing. The lower part of the Sickle is particularly exposed to overhead snow hazard, and was the site of a tragic accident where in 2015 a group of skiers ascending the couloir was hit by a small sluff avalanche that killed two people in the group. So needless to say, we gave it a lot of thought, and weight to the decision. That next hour while we waited and pondered options, the mountain was remarkably quiet, and we eventually committed again, and basically ran up the lower half of the couloir, hyper-aware of potential loose snow, natural avalanche hazard. In hindsight, our decision seemed relatively safe, though I would definitely remind others about the commitment of launching into this type of terrain. But on the right day, this route couldn't be more highly recommended.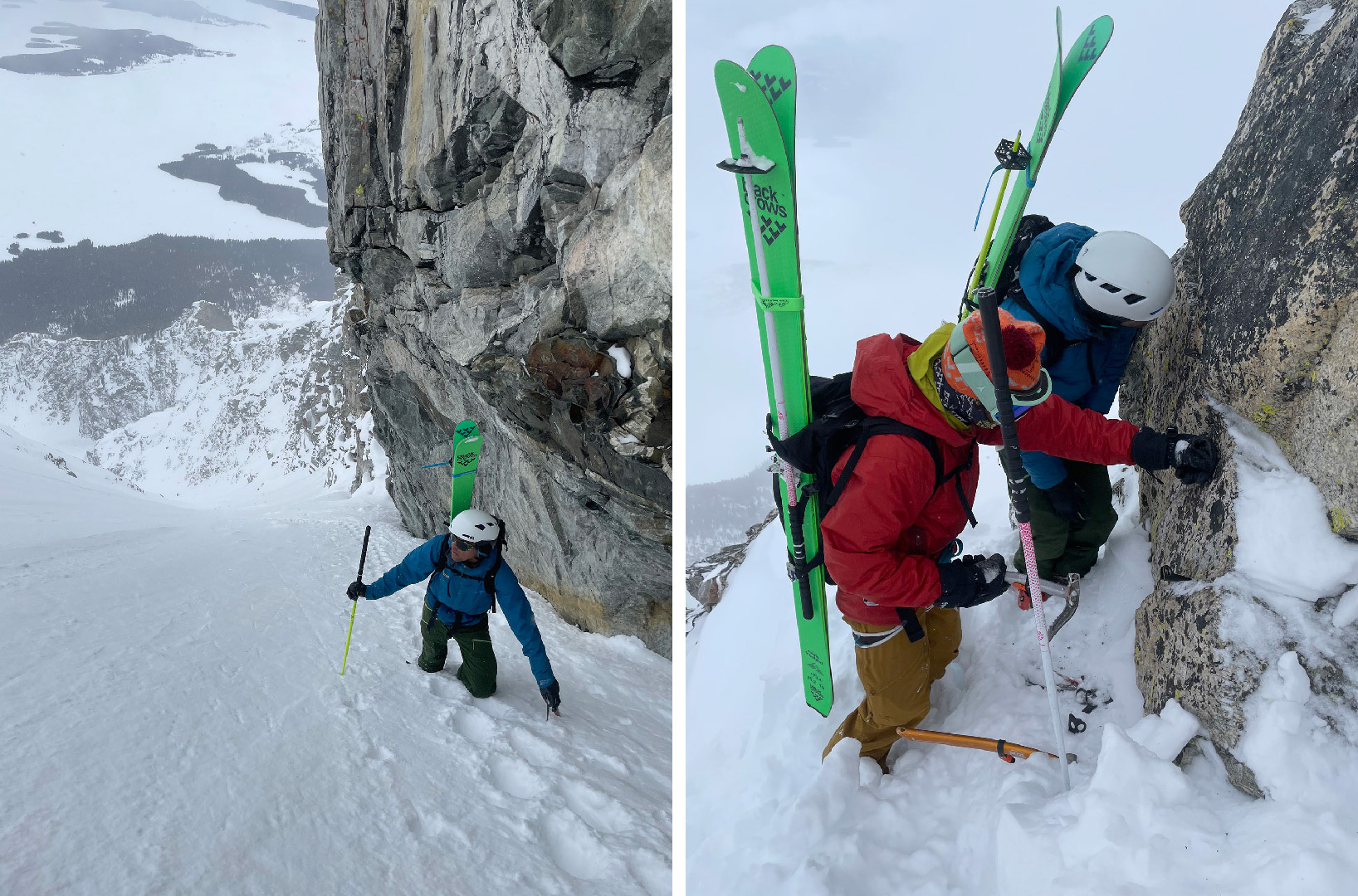 « Adam was so amped that he was literally skate skiing circles »
For equipment and logistics we carried two 60m ropes, and a healthy rock rack, which we made good use of. We made 4 rappels on the mountain in total, one to access the notch of the high ridgeline, and the other three in the direct line of the ski descent. We also belayed the first pitch to evaluate potential slab avalanche hazard.
The route went beautifully down the fall line, for about 3,000′ vert of wild, exposed skiing, followed by 2,000′ of additional powder and blissful aprons below to the lake. We were definitely buzzing from the excitement of the adventure as we skied a couple of hours back across the lake in the sunset. Adam was so amped that he was literally skate skiing circles, while singing songs, on the return route.
written by Beau Fredlund & adapted by Mathieu Ros.
______
To know more about Beau Fredlund have a look at this black doc: