Bruno Compagnet, a skied banned from skiing, reflects upon his enforced retirement with his partner Layla Jean in their Pyrenean lair. Similar horizons and suspended time are conducive to a new way of looking at the present and at the future.
I am writing from my Pyrenean valley where, already for a fortnight, I have found refuge which has passed very fast. March 16th just after the Sentinelle, we left the Valais region of Switzerland for a lightening stop of 20 minutes in Chamonix where we threw 'the essentials' in to our old C 25 before heading down the road to the west. The motorways had the air of a post-apocalyptic exodus – I was overtaken by a striking number of cars laden to the roof – and I drove for more than 14 hours non-stop worrying about breaking down. I started to feel better once Toulouse was behind us, and when, in the gathering dusk, the line of the mountains which saw me grow up appeared in the distance.
Every morning, it is the same ritual. I make a Moka of coffee then, depending upon the weather, either I open the door of this old shepherd's cottage to let in the sun, eitherI light the wood-burner. Outside, apart from the birdsong and the regular chimes of the village bells, it is silent. The simple passing of a vehicle, stops us in our tracks and turns our heads.
Things moved so fast. This story is completely mad. I really took measure of it, when, on the third day I went down to the supermarket to do the shopping. I made the disturbing observation of empty shelves, no fruit and vegetables and, more astoundingly, no toilet paper. We were two clients avoiding each other in the aisles and a cashier who smiled behind her mask when I told her I didn't understand it was a gastroenteritis epidemic…
This morning, on the The Surfeur journal's calendar, I ticked off the day of the week so that I didn't loose track of the days. Time was elapsing differently. My phone panics and I get messages that the average of my down time in front of the screen is in free fall. I'm laughing at some bullshit a friend sent me and I resist the urge to watch the news on my phone. Extension of the confinement period until at least mid April I don't believe it. I think that it will be a lot longer despite the economic pressure. But, like everybody, between two mugs of coffee, I question myself about the consequences and the very severe economic crisis to come and, like everybody else, I know nothing….
I water the seeds that we have put in front of the windows. The beans are the fastest and I have already replanted them in to individual pots. Later, I am going in to the wood opposite us (the forest is at least a kilometre down the road) to cut small hazelnut poles to make a tipi for the beans to climb up. The wood stove is now roaring. Layla is still asleep, I am a morning person and she is a night owl, but we have the day to love and organise ourselves.
I still have a lot of wood to store and cut. No trunks of wood but cuttings, branches from the hedges. This cleans things up and heats my little stove. We should forbid cutting in the forest. It has suffered a lot these last few years. I have it in front of my eyes all day long. It is alive and is permanently changing. I listen to it breathing, like I do to the ocean or the mountains. I instinctively need this contact with the natural environment.
A week ago, on Layla's advice, she has read many books on the subject, I started to make some mounds of soil in accordance with permaculture's principles. We dug some furrows. We added dead shavings of rotten wood and recovered it with soil. No fertiliser, no cultivator. We'll see. We'll plant seeds ordered via internet from sites specialising in the production of seeds from healthy and sustainable sources. It is hard work but it is also a start. No longer supporting a system which one knows is noxious and only lucrative for a very small number of people. Felix, one of the villagers, offered me a trailer load of manure when he saw me attacking the garden. I am going to be able to try a field of potatoes.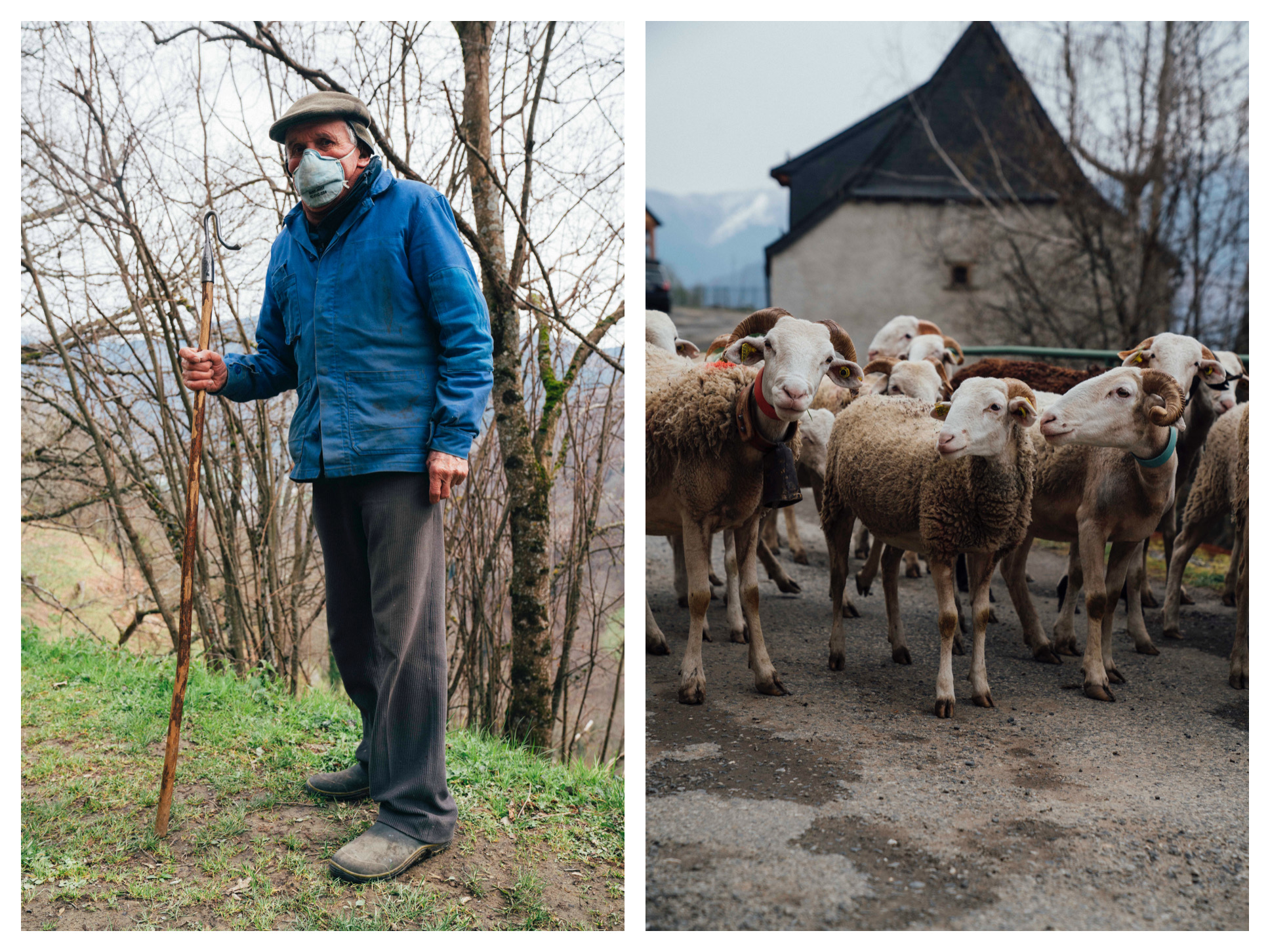 Layla Jean Kerley
I'm not going to suddenly, in times of crisis, improvise as a pseudo-environmentalist, but it's a fact, I couldn't live in the city. I thought about it when I went to get some old manure for the garden. I would be unhappy in a flat even a luxury one. I would go stir crazy in front of a plasma screen watching bullshit on Netflix and a psychological follow-up or antidepressants wouldn't change that.
It has stopped raining. I am going out to finish building the chicken coop. Layla chose a Sussex and a Tetra (the most common race here). I have to make them a bunker because weasels and foxes are ruthless.
I have a neighbour, a retired teacher, who took things in hand and decided to organise grouped orders to support the small local producers. Fruit, veg, bread and eggs. All at once, we are speaking to one another in the village. Then, as there are bee hives, he offered to get me a swarm. I have always dreamed of making honey. Maybe that comes from reading Alejandro Jodorowsky's novels…
I am astonished by the speed with which, with Layla, we have settled in to a new world. Another way of functioning just as exciting, but very far from my winter activity. The link between these two universes will maybe be the capacity of adaptation and the necessity of a true thoughts about our needs and desires. I am happy to have this Pyrenean retreat. It is a choice and not uniquely good luck because it is something which is completely accessible to most of us. The financial evaluation of my bit of land, stream and my grange is equivalent to the price of a big 4×4.
I know my desires and above all my needs for being happy. Like many people who are close to me and with whom I have spoken, I appreciate this break. I would like it to be beneficial and that we could draw good conclusions from it. I am a player in the ecological, economic and social disaster in addition to the sanitary one that occupies our thoughts, but I always try to stay in line with my ideas. Since Christmas for example, I have stopped eating meat. I have also decided not to buy any new clothes (I believe that I have enough to see me until the end of my days). I will wait until mine have fallen to pieces. One day when I wax collecting plastic off the beach during a period of flat calm, somebody told me that it was useless. Without doubt, but it occupied me and that felt good and, above all, it is a characteristic of man, this capacity to continue, even if hope is uncertain.
Barrancoueu, April 2nd 2020