Chapter three of Felix's thoughts from over the summer. This time he takes us into the slippery terrain of guilt, something that even creeps into the enchanted world of winter sports sometimes. Well, at least it does for some of us spoilt kids, until we indulge again in our childlike pleasures and forget about all that.
In the weeks following the craziness that is the UTMB I find myself rejoicing in the increasingly empty streets of Chamonix. The climate has become significantly cooler – summer is clearly over, replaced by a kind of glimmering pre-autumn glow.
Winter is getting closer every day, and on my way to work I have started to glimpse last season's skis being sold off in the windows of sports shops again, where recently all I could see was running shoes. I've caught myself thinking a lot about he commercialism/consumerism-culture and how they've successfully started to pollute activities that ought to be spiritual and sustainable – ski-touring, rock-climbing, trail-running – and during the UTMB words like "spiritual", "sustainable", "solitary", "meditative" were pretty much the last ones on my mind. Instead slogans like "Meet the athletes – run in their shoes", were encouraging me to spend more money on stuff rather than inspiring me to actually get out "there".
I reflect on all of this and I feel a tiny a sting of guilt. I have this nice-guy attitude talking about climate change and consuming less, but I happily spent 900EUR on my Norrøna Ski Clothes. I talk about reducing pollution in the valley, me and my friends collectively hoping for a perfect winter, for heaps of snow. "Protect our winters", we plead, but when skies clear after a huge snowstorm and all of the Chamonix ski-resorts are closed, you'll without doubt find us in a car driving through that damn tunnel to reap the benefits in Courmayeur.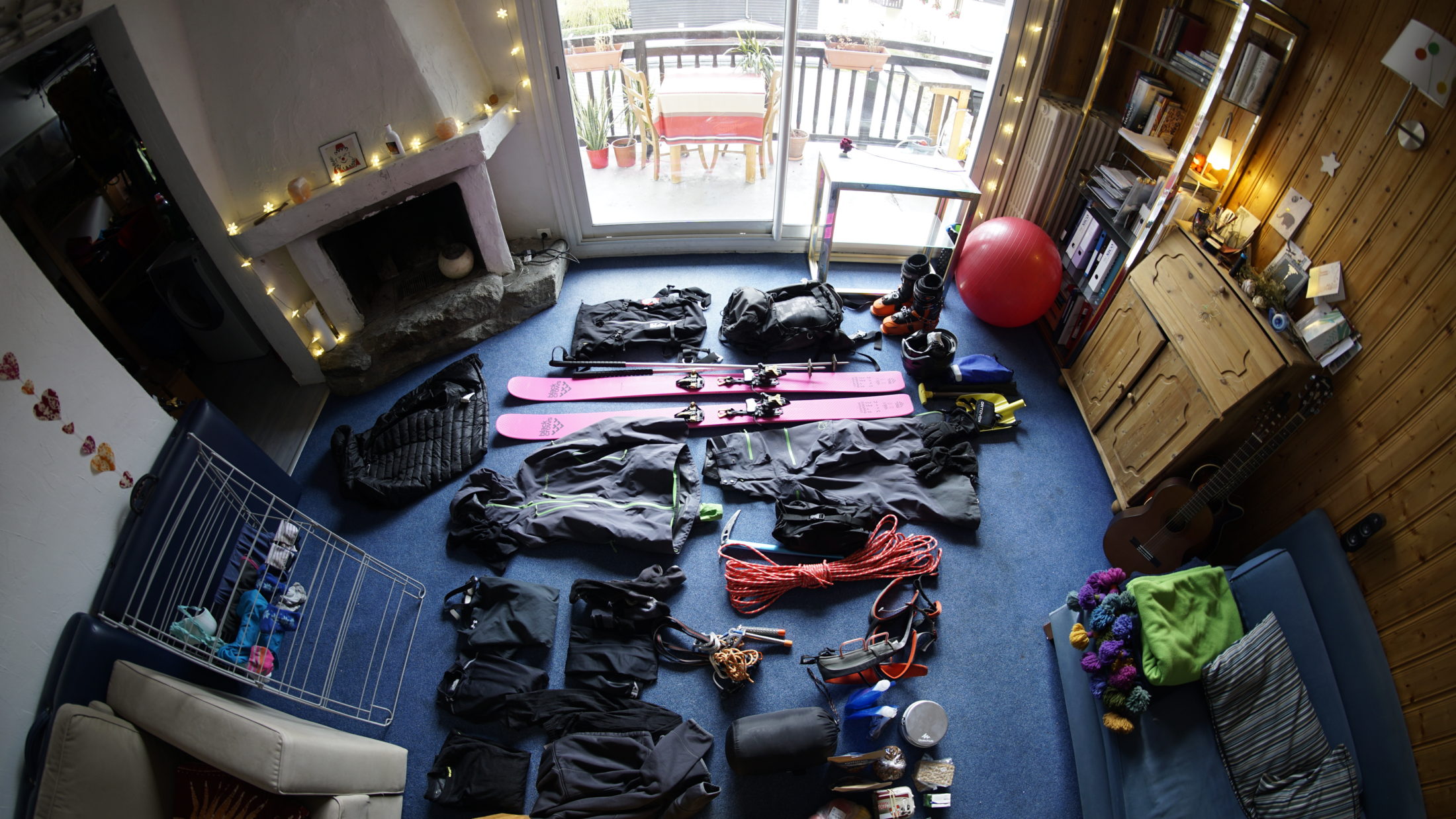 And perhaps I refrain from using the fireplace in our house, not contributing to the emissions, but you won't see me making any efforts to talk my friends out of using theirs.
I talk about making my equipment last for a long time, but if you search my browser history you'll see it packed with regular visits to action-sport websites – a result of the commercials having their way with me the way they were intended to, no doubt: I fucking love geeking out on gear.
Most importantly, I just wrote that commercialism and consumerism is boring, and yet I am the biggest fanboy of the ski brand Black Crows you will ever meet.
Here it comes, the guilt that I feel over investing all of my time and energy into fulfilling my own desire to have fun. The guilt I feel over making sure my friends share my sunscreen when ski-touring on the glaciers, but not caring when they roll their fifth cigarette of the night.
The guilt I feel over the contradictions in my chest regarding consumerist culture. I work hard and I BUY new skis. I work hard and I BUY a season pass. I work hard and I BUY beer.
The guilt over always talking about minimizing pollution and detrimental emissions, while greedily jumping into any available car as long as it might make me arrive at Grands Montets faster than the first bus.
I'm happily living a life where every element is focused on one sole purpose; the happiness and fulfilment of myself.
I train in the summer to be in shape for skiing in the winter, I dream of backflips, bottomless powder turns and post-ski-food.
People are fleeing their countries from wars, seeking refuge… I am in Chamonix inviting ski-bums to sleep on my couch.
I don't think that evolution has equipped my brain with the language necessary to process the meaning of life, not quite yet. Surfing the snow in the Lavancher bowl, I feel like I have discovered it. But late at night when I am finishing up work at the restaurant, my colleagues and I are whispering forbidden words about leaving Chamonix, about getting educations and real jobs… So that one day we will be able to… What…? Return to Chamonix, I guess. Maybe with less doubts and more mindfulness.
What is the origin of those forbidden thoughts, I wonder?
Maybe it's simply spelled survivor's guilt.