As the winter approaches, we asked our iconic, charismatic (in general) ambassadors to tell us about their relationship with their favourite touring ski.

The freebird range

has been expanded and we wondered what they all thought of the ski that they chose or that chose them, because we believe in the power of wooden planks. In an outpouring of generosity that we're no strangers to, we've had enthusiastic responses from 11 crows across the world.
Firstly, who is how big and what sizes have they chosen for their mounts? It ranges from the mentis 157s that Liv Sansoz's takes on her alpine missions to the ferox 186s belonging to Mark Abma who's after "control in the most difficult conditions and float in powder".
Next, how do they mount them? On the centre point set by the manufacturer (and therefore the highly-respected Julien Regnier) or with a personalised setting? From our pool of eleven sample riders, only two dared to flout the norm and diverge from the suggested mounting point. Christina «Lusti» Lustenberger puts herself 1cm forward "like on all skis" because she doesn't like to have such long tips and Mark Abma sets himself 3cm back on the ferox to provide softer landings…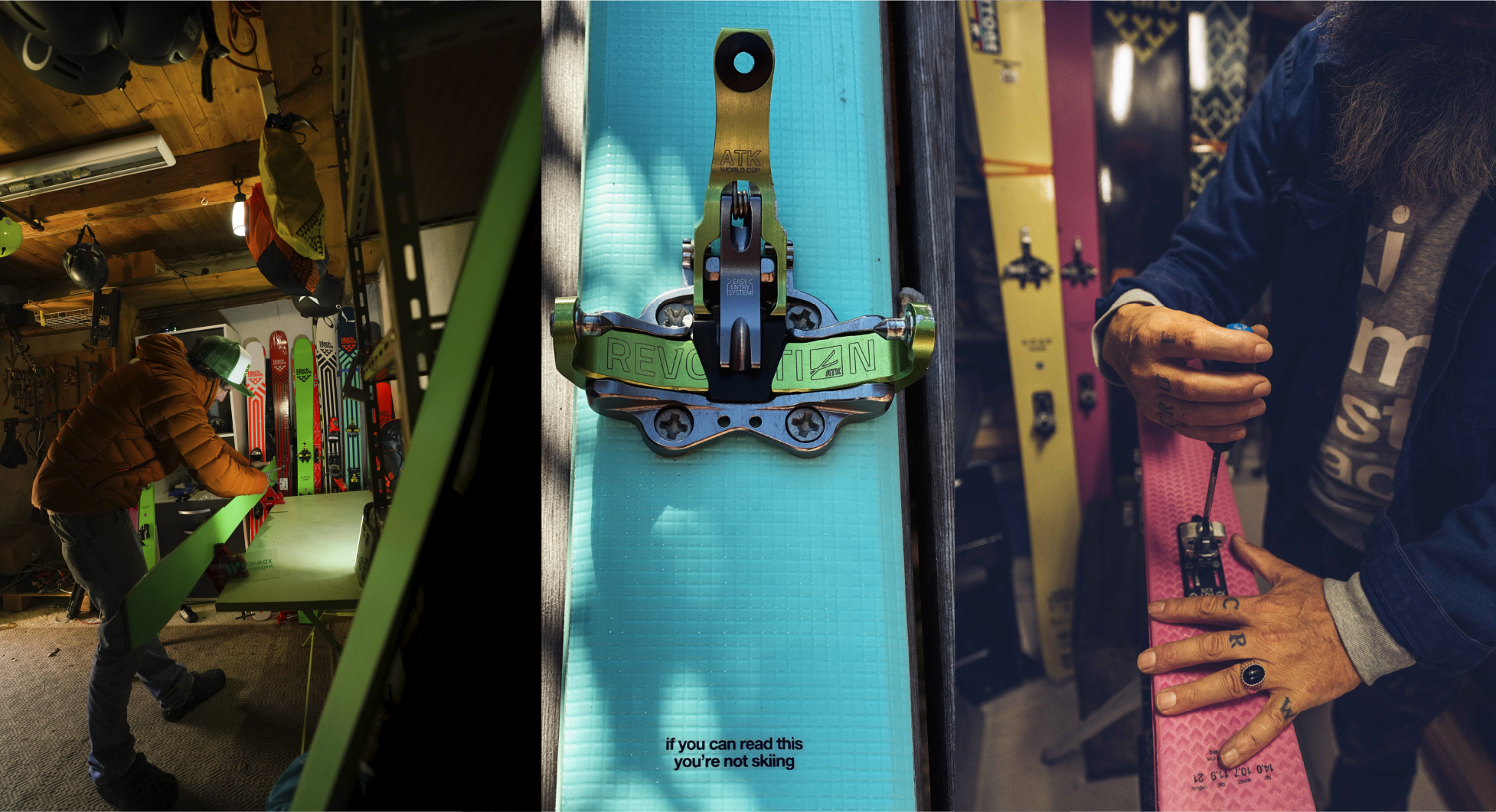 As for bindings, we find a range seemingly taken from a touring catalogue: Plum 170s (Lionel, Jules), ATK Freeraider (Yannick), ATK haute route 100 (Bruno), G3 Z12 (Niko), Salomon MTN (Michelle), Marker Kingpin (Mark), Dynafit Speed Radical (Lusti), Dynafit Superlight 150 (Bird, Beau), ATK Revolution (Liv).
For each ski, we asked what the most popular additions were to their setups. Unsurprisingly, pilus skins and duos poles came in at the top of the survey closely followed by the dorsa 27 backpack. In the peloton there were the freebird xpore pants, and the crow division T-Shirt amongst others.
Our ambassadors have also provided us with a selection of their secret little techniques, we've cut this down to our three favourite pro tips:
> Bruno Compagnet rolls his skins up "under his knees around the calf" for when he has to deskin then reapply them: "it's an easily accessible area that doesn't hinder you, it stops you from having a huge belly like when you put them into your jacket." Interestingly, on the other side of the world at the doorway to Yellowstone National Park, Beau Fredlund does exactly the same thing.
> Mark Abma traps the gaiter of his pants with his boot strap to prevent it from accidentally rising up, ensuring no snow can get in.
> Liv Sansoz always closes her bindings in ascent position to preserve the power of the spring.
To finish up with, here's a rundown of some different ways to prepare your equipment for the winter that's coming up thick and fast with snow.
Our panel almost all said they are ready. The skis have been waxed and stored, ready to use as soon as the snow has fallen. All that's left is for Jules to organise his/her backpack and oil his bindings, Michele Parker to get batteries for her transceiver, Beau to reglue his skins a bit, and for Lusti to find out which skins go on which skis (« I've written the name on some storage bags, for the rest it's a risky game »).
conversation made by Mathieu Ros.