Per Wingaard Sjøqvist reports back on his trip to Norway through words and pictures. A bit of contemplation and slowdown after the hustle of the footage he delivered last spring. Sit back and relax, you're about to touchdown on Tromsøya island, 300km inside the Arctic Circle.
Last summer we were looking for an end-of-season trip. We wanted to experience new adventures, have enough snow and longer days to get the most out of our journey. There was no doubt, northern Norway was the sweet spot to settle down and discover a new area.
see also the The fifth pillar of freeriding, the video of the trip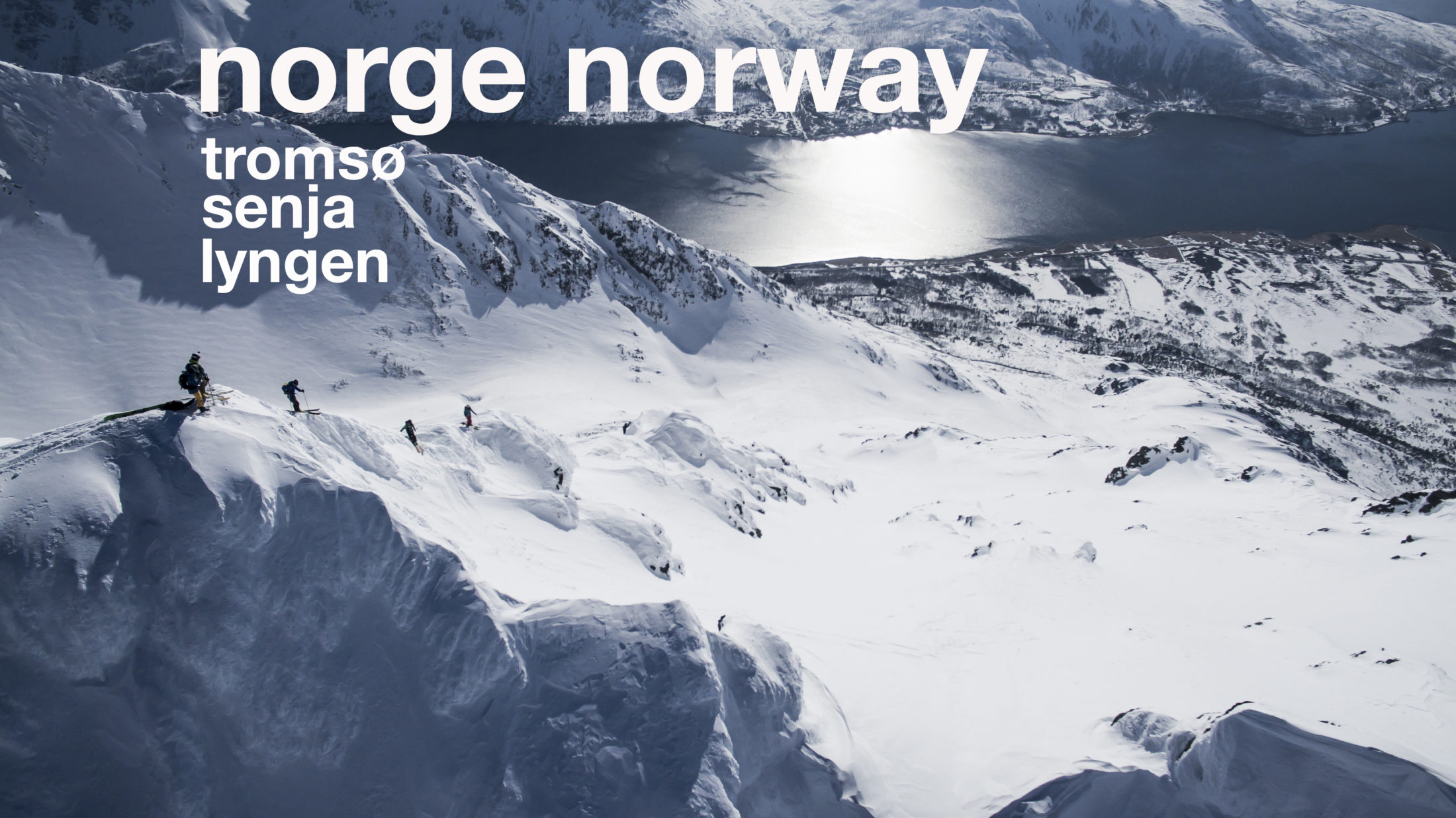 Day 1 / 16-04-17 – Geneva -Tromsø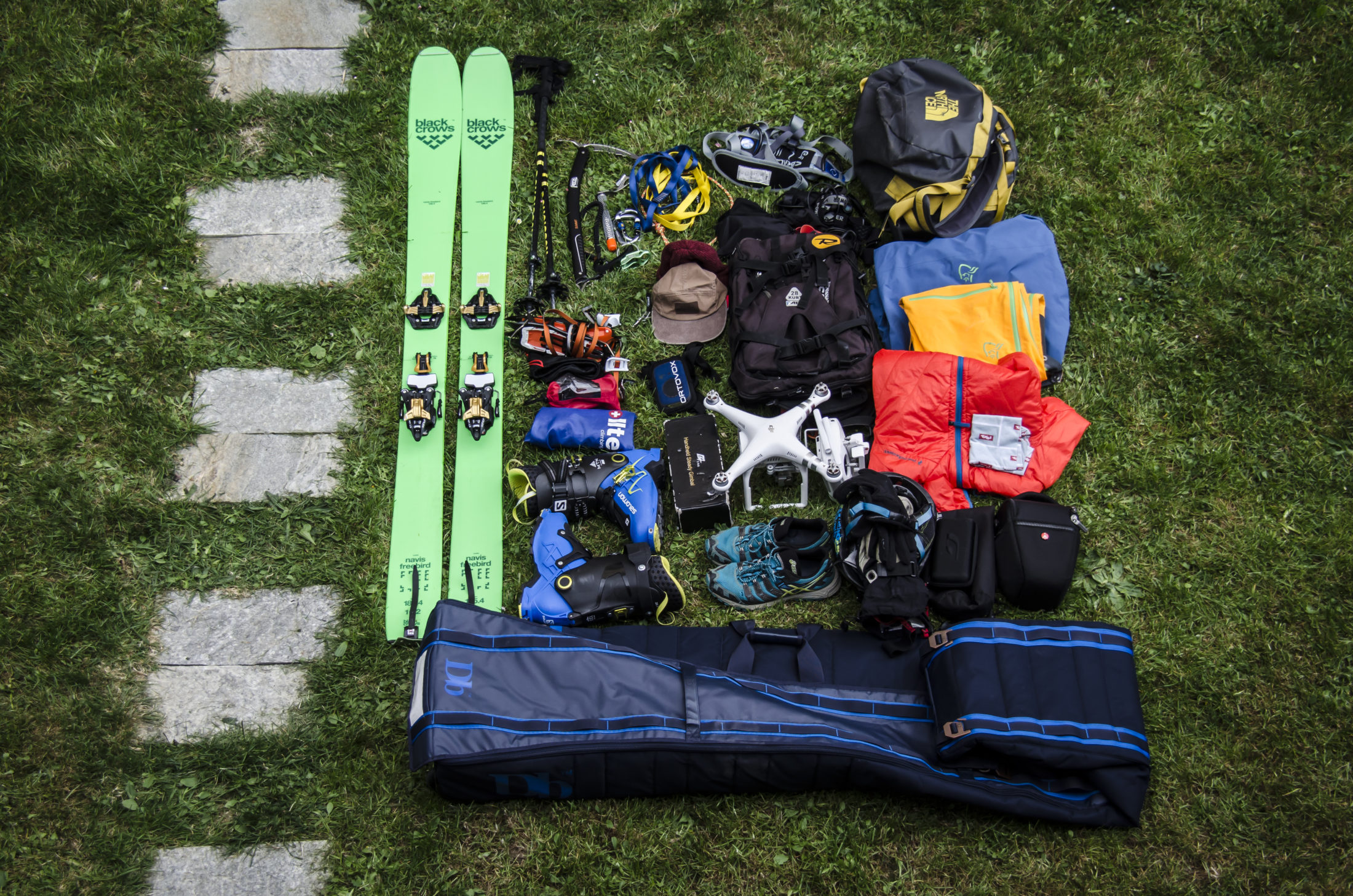 We flew from southern European spring temperatures to winter up in Tromsø. The flight in to Tromsø gave us a stunning view of the surrounding mountains and a good appetiser of the potential in the area.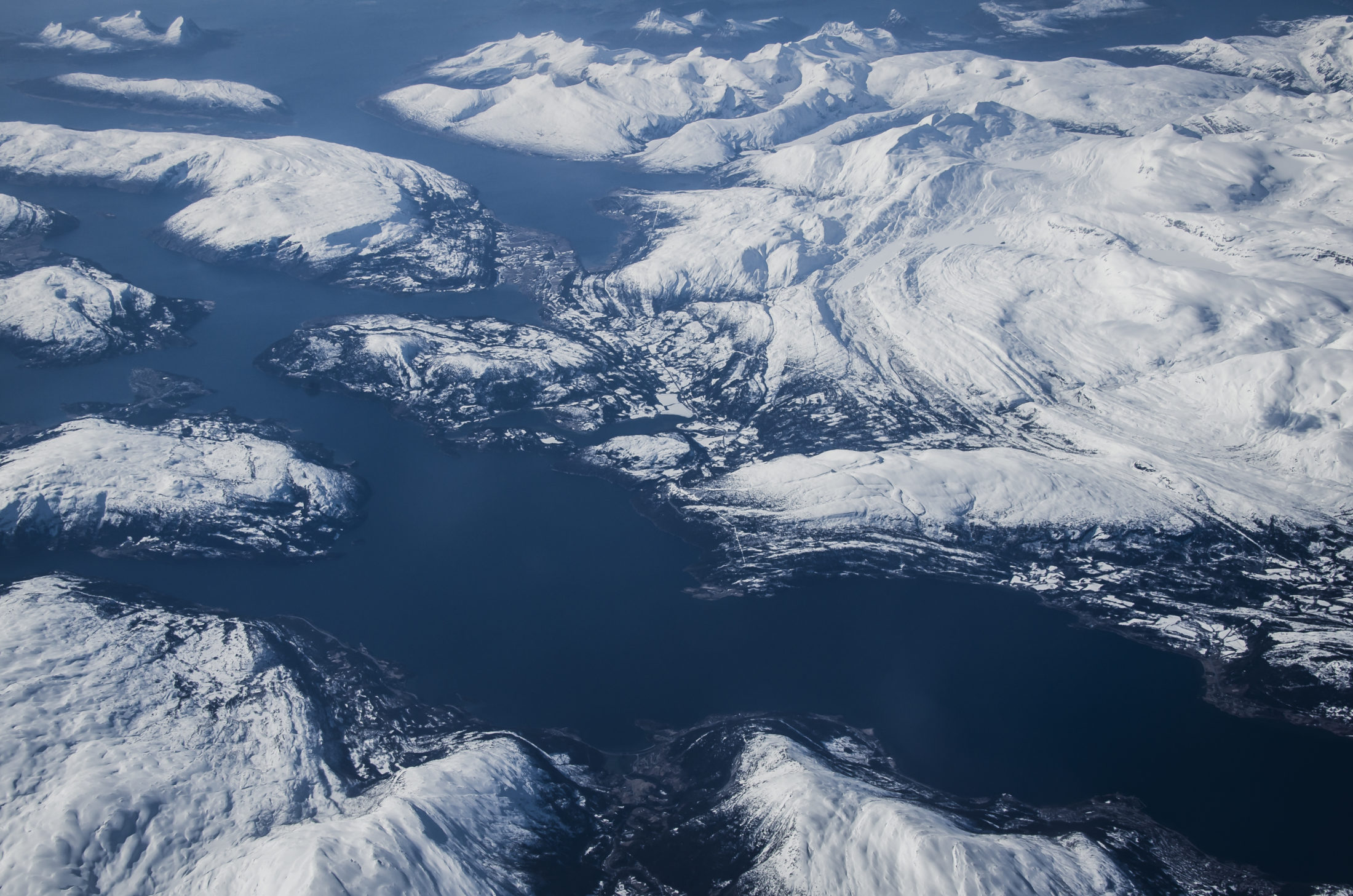 It was a clear blue sky, and the snow was glittering in the sunlight from the mountain peaks and all the way down to the fjord. The whole team was ready to head out of the airport as fast as possible and get the ski gear on. Except for one minor detail, our skis never arrived. Apparently, Norwegian Air had messed up, so our skis were still back in Oslo. However, this gave us a good opportunity to explore Tromsø.
Day 2 | On the road to Senja
Finally, we got our skis and the adventure could start. We jumped right in our motorhome and set course for Senja, which is the second largest island in Norway, renowned for its rugged landscape and mountains which rise to the sky straight from the sea. Senja is also referred to as "Norway in miniature" due to its diverse landscape reflecting all the aspects of Norwegian nature. The landscapes were breath-taking and we quickly started to dream about skiing all the surrounding tops.
We weren't far away from Senja when our restlessness got the best of us. We saw a suitable top from the car, pulled over, got our ski gear out and took advantage of the late sunset to go touring. (Note: This was at 7 pm, locally joked about being a "polar-start" in contrast to the more known "alpine-start").
Conditions were icy but who cares when there are astonishing landscapes to admire.
Day 3 | Senja – Luttind renna
We woke up in Gibostad next to a harbour with about 20cm of fresh snow and mid in a storm. Senja is exposed to the Norwegian Sea with fast changing weather forecasts, so we had faith to have sun back. We drove further north, where the ski spots are. We decided to ski Luttind couloir (40°, 600m). It's about +750m where we had first tracks in 30cm of freshies.
Day 4 | Senja – Latræva
We scoped Latræva right from the road. It's a +700m couloir of bootpack, steep (45°) and narrow, with view over the sea… On the way up, we had hip height snow but we earned our turns with first tracks there too… Note that Latræva means « lazy ass », a must do for couloir lovers.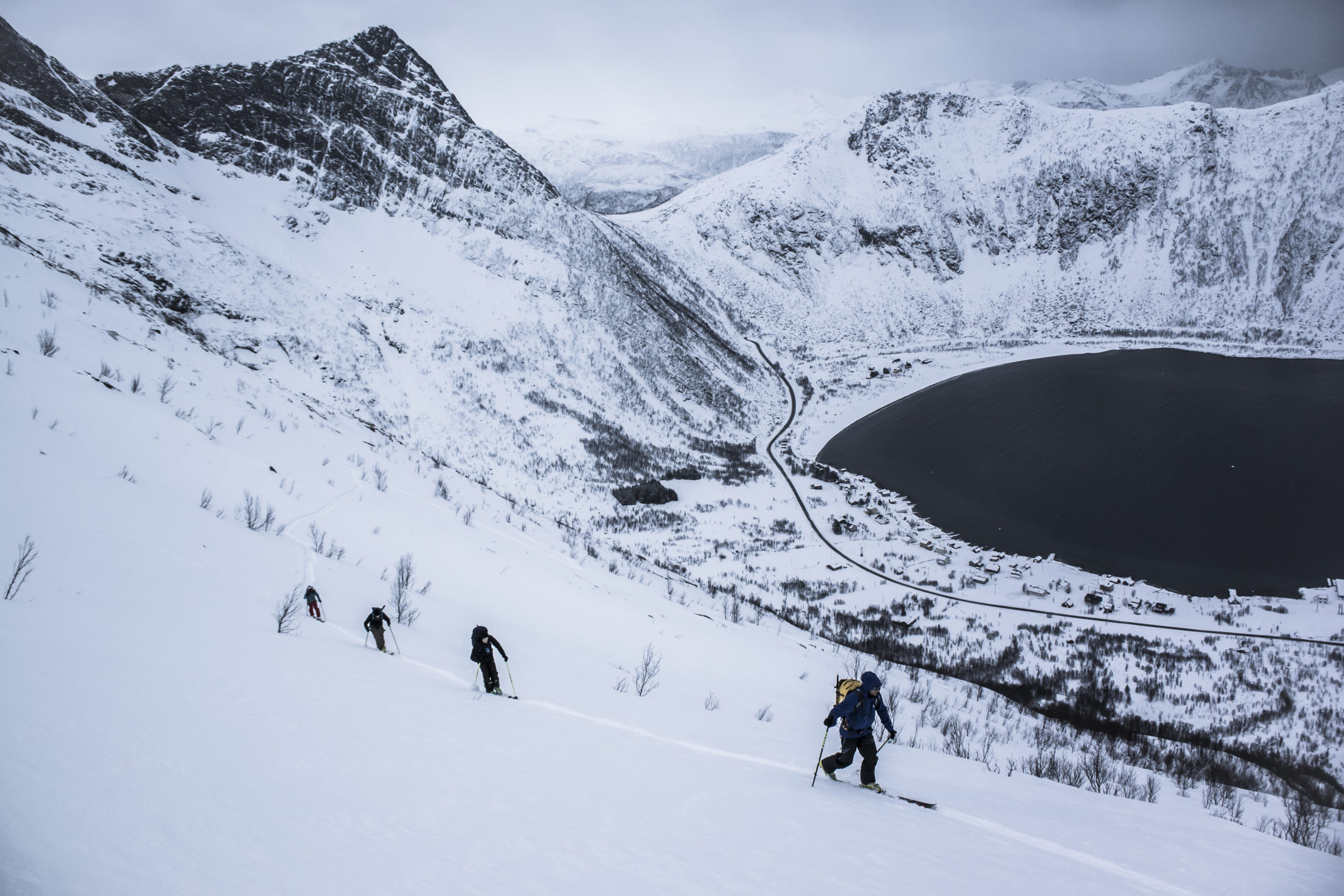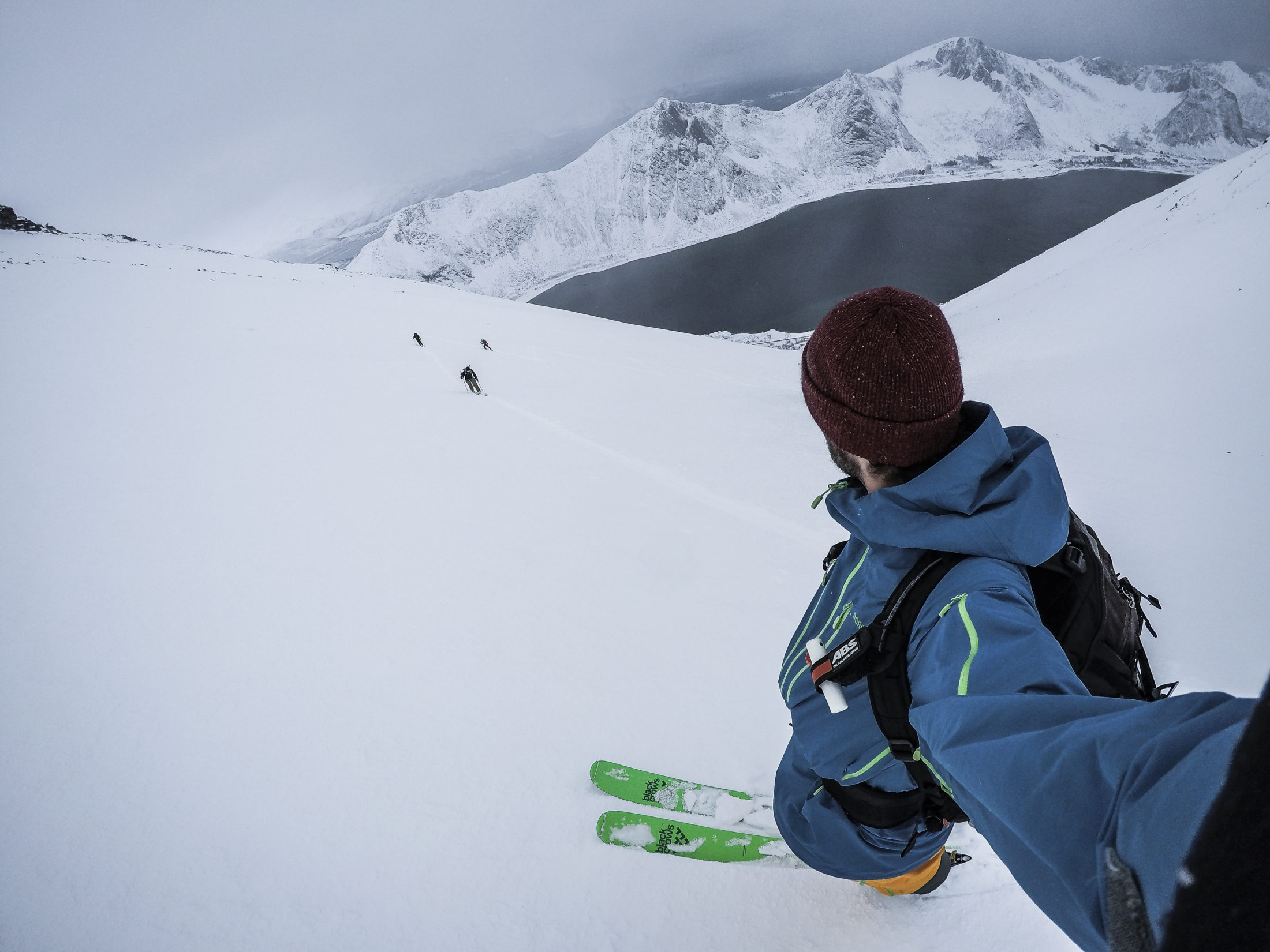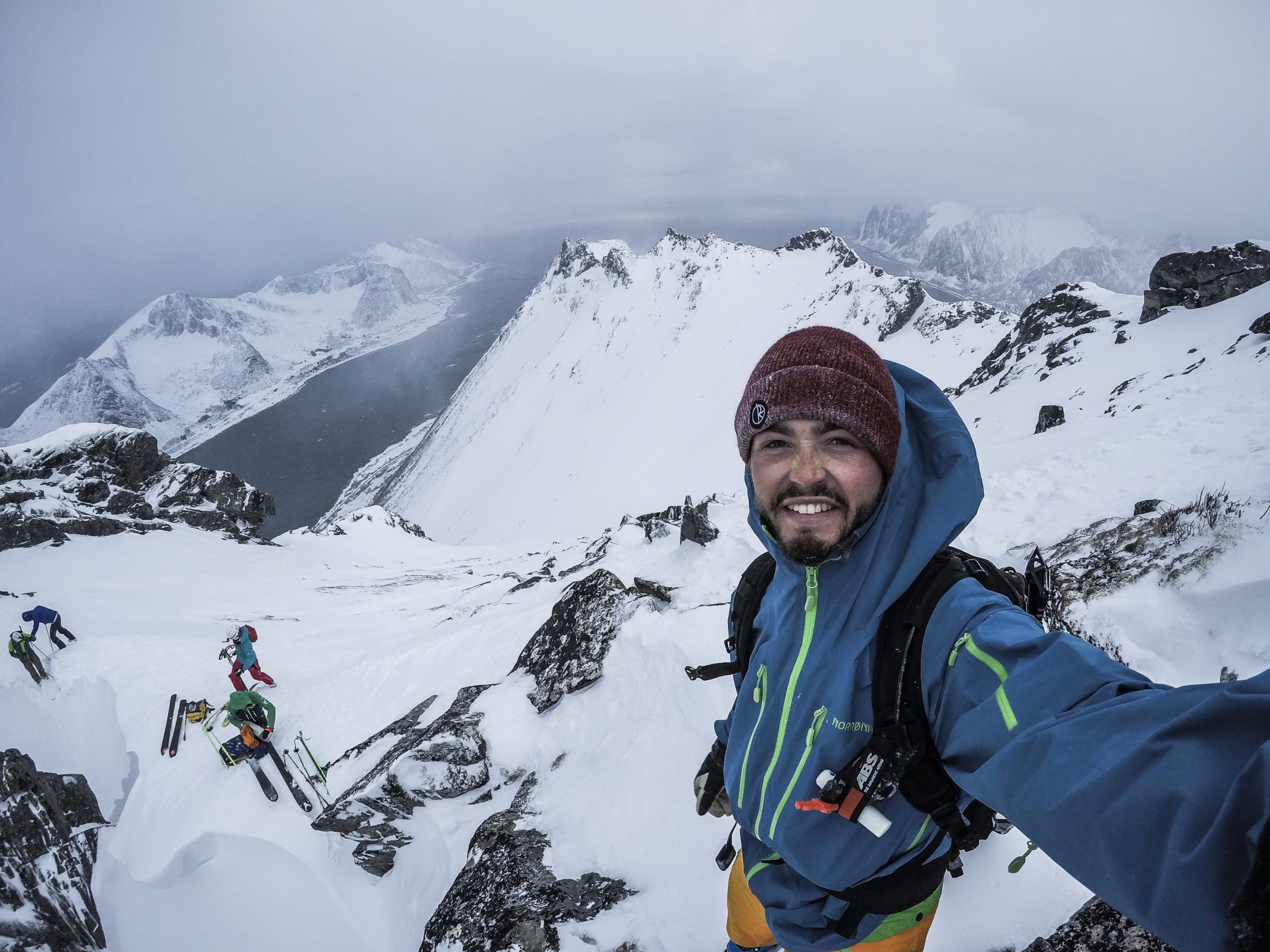 Day 5/6 | Senja – Store Hesten
After good advice from riders like Robert Aaring, we decided to continue with Store Hesten couloir (35-40°, 300m). There is a little rappel on the top and a lot of fun on the way down. But this time, we didn't reach the couloir. The wind was far too strong on the ridge and we decided to turn back.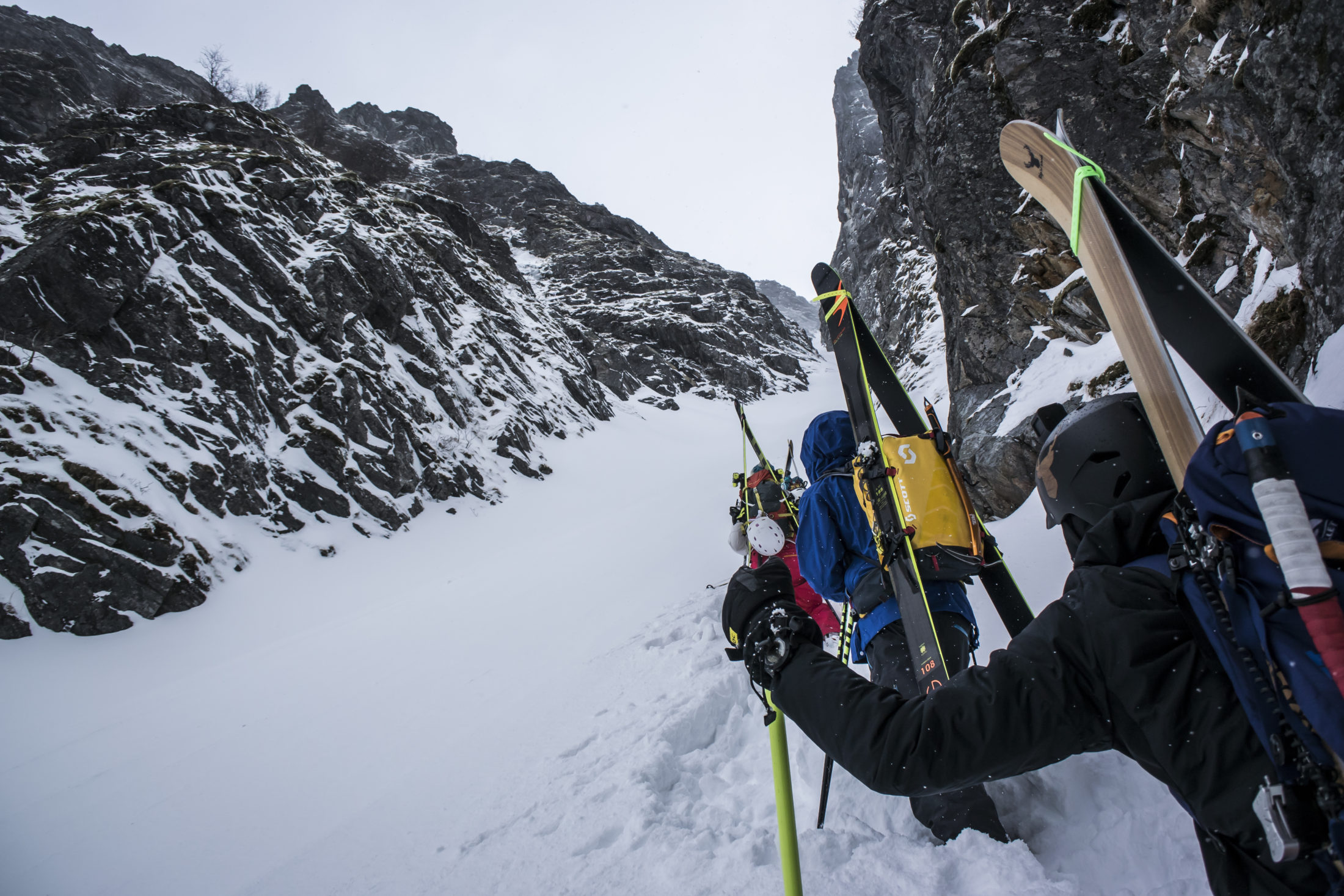 The day after wind blew over and the sun was back. We re-used our tracks that were covered by the wind to do the +800m elevation. This couloir is very special, built in the rocks with a stunning view over the fjords.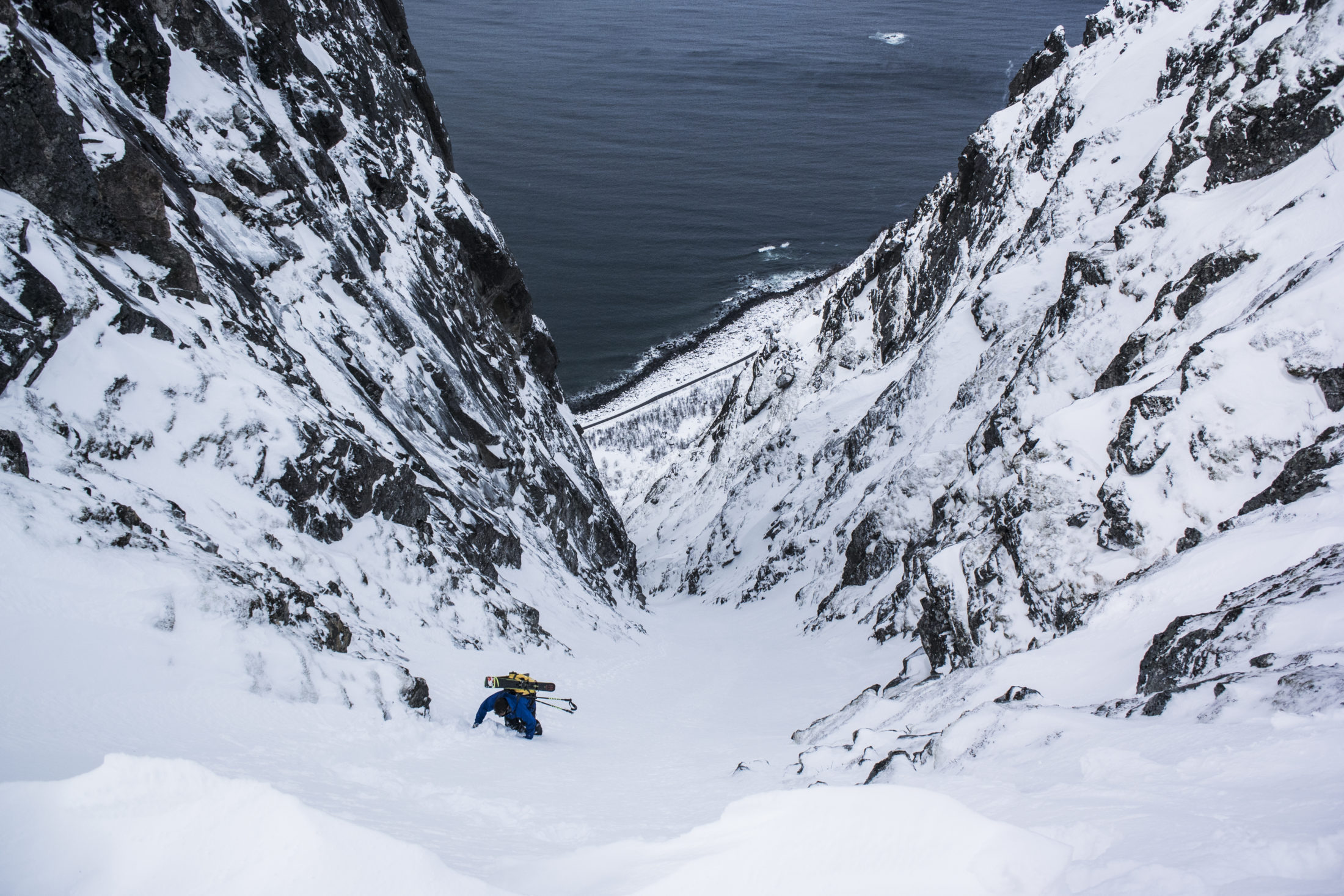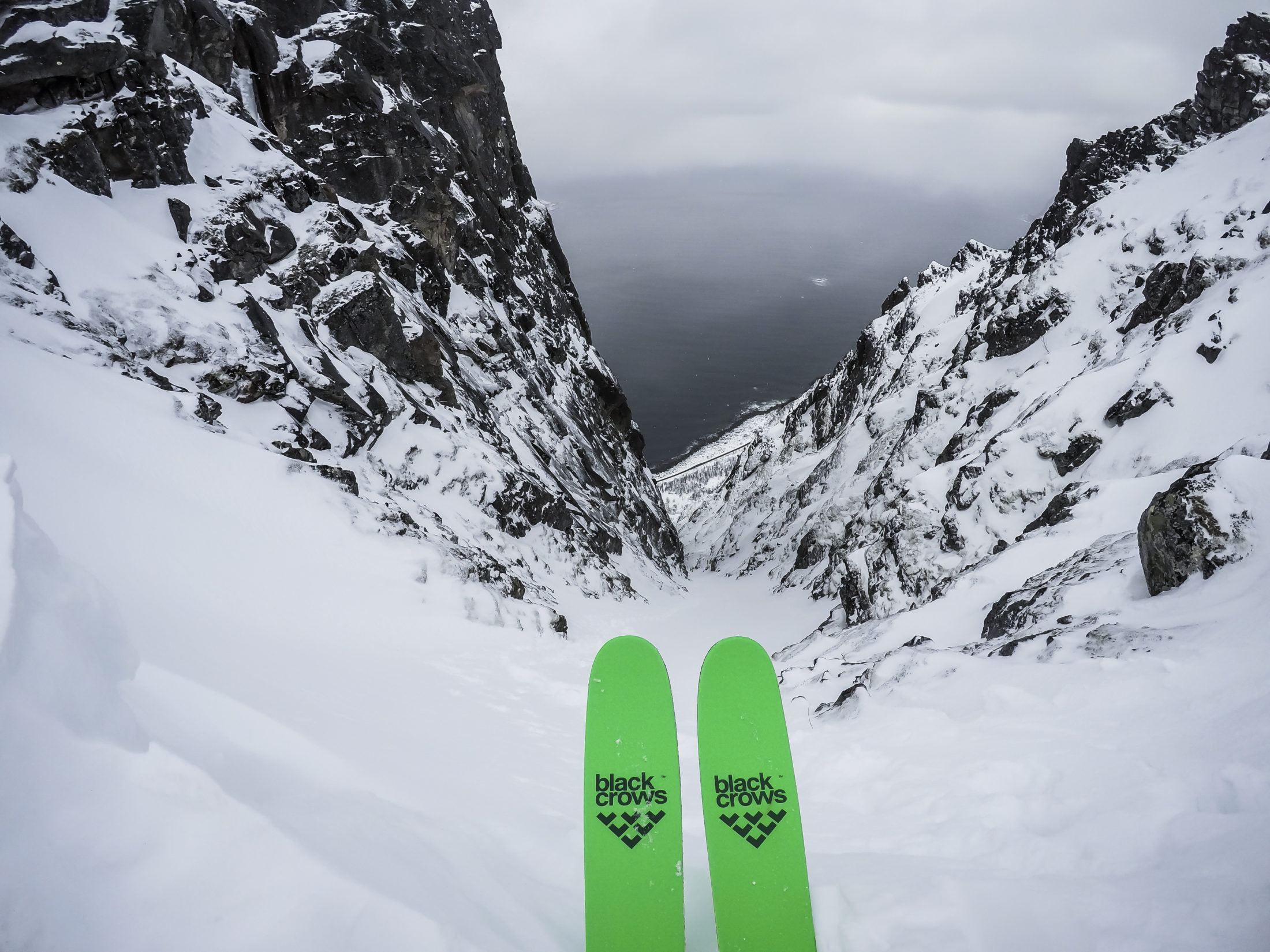 As we experienced some issues with the heating system of our motorhome, we needed some energy for the coming days. We stopped in Senjahopen and asked the locals where we could buy some fresh fish. We ended up at Aksel Hansen fishery (one of the biggest fisheries in Norway) and got a massive cod prepared by the Director Johan. Than beer time was needed, but you really enjoy the one and only beer you drink, because it's still quite expensive.
Day 7 | Senja – Stormoa
For our last tour in Senja, we decided to do a steep face that had been advised. But again, it was too windy at the top, so we stopped midways and enjoyed the fresh powder.
We left Senja and headed in direction of Lyngen, to Nordkjosbotn. My cousin had advised us to ski Store Russetinden, an imposing North East exposed face. We arrived at 8pm and scoped the possible lines from the road. After carefully reading the avalanche reports, weather forecast, different articles and checking on YouTube previous runs, we decided to go there next morning.
Day 8 | Store Russetinden – NE face
We had a good night sleep with a +3 ° in our palace before +1300m elevation. The weather forecast was perfect, we were up in 3 hours.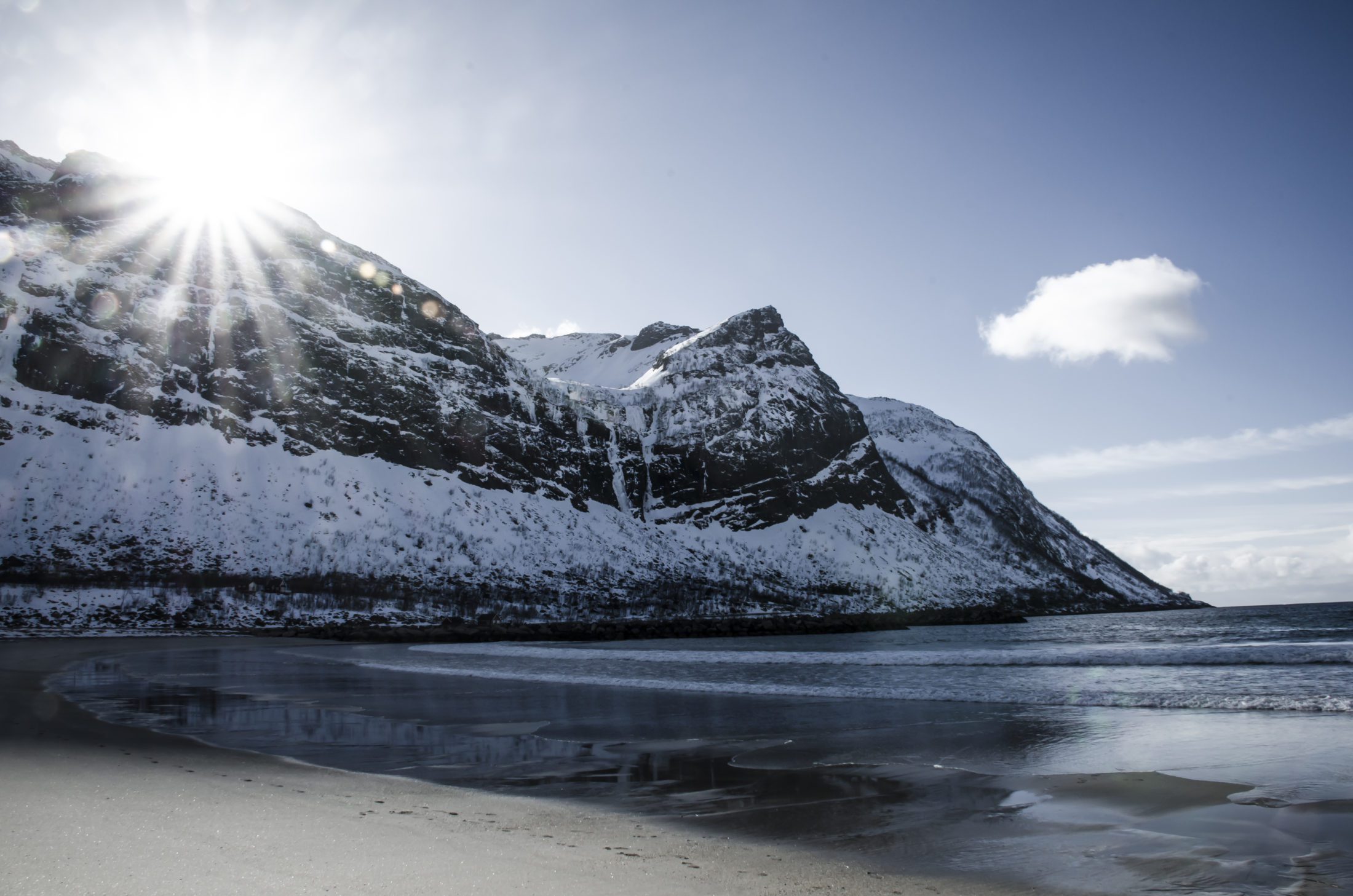 The 360° view was thrilling and the untouched NE face looked simply unreal… I had the honour to open the face and I was definitely a bit scared at the top, the adrenaline spun through me. After some check turns, we had a hell of ride with 30cm fresh snow!
This is one of the most complete runs I've ever ridden. Note that this face is only in conditions a few days in the season and we had the chance to get the best out of it!
This was definitely the highlight of our trip. We read afterwards that Andreas Fransson used to ski this face and now we know why!
The plan was to proceed further our journey in the well-known Lyngen Alps. Before continuing our road we stopped at Shell gas station for « pølse og lompe » (grilled sausage and potato pancake) and did the dishes in the toilets. Norwegians must have thought that these tourists definitely had a problem but we didn't care. We had just skied Store Russetinden.
We passed Lyngseidet and continued our way to Godmother's couloir. Google it, it's a mythic couloir, but you either have to cross the sea or walk around which makes the tour quite long. We will be come back for this couloir!
We looked for a B plan, on the over side of the Godmother's couloir. Sofiatinden is a pretty well-known run in Lyngen Alps for its beautiful landscapes and playful face.
Day 9 | Sofiatinden
We were a bit tired but we quickly forgot that we were exhausted with raising our eyes for enjoying this stunning scenery.
Day 10-11-12 | Back to Tromsø
We chilled and did some sightseeing. We met Adrien Hildebrandt, Sébastien Varlet and Florent Demaere. We trained our fishing skills (or not) and shared our tours.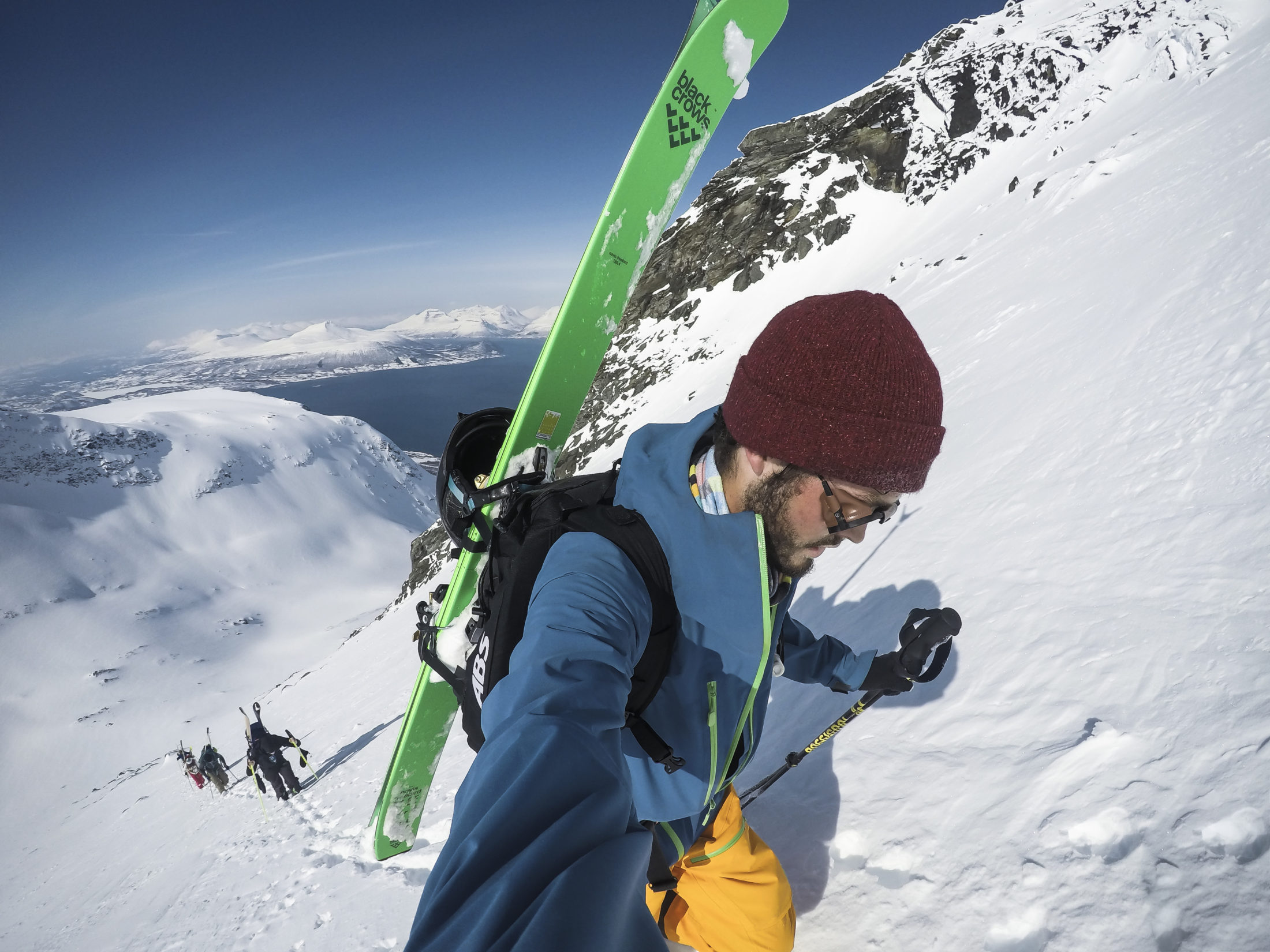 We had to get back to Tromsø, clean the motorhome and unfortunately take the plane the 27th early in the morning back to Geneva. We enjoyed our last evening in Tromsø in a bar.
As a Norwegian leaving abroad, discovering a new part of Norway with my friends has been a unique experience. Are you looking for wildness, astonishing skiing possibilities and breath-taking scenery? Northern Norway will definitely amaze you and suit all your inner desires. We'll be back!
Cheers,
Per
See also : The fifth pillar of freeriding, the video of the trip
Riders
Valentin Revet https://www.instagram.com/valrevet/
Kilian Echallier https://www.instagram.com/kilian.echallier/
Nadège Guédon https://www.instagram.com/snownad/
Pierre Chanelière https://www.instagram.com/pierrechaneliere/
Per Wingaard Sjøqvist https://www.instagram.com/perwingaardsjoqvist/
Useful links for a tour in Norway
Skiing tours http://kugo.no/
Avalanche reports http://www.varsom.no/
Weather forecast https://www.yr.no/