Steep-loving brothers Vivian and Kevin Gex, along with Alex Chabot and Florian "Peanuts" Bruchez, went to the Petit Muveran in the Bernese Alps to bag themselves a new line. A nice first descent with a palatable degree of difficulty in a beautiful little corner of the mountains, all foreseen by helicopter, with a drill* in the bag for the rappel. And just when we tell you that steeps are all about taking on nature with your bare hands…
*Sorry to our English friends: unfair game but limestone compels us.
At the beginning of February I look at my phone as I'm leaving work: 14 messages from my brother, 14 pictures. I open them up. At first glance they all look identical. They're shots from the helicopter showing a north-facing couloir on the Petit Muveran in Switzerland.
Then I get a message: "you keen?" "Keen for what?" "To go do this couloir?" "OK, let's do it, it looks beautiful".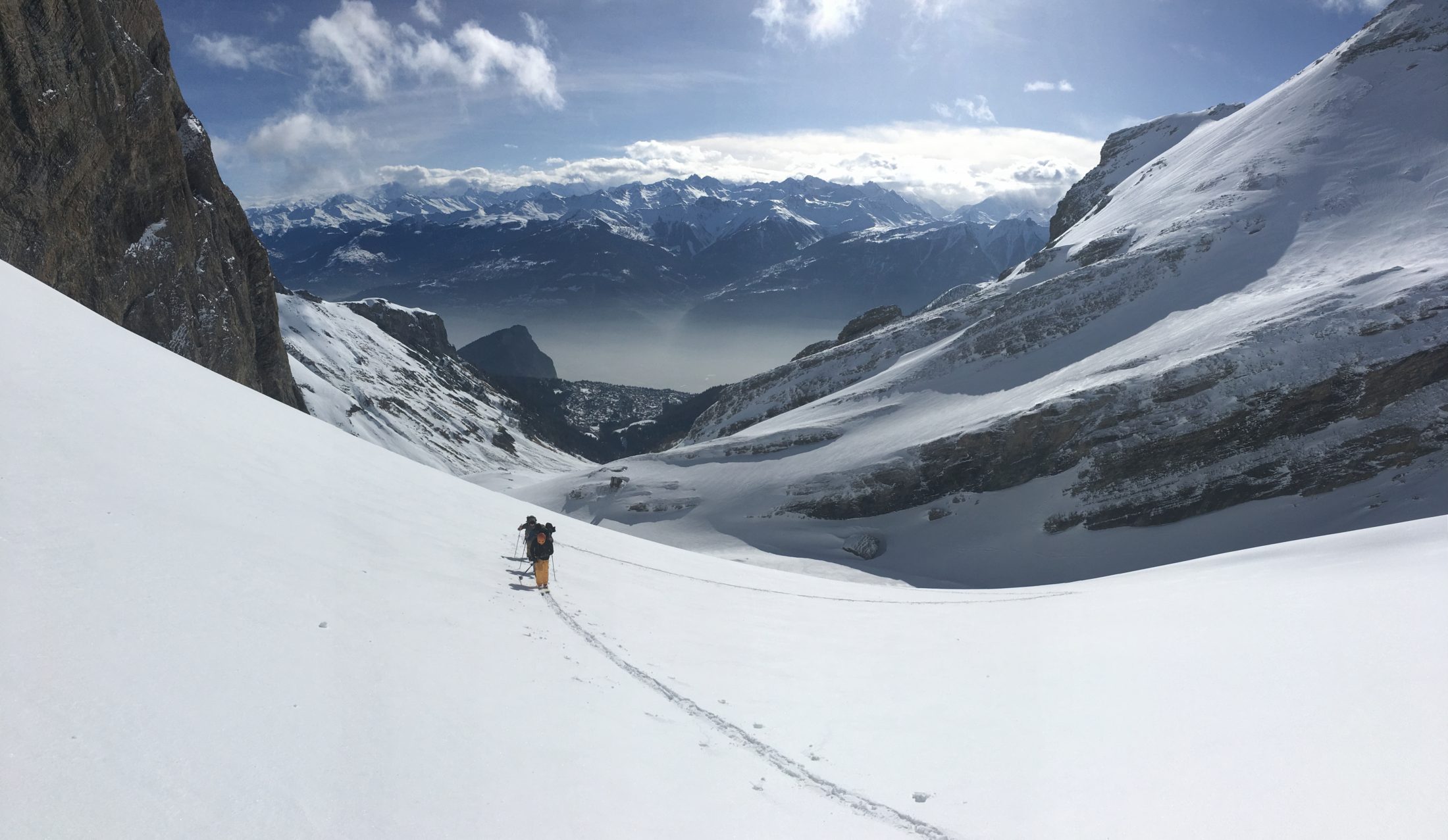 The pictures had been taken by a friend of ours, the famous pilot Peanuts Florian Bruchez just a few hours beforehand. The rendezvous is set for February 10th but we don't factor in the 50cm of fresh snow that would fall in subsequent days with a strong wind at altitude. Game off.
Saturday the 24th: game on. Florian, Chab, Kevin and myself are en route for this itinerary spotted by helicopter two weeks earlier. After gathering information from a few different guides, it seems as though it has never been done before.
After pushing back the attempt date because of the avalanche risk, we go there to see and equip the line. We head into the unknown with just a few photos taken from in front. We aren't even sure it goes but off we set with a drill and a few spits in the bag. (Given that this limestone face had never been descended, making those awful holes in the rock was not just for luxury, ed).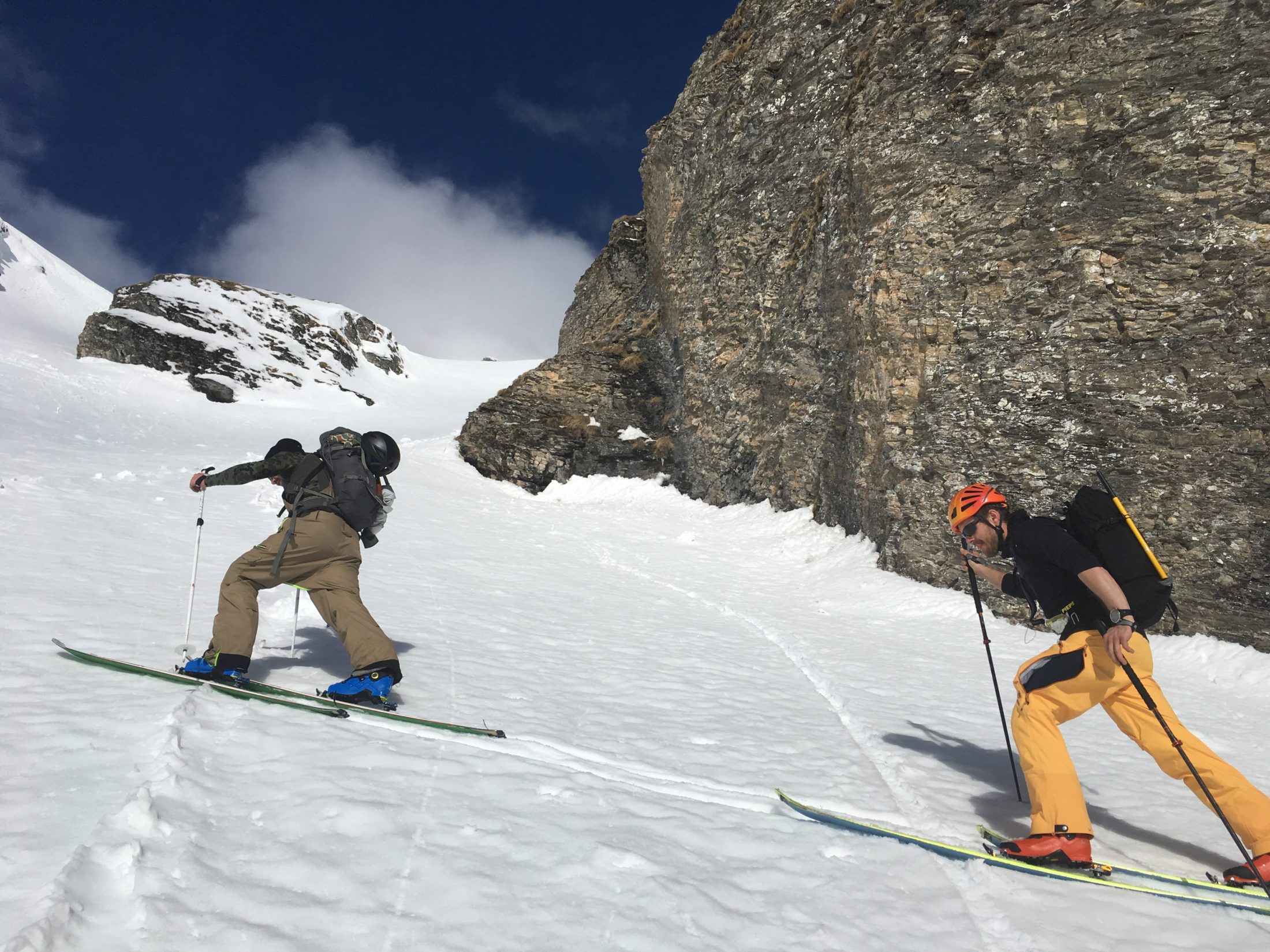 We take full advantage of the Ovronnaz lifts to get as high as we can, which leaves us just 700m of vertical ascent to do before reaching the top of our line. Of course that made the logistics more complicated but we were not exactly inclined to climb over 1000m blind with our skis on our backs.
After a little break to take our skins off- sheltered from the violent winds whipping the ridges- it was onwards to the couloir. We did have a couple of reservations about certain passages as we didn't really know if they'd go but we were well equipped in case they didn't… In the first third, the couloir gets a lot steeper and provides a plunging yet obscured view of the rest of the descent. This couloir is absolutely majestic once fully encased between the enormous cliffs. One really steep part where you'd better not fall, ends up over an icefall. Undeterred, I make a little platform in the snow and start to probe for the surrounding rock to set up the rappel. In these limestone ranges it's sometimes hard to find a nice solid rock.
Soon the relay is complete. We reach the base of the icefall in no time. Ropes folded, we attack the second part of the couloir that at first gets wider before tightening up, leaving scant escape routes. It takes us a bit of time to find our route down. Eventually a spur on the left takes us to wide couloirs overhanging enormous cliff bands. It would take us another hour with crampons and skis on the bag to navigate from left to right to find the thin strip that would get us out of this treacherous rock cirque. Another little spur that we hadn't yet seen would lead us to the flats of the Vallon de Nant. This line is definitely beautiful and well skiable. Relief… It's hard to find new lines that are skiable just about the whole way without needing traverses, which for me kill the aesthetic.
When we reach the car we smile, realising there's a cold beer waiting for us in the boot.
Thanks again to Peanuts for the route finding by heli, to Alex Chabod who's always up for a nice day skiing and to Lidl for providing cheap drills that do the job!