When Christina "Lusti" Lustenberger answers the phone, she's out of breath. « Are you okay?
– yeah I'm just back from running, I'm late…»
It's 7 in the morning for her in Revelstoke. Anyway, we spend time over the phone, and she tells a story of a memorable winter.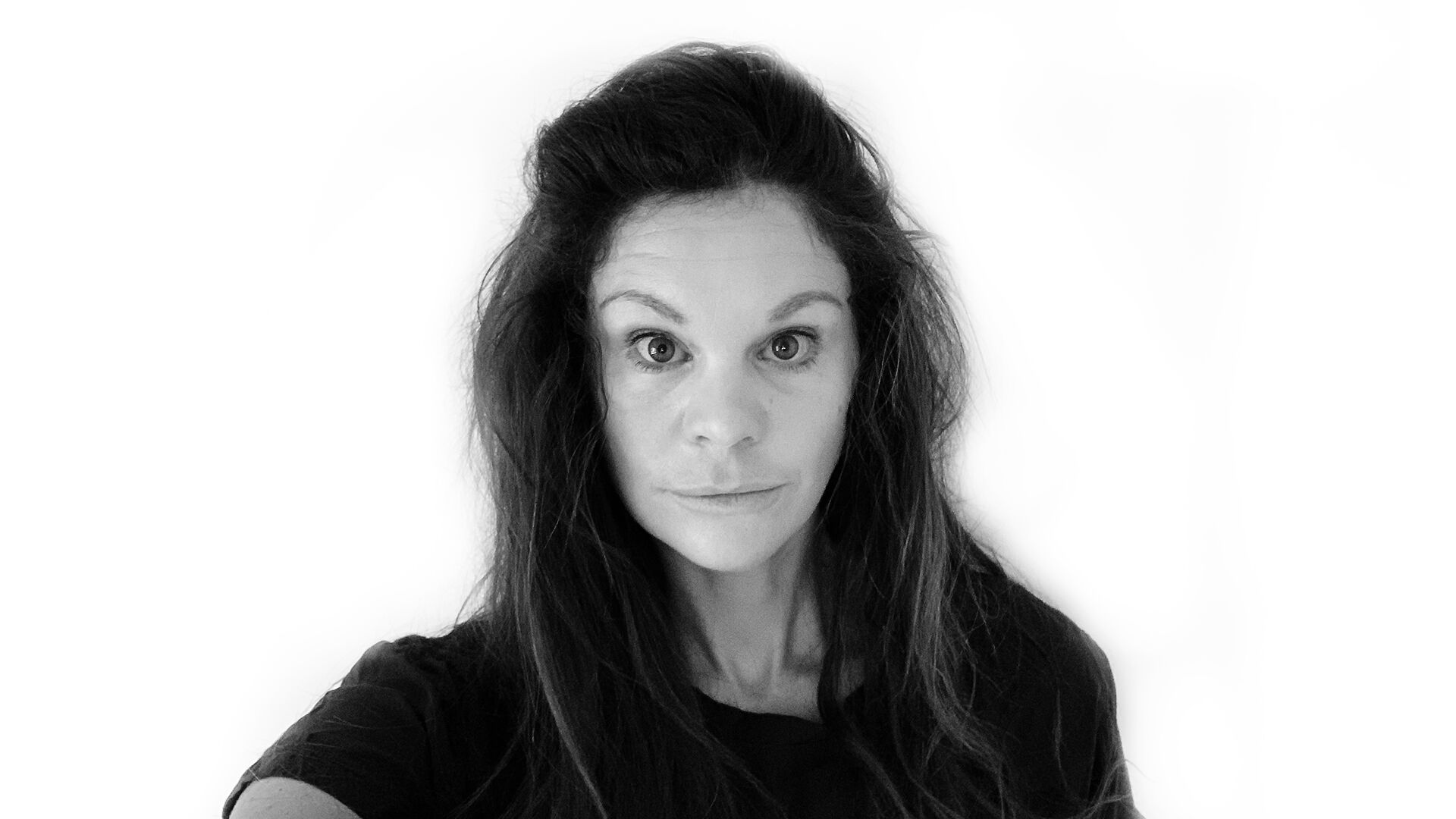 You have a score of first descents, but also spent 6 years on the Canadian racing team, how did this couloir thing start for you?
I think my transition from ski racing to big mountains was inevitable. The confinement of being on the national team never suited my spirit. I was always intrigued by big mountain skiing, but once I discovered ski guiding as a career path I always knew that would be my exit strategy. Of course like many alpine athletes I was plagued with injury, so the 5 ACL surgery's was a kick in the but to find something else. At that time it was an easy transition for me, I left the Canadian alpine team and never looked back.
I think I was still on the team when I started ski touring. I was around 15 or 16, and compared to competitive racing it was a whole new world. All of a sudden I was breaking my own trail! I felt lifted up by the feeling of freedom. A lot of ski racers don't know, or don't appreciate the full spectrum of skiing!
I really started skiing couloirs probably when I moved to Revelstoke, back in 2008, and got into ski touring at Rogers' Pass. It's really a process, you need to find the right ski partners. Revelstoke and the community here allowed me to develop the mountain craft.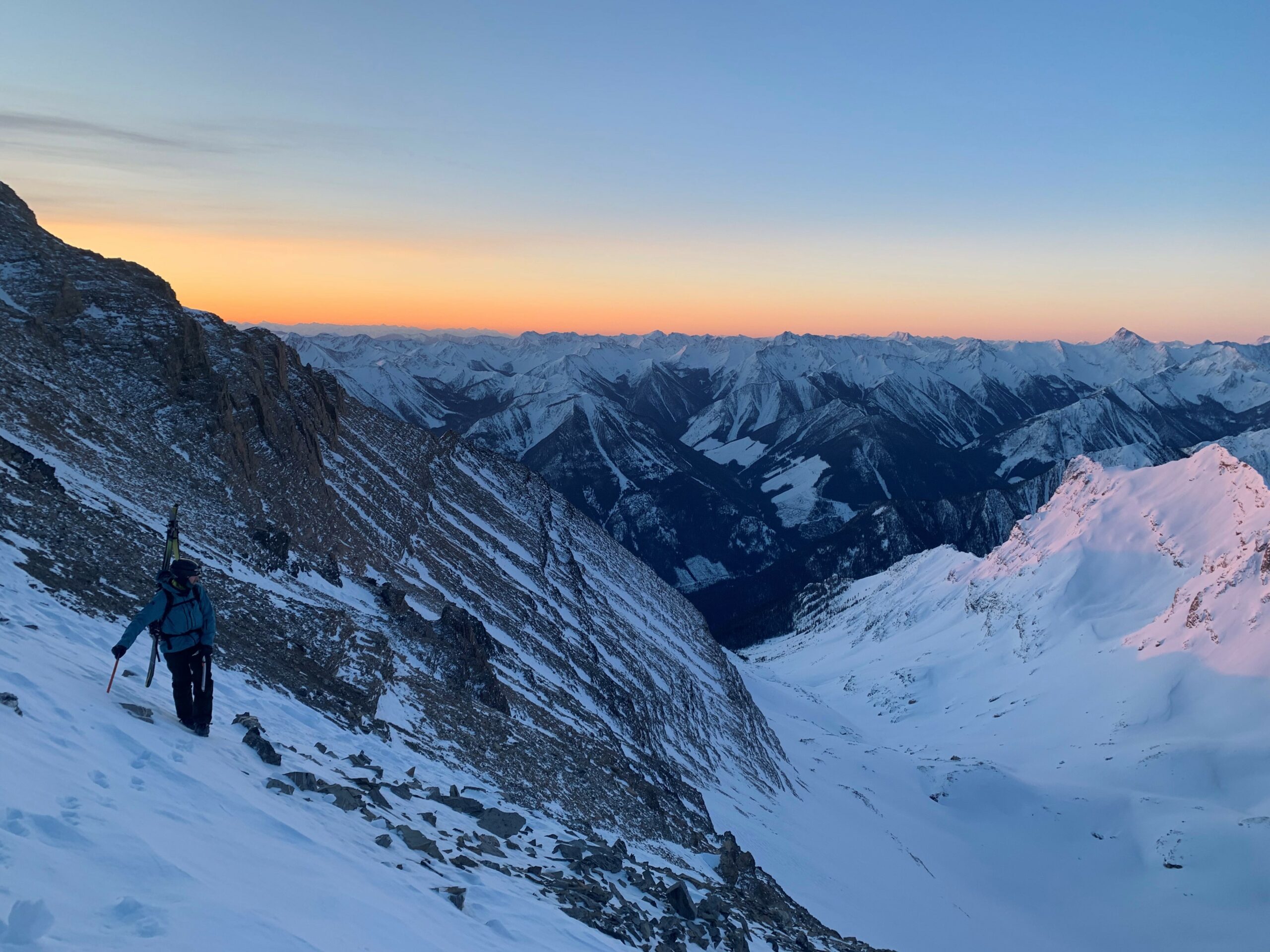 Your usual terrain is British Columbia, is there still lots of things to do here?

I

t seems that the terrain is infinite and wild, Compared to our

european

alps…

 
In comparison to the Alps, the Canadian ranges offer so much wilderness. In Europe mountains are more concentrated and travelled.
I use my snowmobile to access ski mountaineering lines here. Often I drive 2h with my truck, then take the sled 15-30km up a snow covered logging road. From there I start ski touring. It opens whole valleys and ranges to yourself, with a lot of lines to ski, especially if you use alpine techniques (rappelling, ice axe, etc.). I really consider myself a human powered athlete. I only use the sled as a tool to access lines. The first few years I didn't have one, but then I wanted to go further and see more. It's a super tool to access the wilderness, there is logging roads everywhere in BC. Of course it's a machine and it's often breaking, I let my husband deal with the mechanics, but it's often necessary to get them to a professional, as the modern sleds are full of electronics… Once I had to let my sled in the mountains and come back the next day.
With this kind of skiing, the day is over only when the sled is on the truck.  
Those photos you sent,

all those first descent

s

, is

this a classic year for you or

a

particularly good season? 

 
Last season was really memorable. I think I was fortunate to be at home, focusing on big lines. Both conditions and partners lined up. Some of these lines I tried before unsuccessfully, some were waiting in my head for years.  
When COVID closed the doors for traveling last winter, it also opened the doors to really dive into the backyard projects, elusive lines that I have found one reason or another to pass me by. 
Most seasons I would commit to backcountry lodge guiding, and ski film projects that take me to various locations. Last season was slightly different, I'd be home with my head in the snow and focusing on a few selected projects. Thus everything I share here are backyard riding. The farthest from home was Mt Nelson, which is just above my hometown. It's funny because the first time I wondered about skiing there was when I was about 14. I was thus emotionnaly attached to it from a pure, innocent age. I'm very proud of this line. As a ski racer you seldom say that, you are always like « I can do better ». But this line, I still pinch myself that I did it.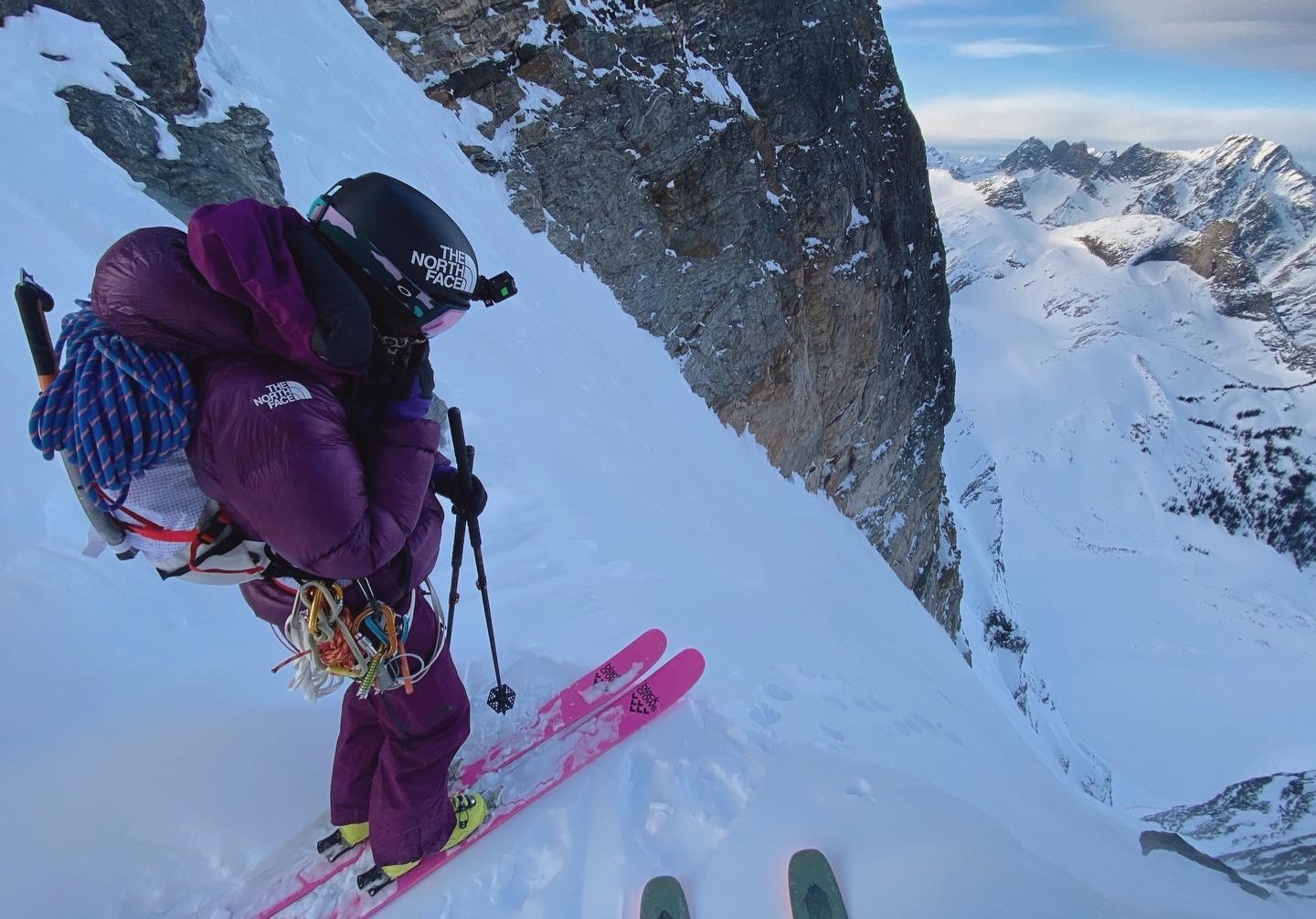 What about your ski buddies? A few names come back often in your adventures…
I think that what kept me here, beside mountains, is partners and friends you can share experiences with. When you push in the mountains, you need to trust your partners. There is so much guiding in the Revelstoke area that we have a lot of highly trained mountain specialists here. And it trickles down : the standards of training are super high. It makes for top ski and ice climbing partners.  
Andrew McNab is a local, he grew up in Revy, while Ian McIntosh comes from Invermere like me, Brette Harrington from Tahoe, and Mark Hartly is a super solid splitboarder who lives here all year round too.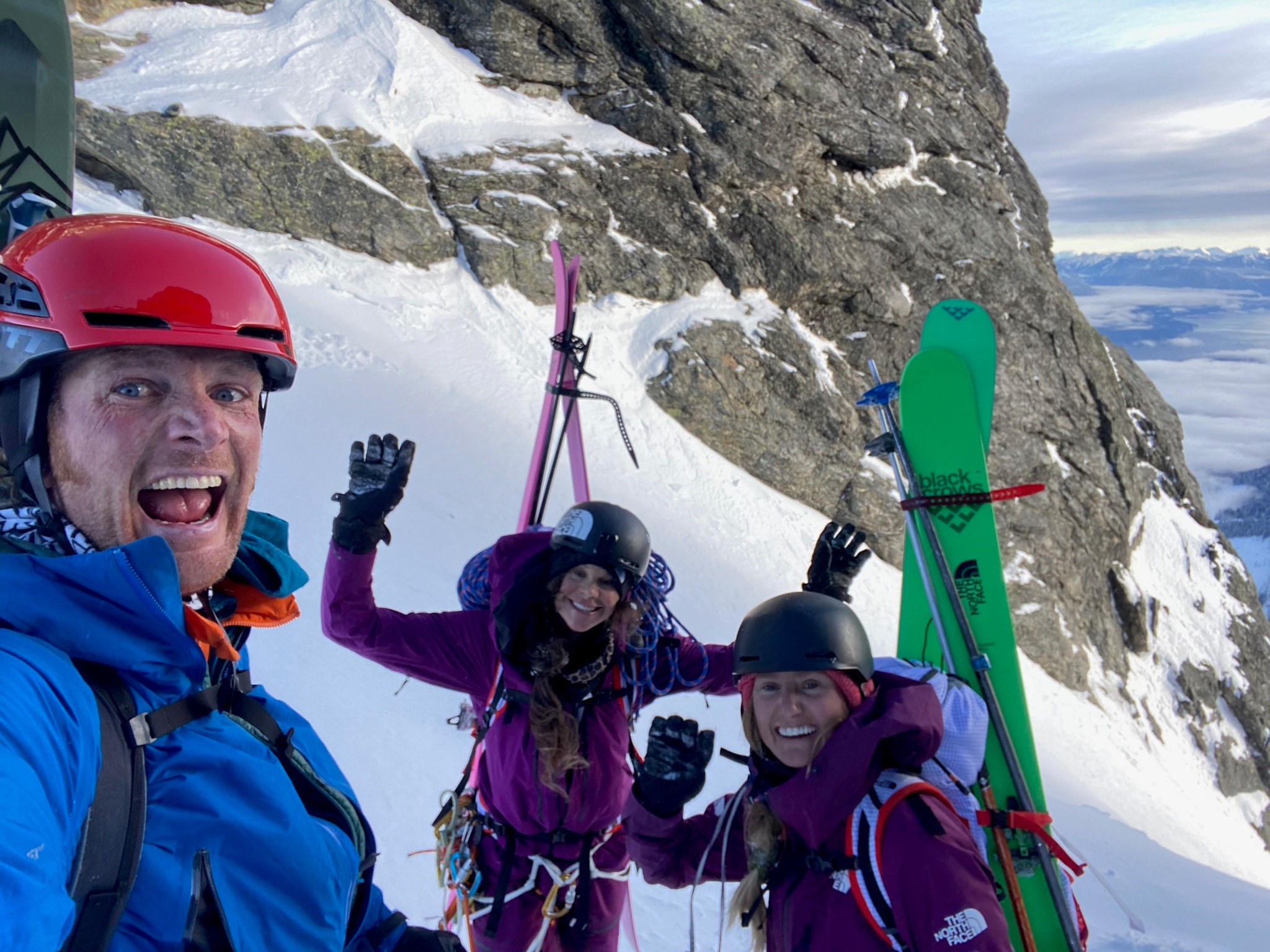 What kind of terrain/skiing do you like most? 
Steep alpine terrain. Always.  
I'd take terrain over snow quality. I've always found the alpine to be so engaging and interesting!  
Couloir Golden Card*
Mount Burnham / Mount Grady, Monashee Mountains
January 23rd, 2021
With Andrew Mcnab and Brette Harrington
I had first tried this line with Andrew Mcnab years back, I think we'd skied in on two occasions to ski/look at this line. It's intimidating exposure and 200m hanging face makes your stomach drop at first glance. Although the line was intimidating, there was a lure of putting tracks in such a wild place. 
On January23rd we set out on sleds for the 30km snowmobile ride in. From the sleds it was another 2 hrs skinning to the base of the line. 
We reached the top just before 3pm, this was the only sun we felt all day. The urgency of fleeting light helped for a quick transition. The snow on the upper face skied well with minimal slough and just soft enough to enjoy the exposed turns. After skiing the top to 20m of the ice, we rappelled into the lower portion of the couloir. 
The snow here was firm and chalky linking turns to a traverse and one more 15m rappel through the rambling ice. 5pm & almost dark we skied off the fan and onto the lake, by the time we crossed the lake the darkness set in. Skiing with head lamps back to the sleds for the reverse of our long cold ride back to the vehicles. 
**While boot packing this section Mcnab pulled out his phone to snap a photo. We all noticed a thin shiny object go sailing down the line… it was his Visa card. Hence the name of the Gold Card 
Mount Thor (2941m)
South face, Monashee Mountains

February 10th, 2021
With Andrew Mcnab
With the arctic air mass embedded over BC it was crucial to take advantage of a big south facing ski line. We bundled up with overboots heated socks and full down outfits for A terribly cold 24km snowmobile ride. Starting our long and chilly skin at 1200m We would be skinning up the east facing basin for the first 1300m of climbing. From the east shoulder of Thor we descended 200m to the north side to gain the north couloir that led to the top of our line. Dropping north with such cold temperatures made me nervous, but we moved quickly to the base of the couloir and found generally friendly boot packing conditions. At the top we welcomed the calm and sunny ridge. Looking down the face the snow looked absolutely perfect, cold dry powder on a huge south face. 
Basking in the sun we transitioned and got ready to descend. Testing the snow in the first few turns we were ecstatic with the boot top blower snow with minimal sloughing. Leap frogging pitches we took turns watching each other disappear behind the powder clouds of sun lit snow from each turn. 
Arriving at a small step of rock and waterfall ice we glanced around at options for anchors to rappel. We opted for some down climbing with skis on toll and a short mandatory air. Below this was another 900m of sunlit cold smoke skiing. We descended into the cold valley bottom and transitioned to skins on for the long flat walk back to the snowmobiles. Like the gold card, another long cold ride back to the trucks in the dark before getting the satisfaction of taking the ski boots off. 
Mount Nelson,
East face, Purcell Mountains
March 4th, 2021
With Ian McIntosh
Both Ian and I grew up in Invermere BC, a small town at the headwaters of the Columbia valley nestled between the Rockies and Purcell mountain ranges. The iconic peak of mount Nelson and east face can be seen from most places in town. I grew up looking at this peak from my living room window, daydreaming out of classroom windows and the 180 neck turn while riding up the old double chair at panorama resort. 
It's easy to say skiing mount Nelson was a childhood dream, around the age of 11 or 12 I started to look at that mountain differently. Glancing up and wondering if it could be skied. At that point in my life I didn't know anything about ski touring, backcountry, or first descents. It was just the pure imagination of a childhood dream. 
Skiing has taken me to some far off places but I always felt a pull towards the home mountain. It's an intimidating line, in a location with a tricky snowpack. Just a few reasons why I have procrastinated the attempt of this mountain. 
On february 23rd Ian and I arrived in Invermere. Driving into the valley and seeing mount Nelson usually brings joy and a nostalgic feeling, this time in was nervous butterflies. 
We wanted to get eyes on the east face so we headed up panorama mountain resort with my dad and filmier josh Lavigne. I had my long lens camera and Ian had binoculars, we swapped back and forth scouting the line. We descended the resort piste stopping to glance from different angles. The line looked good from a distance, and by good I meant incredibly intimidating but at least it had snow on the face. Later that afternoon we met at The invermere airport to take a fixed wing flight over a few objectives. From the air we scouted the approach south face ascent and the grand east face. Ian snapped photos while I hurled into the barff bag. 
We spent the next week skiing around the area familiarizing ourselves with a very different snowpack. A weather window presented itself. Two days before I set a skin track from the Toby creek FSR road to the alpine basin below the south face of mount Nelson. This would make our travel much easier not having to navigate the thick forest at 2am in the dark. 
We left invermere at 1am and started skinning at 1:45am. From the trucks it was just over 2000m to the summit. We followed my previous set ski track via head lamp, and once we reached the alpine basin the moon casted dark shadows to reveal the night time terrain. 
It was still dark when we arrived at the base of the south face, we skinned up to the constriction of the rocks and transitioned to climbing. The dark night sky was lightning up with orange and beautiful blues. We continued up the scoured and rocky south face while the sun started to light up the tips of the highest peaks. 
Time was crucial as the face had first light and would only be getting warmer. With anxious parents & community watching from panorama and ski patrol listening to our coms we dropped in on a short 15m rappel at 9:00 am. The snow on the face was very shallow and faceted (sugary) making clipping a rock very hazardous. We found the best snow in the main trough and started skiing one at a time leap frogging pitches. The snow was just staying dry and cold. We traversed over the exposed cliff band and regrouped. 
There was a weight lifted off and a sense of lightness linking big turns exiting the face. Pure childhood dream realized with my good friend and teammate ian. Immediately after, the buzz of the descent had hit the community. Sharing this line with the community made it all the more special. A day that we will forever remember. We now get to look up from town with so much pride. 
Mount Dunkirk
Rocky Mountains
I consider myself a freeride ski mountaineer, and filming with Teton Gravity Research has become an integral part of freeriding. 
I won't get too much into this descent as it was accessed via helicopter while filming with TGR. 
It was the first day at Mica heli, I was there with Nick Mcnutt and Ian mcIntosh. Dunkirk is the grand peak you see from the lodge, so of course it sparks some curiosity. It's also south facing, probably the reason why it hadn't been skied. We arrived and conditions were perfect for such a descent, so on the first day we planted the bug. With low winds we were able to tow in and gently step out of the heli. The corniced ridge and terribly exposed north face kept us clinging to the south side of the ridge. Once camera crews were in place the three of us leap frogged this giant south face in fairly good conditions.

North Bagheera,
Rogers Pass 2720m
April 24, 2020
With Andrew Mcnab and Mark Hartly
Mark Hartly, talented splitboarder and local legend, picked me up at 3:30am. Making light conversation unable to drink coffee due to masking up and carpooling. We met Andrew Mcnab at bostock parking, leaving a vehicle for us on our way out. The three of us continued to the Rogers pass center and geared up for the day. 
We knew the south face would be locked up with a melt freeze crust and an early start would help get a head start on the solar aspect. We hustled up Connaught and transitioned at balu pass. The sun was just starting to hit the highest peaks as we skied down towards cougar creek. Another transition to skin up the valley until directly below the south face of Bagheera. With the firm crust and almost 1000m elevation gain we transitioned to boot packing with crampons. Rolling clouds kept the solar aspect cool as we marched our way to the top of our line. 
Mcnab and I belayed Hartly out to cut away some of the cornice and build a rappel anchor. Slinging a block skiers right of the entrance gave way to a 15m rappel. The line consisted of a steep and skinny 300m couloir. Where the couloir widened we would traverse skiers right over a big exposed cliff and look for the exit couloir. From the top it was hard to tell if it went, and our photos of the line were incomplete. We had all the gear we needed to navigate the unknown. Once all in we pulled and coiled the rope, clicked into our skis/snowboard and started to descend one at a time. 55 degrees at the top and narrowing to barely a ski width wide we made our way down and into the wider part of the couloir. The snow was soft and dry making the skiing more comforting in such a wild and steep place. 
The traverse out right had a little west facing tilt to it, forming up the snow and requiring us to use our ice axes on descent as we made our way down to a snow ledge. A short 5m down climb, some tight turns through the exit couloir and we were out of the business. 
We skied down to Ursus creek, snacking and filling up our water bottles as we transitioned to climb our way up to McGill Pass. From McGill pass we skied over to the bostock summer trail, and descended it right to Mcnab's truck. 16km and 2500m later, ski boots came off with pleasure. 
interview made by Mathieu Ros