Adam Fabrikant and Billy Haas share a new route on Mt Moran.
They've known each other since a few years after they were born, are both mountain guides, and hail from the flatlands north of New York City. For a short film edited by our own crow Beau Fredlund, they ride down one impressive couloir on the Mt Moran wilderness, a few miles from Jackson Hole, Wyoming. We got to ask Adam Fabrikant and Billy Haas, brother crows, a few questions about their skiing and way of life.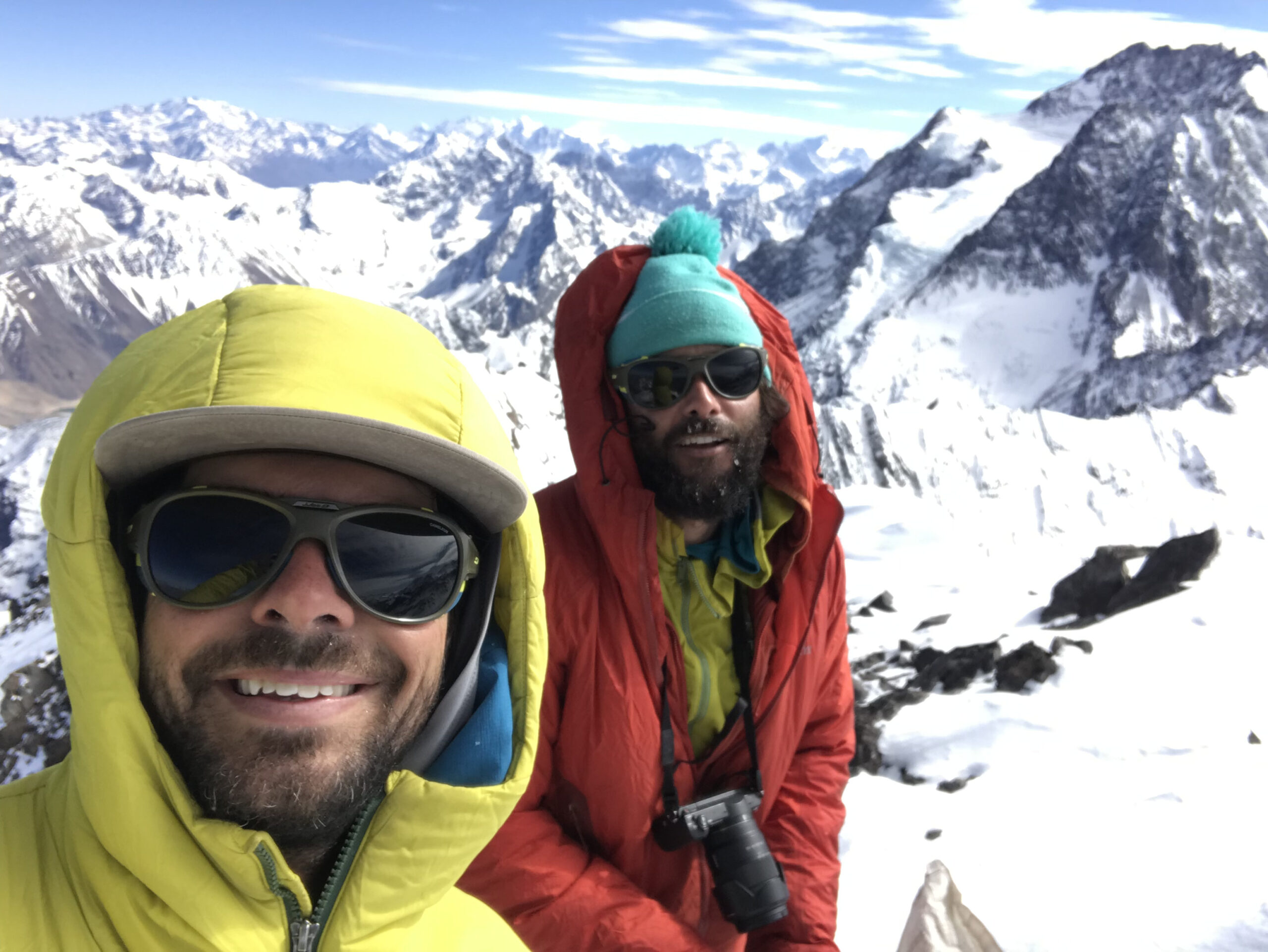 blackcrows :Adam, Willy, can you introduce yourselves?
Billy : We are both born in 1987, and grew up in the suburbs north of New York City, about an hour's drive. Not many mountains there, but there were a few small ski hills close enough. After college I moved to Alta, Utah in 2010 and have lived in Utah on and off ever since, while Adam lives and guides in Jackson Hole.
"Now I split time between Utah and the Tetons where Adam lives, and I feel pretty fortunate to spend most of my time in both those places."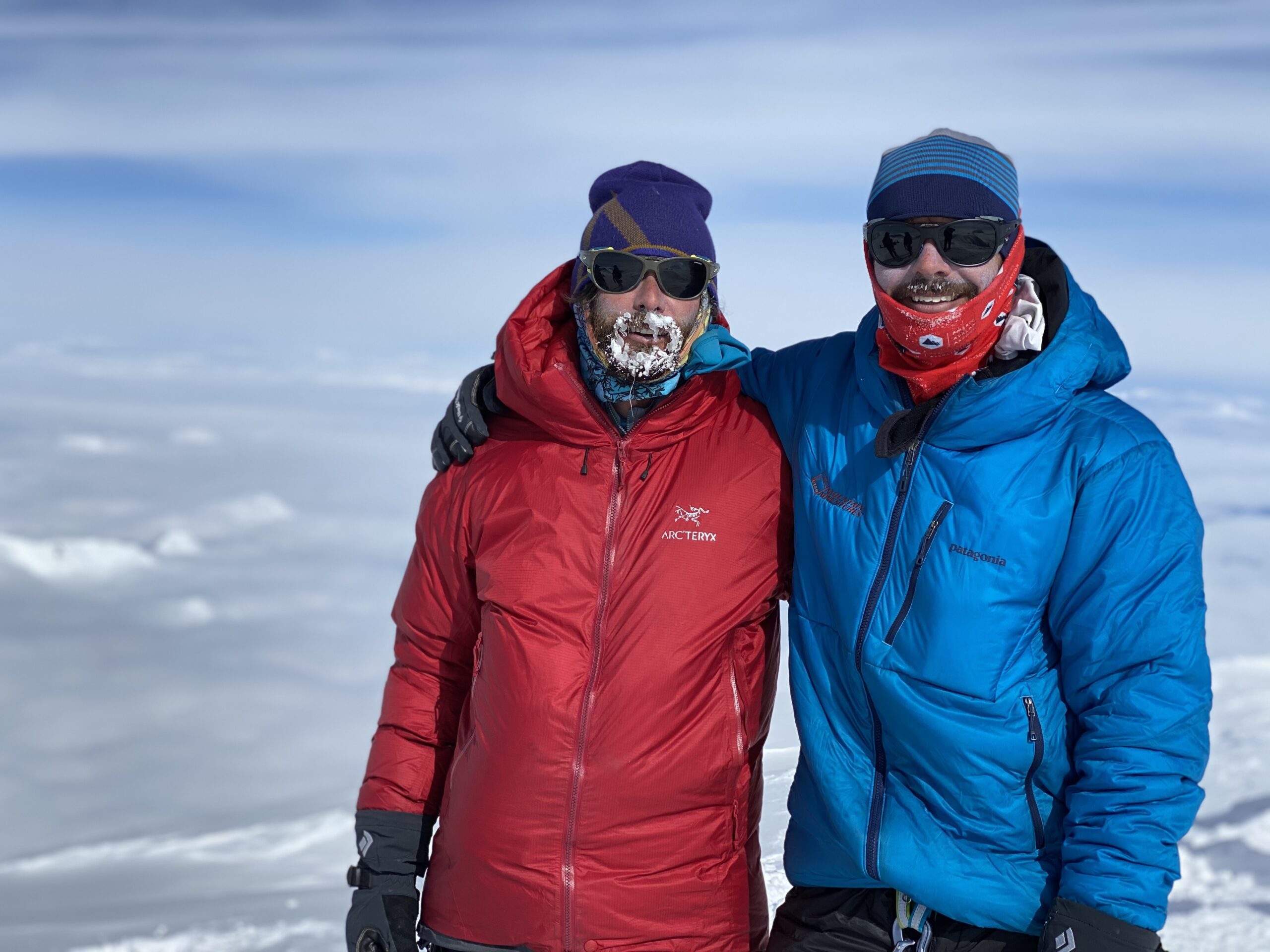 blackcrows : what is your favorite pair of skis?
Adam : I like them all, but if I could only ski one it would be the green skis.
The navis freebird is the greatest steep skiing ski for me. Confidence inspiring on the firm and icy, holds an edge well, feels like an extension of my body.
However, I spend most of the winter skiing on my bigger noctas for powder and atris for powder mountaineering. We ski a lot of powder here in the Tetons, good to have the big skis.
Billy : For steeper days or more technical skiing, I mostly use the navis freebird. They can really handle anything, and are super versatile. We ski a lot of power though in the Wasatch and Tetons and most of my days in the winter I am skiing the corvus freebird. I have a more traditional ski style and come from a racing background, so I feel this ski really suits me. However, I just got back from a more freeride oriented trip in Alaska and skied the nocta almost every day, pretty frickin fun ski as well.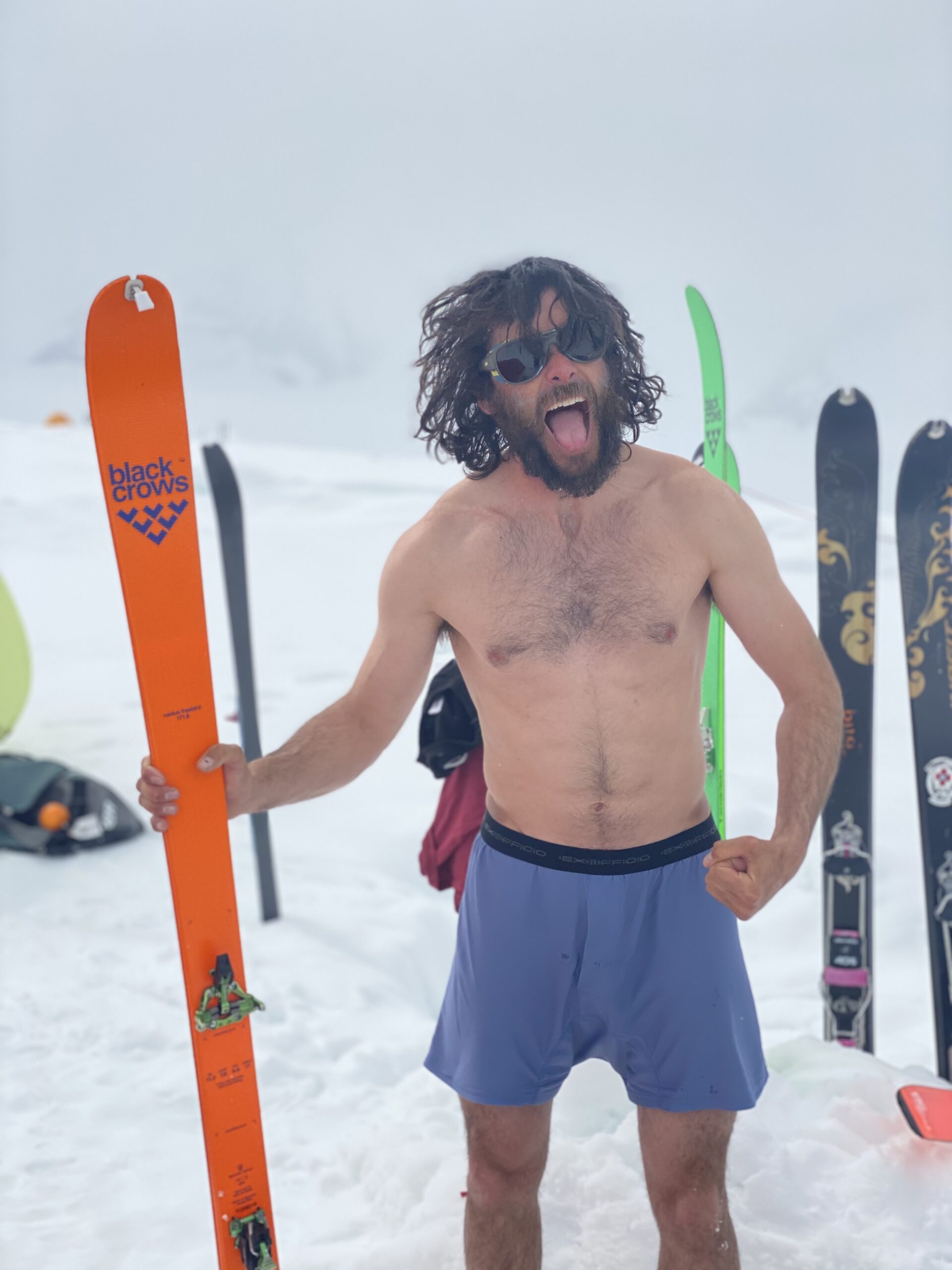 blackcrows : What was your best day last season?
Adam : This spring I skied a wild line on the North side of the Grand Teton, the Hossack-McGowan in good style with good friends, hard to beat! I got a rare day in the high peaks with my wife this year, that was pretty cool.
Billy : We had the worst season in terms of snowfall and stability I've ever seen in Utah this year, so a lot of my skiing this season was focused on guiding, and exploring lesser traveled nooks and crannies with friends and my fiancée. I had a great trip to Alaska, with just a day to dry my gear and repack for a trip to Canada with my fiancée, then back to Alaska. I am supposed to get back from Alaska six days before my wedding at the end of June.
So ask me that question again in a few months.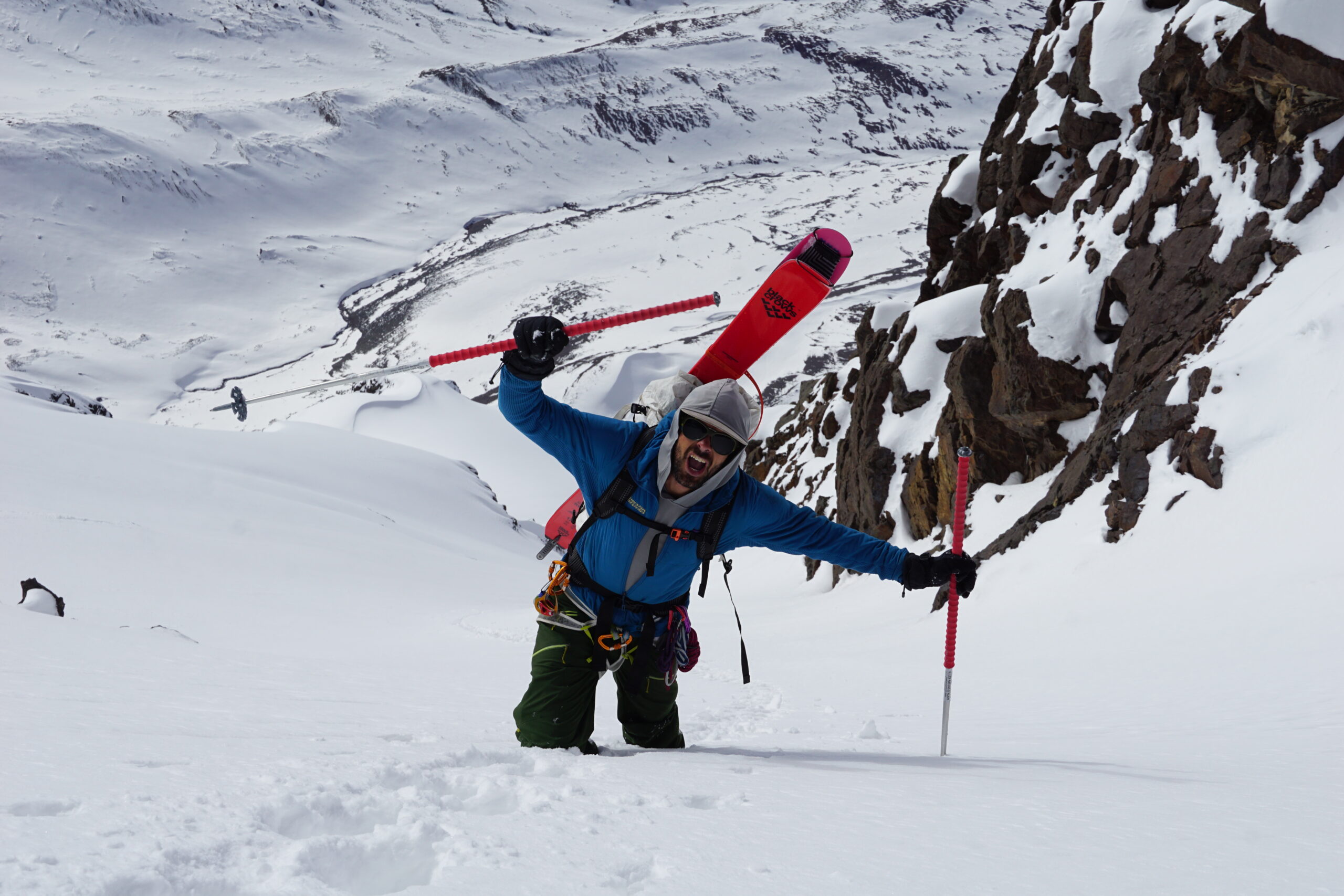 blackcrows : you two met in preschool, have you always been close since and skied together?
Adam : We met in preschool and were friends through High School. I went to college in the mountains of Colorado and Billy stayed in New York, he would come out to ski with me.
After we both graduated Billy, Erin (my now wife) and I all moved to Alta, Utah to be ski bums. At that point Billy had, and still does, a better ski turn than I, but he had less backcountry touring experience, quickly I was convincing him to do things that were way over both of our heads.
Billy : Adam and I met between kindergarten and first grade. We must have been maybe 6 years old. We were both on our high school ski team, and that's when we started skiing together a lot. Then in college, Adam got into backcountry skiing first, and I would go visit him during school breaks to ski.
"We both became totally obsessed with it."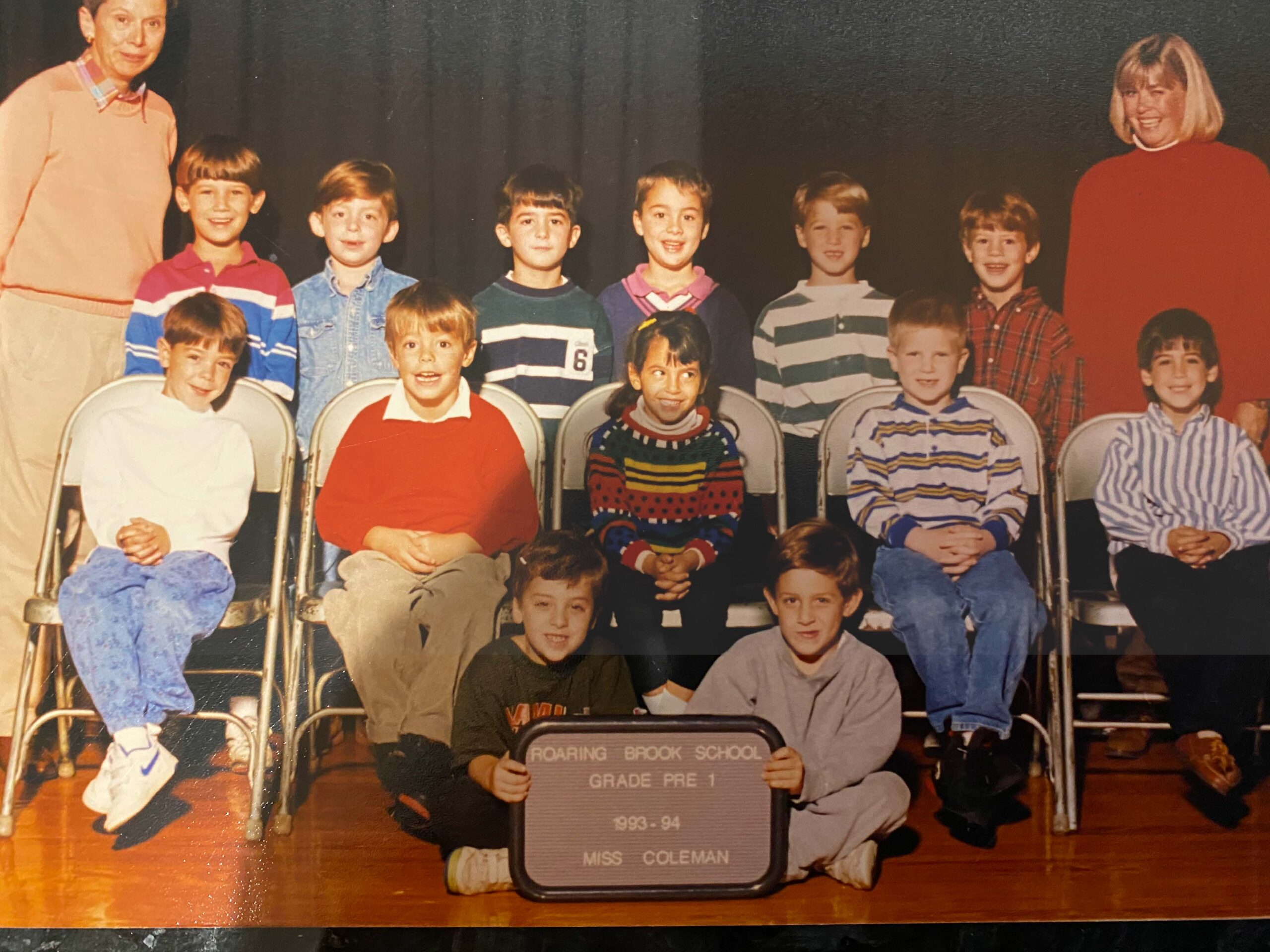 " More skiers should sing aloud when skiing, it is also useful to help relax and breath during long descents "
blackcrows : your friend Beau Fredlund says that you often sing while you ski, what kind of singing?
Adam : Skiing is about achieving a flow state, whether I am skiing mellow powder or making commiting turns above fatal cliffs, if I am flowing the Adam Fabrikant radio starts playing. I combine different songs into my own mosaic. I think more skiers should sing aloud when skiing, it is also useful to help relax and breath during long descents. Recently I have been really enjoying skiing as long pitches as possible, singing is huge in allowing this.
Billy : Honestly, I've got no idea how it became a thing. If I had to guess, we spend lots of time on trips, in tents, on skin tracks and booters, and it's a fun way to break up the mood.
It helps us relax and be ourselves, and hopefully that energy can be infectious. Sometimes climbers and skiers take themselves too seriously, that's not our style. We are goofy and fun, and the singing is an expression of that. It's not as if we are talented singers or anything, Adam for example seems to remember half the words to verses from songs, so he just starts combining verses or making lyrics up. At this point we've got a few good riffs that we mostly sing in different situations, some are mashups, others proper lyrics, and then some are original content.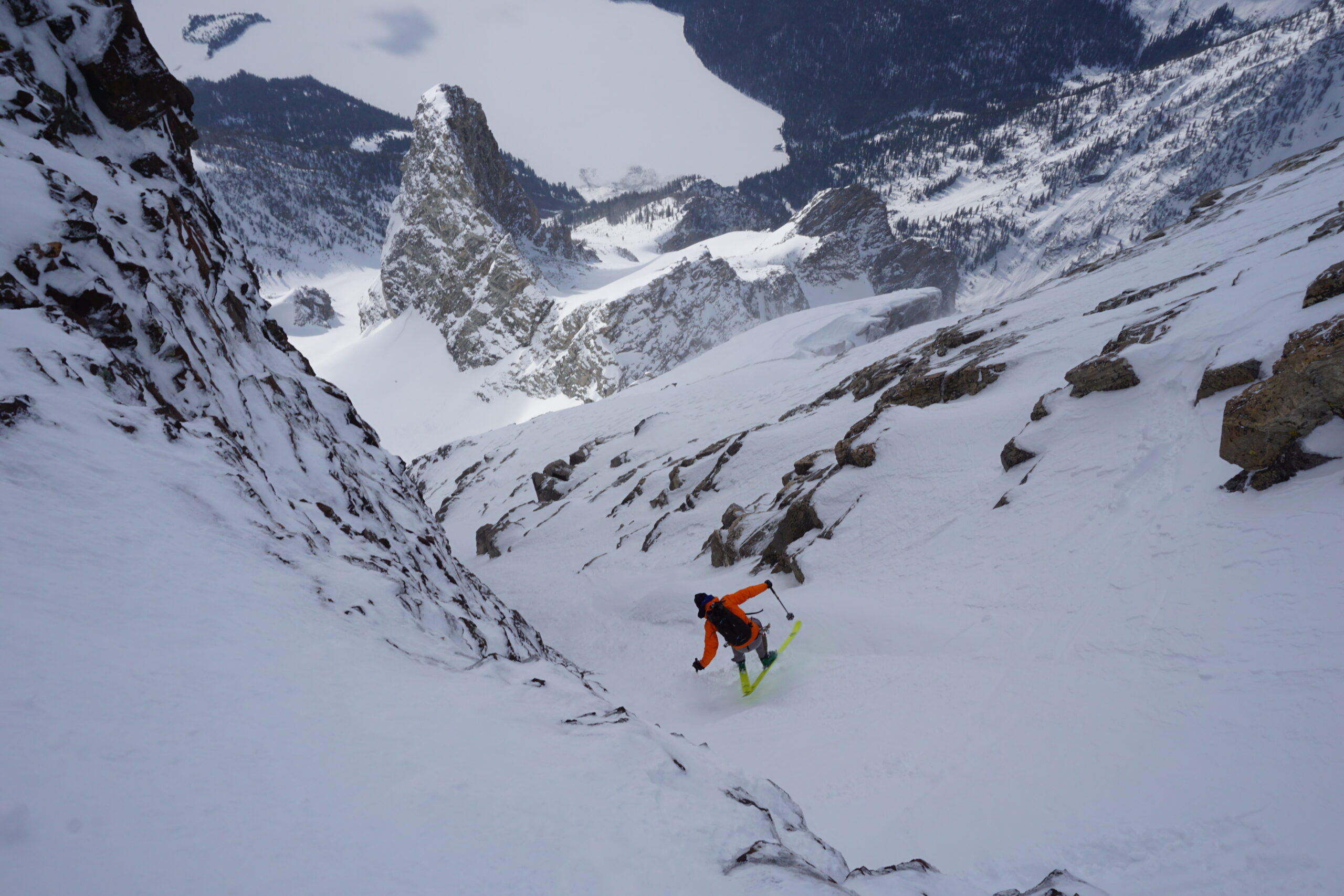 "We didn't come from a mountain town at all, and most of the people we grew up with have no realistic idea of what we do. "
blackcrows : is there a lot of IFMGA ski guides from New York state?
Adam : Not that I know of, but probably a few more than we would all think. 10 or so? Really not sure, obviously New York is not known for its mountains. Good rock and ice climbing exists, skiing not so much. I left New York when I was 18 looking for adventure and plan on continuing down this path for the rest of my days.
Billy : New York is actually a pretty big state outside of the city, with lots of great climbing and tons of small town ski culture. So, there are actually a bunch of really accomplished climbers, skiers, and guides who grew up there and live there. We are definitely not the first IFMGA guides to come out of New York, but it's not on the same scale as other parts of the country or world.
That said, we didn't come from a mountain town at all, and most of the people we grew up with have no realistic idea of what we do.
" When venturing into the unknown, partners are everything, we barely need to speak to communicate. "
blackcrows : Can you tell us more about this trip to Mt Moran and this new line you opened that day?
Adam : I had been looking at this line for years, having skied and guided all of the adjacent classics. Moran is a very large peak, guarded by a 10km approach via a frozen lake crossing. It is wild skiing on most aspects. A few years ago, Billy and I along with our fellow crows Brian Johnson and Colby Stetson made the second descent of the CMC route and a wild descent of the North East ridge.
"Years before that, I completed an absurd but worthy new line on the South Face."
This route was the obvious weakness that had yet to be skied. Typically when Billy and I link up, we go big. He lives in Utah, we both ski guide too much and do not get to freeride together as much as we would like. When venturing into the unknown, partners are everything, we barely need to speak to communicate.
Billy : Adam and I have had some really special days together on Mt. Moran.
One of our first big Teton lines was the Skillet Glacier years ago, and of course this second descent of the CMC route a few years later. When we skied the NE Ridge and took an exit that drops into the Sickle Basin, I think that was the first time I got eyes on the route. While we were shooting with Beau, we saw conditions lining up for us to attempt something big on one of the high peaks.
Opening a new line is the most fun thing for me to do in skiing. I love the unknown, I love the strategy and the execution. Honestly, I couldn't care much about being the first to ski something, I mostly just enjoy the problem solving and question mark surrounding how things are. The line we skied sits just to the lookers right of the well known Sickle Couloir, which we climbed to access. A bit of ridge climbing and a short rappel brought us to the top of the line. From there we skied deep stable snow down through two cliffs which we rappelled, and finished with incredible snow through the bottom of the line and onto the apron. The line was technical, but I think approachable enough that others will enjoy it.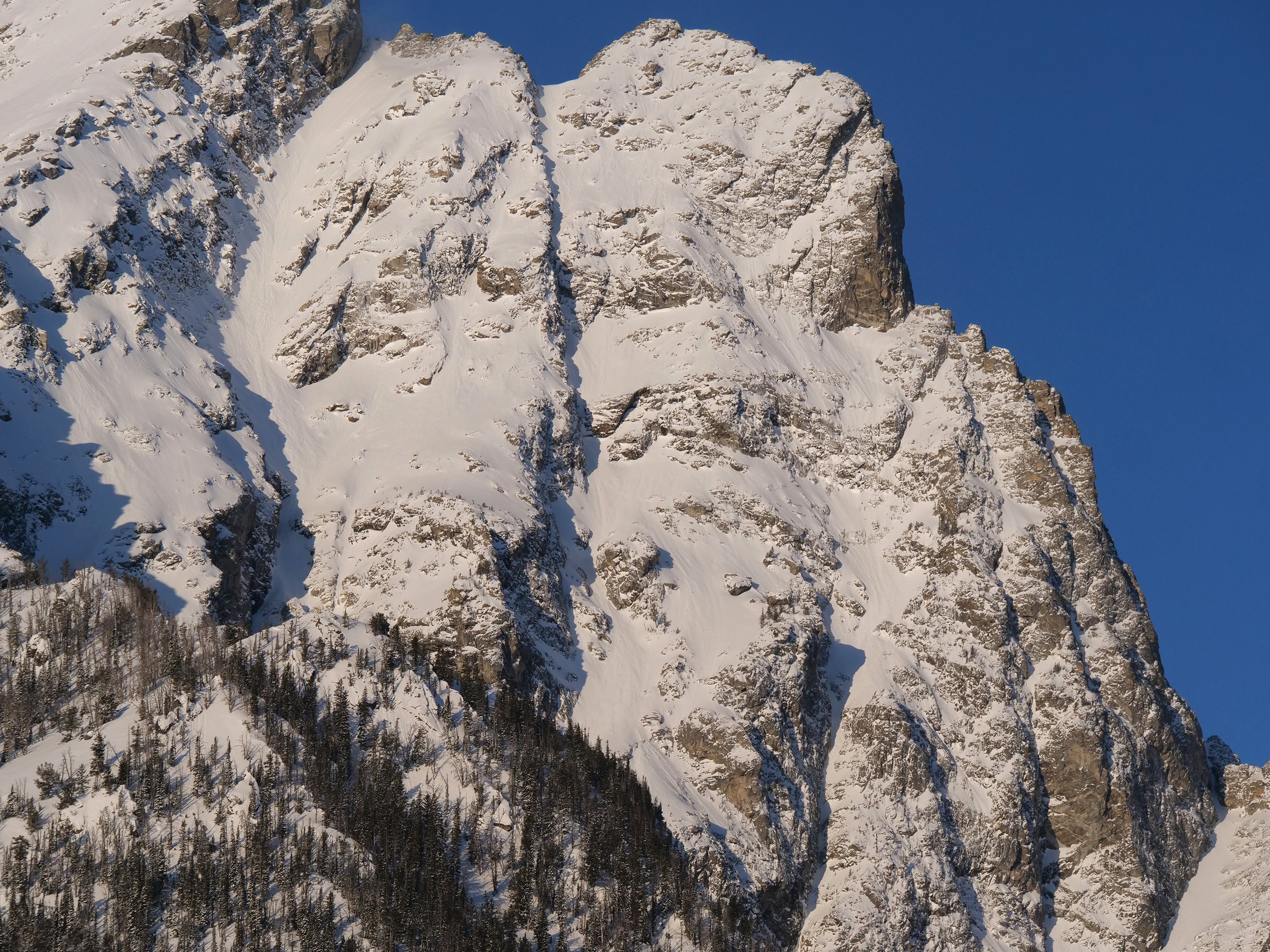 blackcrows: I like the idea that inspiration can come from times out of the mountains… what about ski friends?
Adam : Mountain friends are different. Billy and I are ski/ mountain friends and life friends too. I have some buddies that I only share time in the mountains with, in serious situations you get to know one another very well.
Our dynamic typically has me as the partner with grand ideas and Billy thinking about it all more rationally. In terms of skill set we both share the challenges and both enjoy it all.
Billy :  I definitely think you have a special relationship with ski and mountain friends than you do friends from other parts of life. I'm fortunate though that most of my best friends are my mountain friends, and even my colleagues at work. I know how lucky I am to be close to people that way, and to be surrounded by lots of incredible people in my life. Trust is a big thing for me and Adam.
"What really helps is we have a similar mindset in the mountains and when we work together it's seamless."
We learned how to climb and ski together, so our systems and style are the same and compatible. A lot of the time we don't even have to talk, we just know what each other are doing and thinking. He likes his head by the door of the tent, I like mine in the back. We both don't drink coffee, so we don't have to waste time brewing up for early starts. It's a well oiled machine. We aren't just identical though, and we certainly get into our fair share of disagreements. I would say I am more of the cerebral thinker, and he's more of the bold visionary. I'm definitely a better cook though.
"I think these kinds of partnerships are rare, and I really appreciate it."
blackcrows : last but not least : what inspires you in life outside of skiing?
Adam : Anyone that is trying hard. Seriously, everyone should be more passionate and put themselves out there more. I am inspired by trying, not always successfully, to lead a balanced life. Be present when not in the mountains, enjoy my family time, connect with my clients when guiding and continue to pursue my own goals on skis..
Billy : People are pretty amazing, and I am always inspired by people with passion and people who are trying to push themselves at what they do.
"I'm not sure if being the best at something is what really matters, but being passionate and trying hard is what I look up to."
Whether it's in the mountains or other areas of life. For example, my fiancée is an ICU nurse and accomplished mountain athlete herself, and watching what she did to help and save people throughout the Covid Pandemic was one of the most important things I've seen someone do. She's passionate about what she does, and I'm really proud of her for it. That said, my other big passion and inspiration outside of climbing and skiing is surfing. I have surfed since I was young (yeah New York has good surf), and still can't stop. If it's not a mountain trip, it's a surf trip. It is not uncommon to load our truck with skis, climbing gear and bouldering pad, and tons of surfboards, and drive to the West Coast.
I'm trying to find a way to combine all of these activities into a big expedition…