A year after filming, Michael Bird Shaffer recounts his experience with Warren Miller Entertainment during the filming of Face of Winter. The section of the film shot in Chamonix in the midst of the Unlimited Festival, with Bruno Compagnet and Camille Jaccoux as the star guests and a turbulent bird moving between heaven and earth to mark the history that unites it to Black Crows, making it a great epic. Bird tells the story in words, Layla Jean Kerley in images.
Chamonix the Birthplace of Extreme
Chamonix, terre d'origine de l'extrême.
You just never know.
How could I have known when I met this beard faced man with a twinkle in his eye holding a big ass camera on top of the Aiguille du Midi years ago that it would be life changing.
At the time, I didn't think too much of it because there was the north face to fly off. But several years later, I was sitting home up in the hills of Washington while spring had sprung, wondering what to do, when out of the blue came a call from that same guy. Turns out he was Chris Patterson, the director for Warren Miller Entertainment Movies, and he asked if I was interested in being in the next year's movie, Line of Descent.
It didn't take me long to answer yes. And my idea of going back to Cham was put on hold, as I followed the ski dream to Red Lodge, MT to shoot the Beartooth Pass Segie of Warren Miller's movie #68 Line of Descent, which changed the course of my history.
The Universe Conspires.
It was as if I belonged, not only in the roll of being bird for the camera, but in working with the crew like it was second nature. Overnight we were close friends, like we had known each other before and this was all written in stone.
Sun up to sun down creativity was thrown down as the WM Crews do it. We were like family who had been shooting together for years.
As the universe would have it, smiles and positivity play a hand, as does a little kick down from black crows HQ. Turned out Mr. Patterson has an affinity for black crows and it was how he had tracked me down in the first place with Marty Carrigan and the sales guys for black crows NA. The WM crew was keen to shoot something with black crows, hands were shaken and a deal was made. And so bird and black crows were slated for the big screen.
The shooting was set for April, prime time skiing in Chamonix where I normally did my yearly migration as the snow begins to set up perfect for the steeps as well as the Unlimited Festival.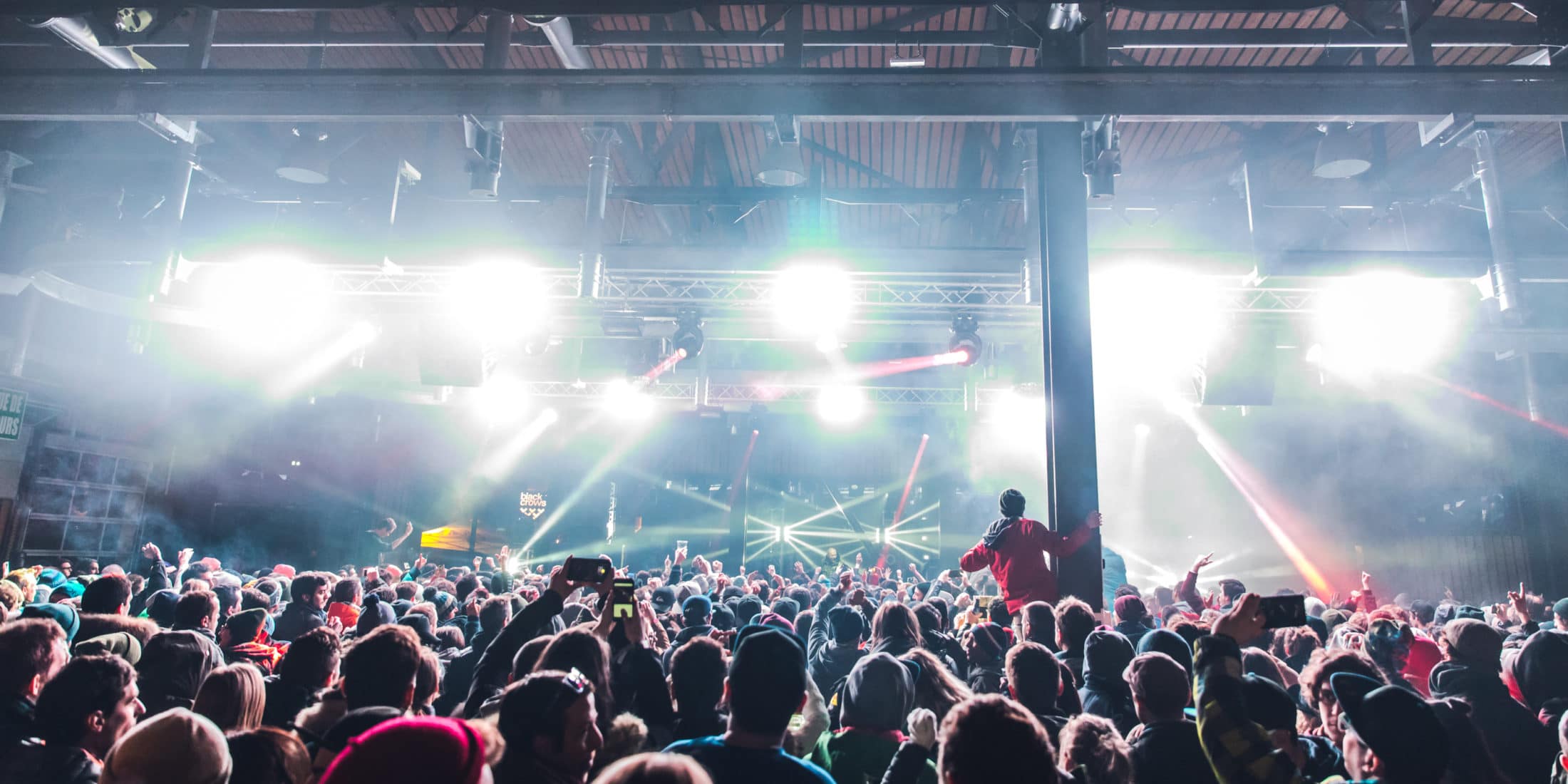 Sometimes reality is better than what we can envision, and I think this little story takes a big bite out of that cake. It's definitely interesting how a path gets laid and the journey gives you a part to play. From meeting Camille in 2000 to partying late into the night at his apartment in 2004 with him and Bruno — it was around that time black crows was conceived.
Camille had asked me what I thought of the name black crows. It was a name after the Choug, the alpine spirit bird in Cham. If you die or disappear in the mountains, you become one of these guys, a bird soaring, watching over the land. It was the spirit of the mountains that first drew me to higher ground. To watch the birds circling around, feeling connected to them and the mountains; if this is what black crows was going to represent, then I was all in.
Now, on the big screen, we would be bringing that feeling to all Warren Miller's followers and our friends and family.
The meeting of creative minds: Jeff Wright
I met Jeff in Geneva and we would be off on a shooting spree in Chamonix for the next 13 days that would not only test our abilities in the mountains but, as working in mountains does, would solidify a friendship that was necessary to make this thing happen.
If shooting in Chamonix isn't hard enough, tie in getting off the airplane jet lagged as fawk and then having to party for a week with the best DJs in the world at the Chamonix Unlimited Festival. Sounds like a dream but not freaking easy. To put a little frosting on that piece we also had to capture the party for the seg while in the mountains it was perfect for skiing with pow, and blue sky conditions all week.
Late nights and blue pills.
Well, I'm not one for saying 'no' to much of anything. Jeff got the shots and headed home, but for us we stayed out late at night overly enjoying the party and having to get up at the crack of dawn to put our boots on and head to the telepherique- lift station.
We earned our extreme party rating points to say the least. Francois-Regis Thevenet was our guide so at least we didn't have to think too much of where we were going, and as usual once on skis everything got a little easier.
Jeff and I were ready and Camille and Bruno looked dressed to ski so we took our time heading into the mountains to have a good time skiing the magic of Chamonix, pulling off turns on classics in the Argentière Basin and dropping into the Aiguille du Midi north faces' Col du Plan.
Shooting
Flat light, windy, spiking temperatures all made it difficult for our guide and ourselves to know where to go. Bruno being Bruno, took the lead and skied like it was second nature, as he would after skiing for 25 years in Cham.
Of course when it was finally time to focus on skiing, the weather temps spiked and then became unpredictable. With flat light and tough conditions all around the Mont Blanc Massif, we pulled off some beautiful skiing, working up to the last minute. Jeff finished my voice over in the dark, packed his bags and flew out the next day.
I wanted him to stay and keep shooting, feeling like we didn't have enough material. To someone who doesn't know anything about Cham we wanted to paint a true picture, to choose the words that would tell the real story.
The Finished Product – Face of Winter
Well I made it out of there in once piece. Always something to be said, when you spend a few months in Chamonix. Sitting home alone in the middle of summer, the rough cut arrived in my inbox, and I tell you what, the team at Warren Miller Ent. had put together a work of art that not only hit straight to the heart, but brought a tear to my eye. The feeling, the images, the words they chose, hit this bird on the head and straight to home!
This film, Faces of Winter, #69 is a tribute to Warren Miller who passed away this past year. To be apart of this tribute to a man who brought so much to our lives and skiing, you can guess for the movie tour I had to pull out all the stops!
The Tour
A Warren Miller movie tour is something to behold. Four teams spread across the country for showings. The receptions of people ranged generations deep, from 90 yrs olds to 3 yrs olds. Seeing multiple generations of families come out to see the new Warren Miller show and get stoked on shredding is amazing.
Watching with them, I would be lying if I said it didn't stroke my ego. But the real beauty was meeting the kids who had that sparkle in their eyes. You know the ones the movie affected, and will also follow their dreams on skis, asking if we thought that they could also fly on skis?!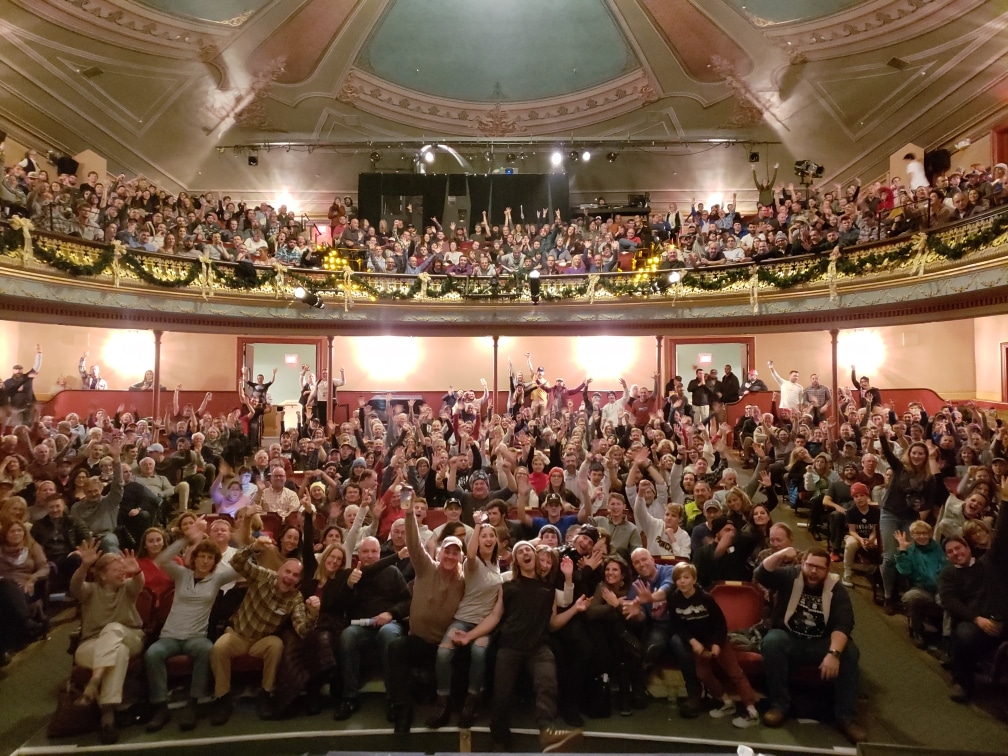 I did 25 shows from Seattle to Southern California and all the way to the East Coast where the wicked skiers go. There were many highlights to the tour, but one shining bright, was to visit Hermosa Beach, where Warren Miller surfed and grew up. There was a museum below the theater, where his old friends and daughter, Chris, gathered.
That I got to represent the man up on stage will forever be apart of my memory.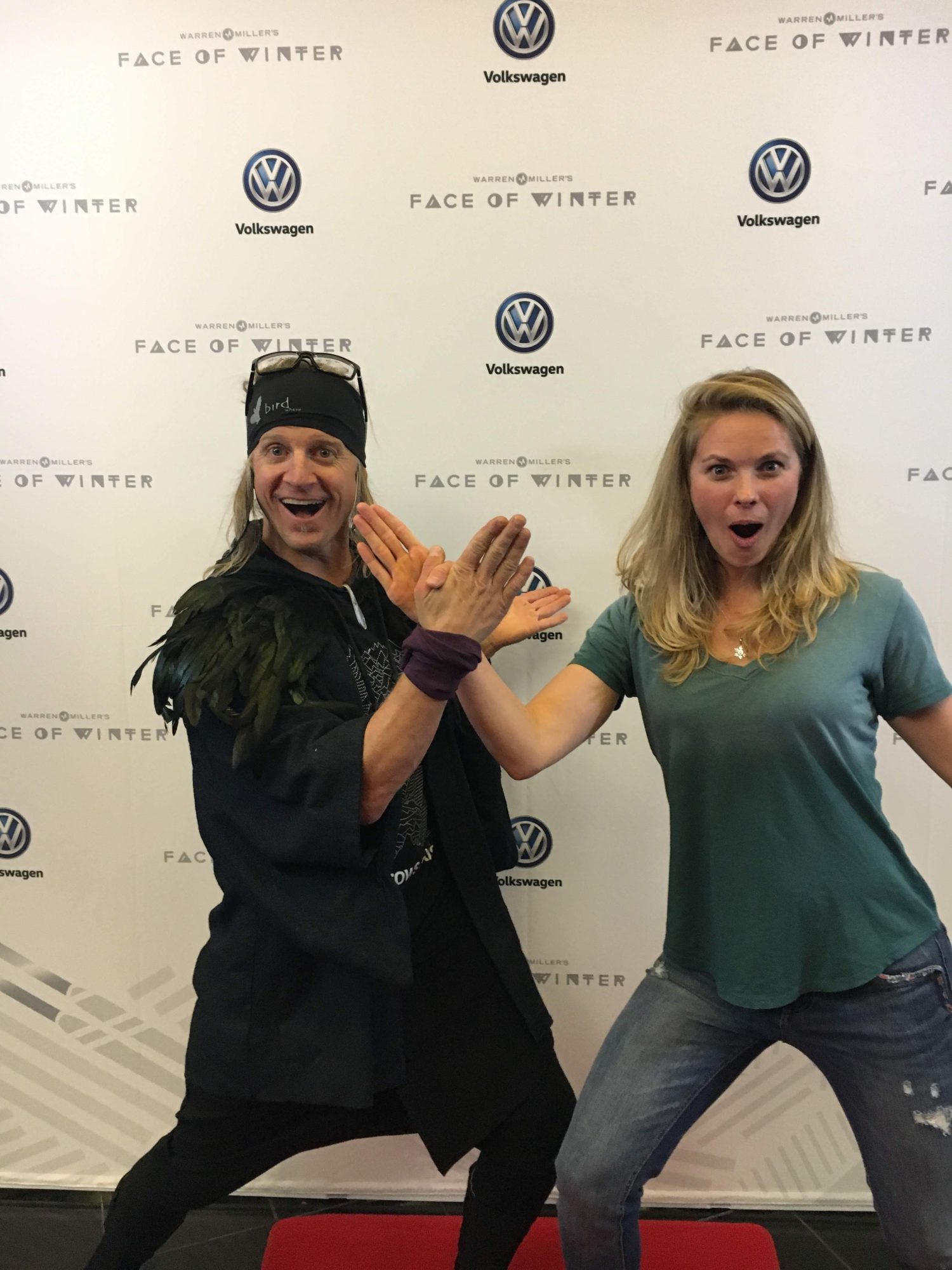 Our Cham segment story shone bright. Not just because of the beautiful scenes but I think because we told a real story that resonated with peoples feelings, bringing out the magic of the place where the Choug fly free.
OleWarren, you would be proud, and that we get to have a little part of the legacy you created, Mr Miller, I can't thank you enough.
Thanks Warren Miller, from the bottom of our hearts, you've changed our lives for the better.
Skiing, until death do us part.
Bird
Michael Shaffer