We've gathered 3 members of the blackcrows aristocracy around a virtual table to talk about our new object of desire, the mirus cor. The shaper behind this swallowtail ski, Julien Regnier, speaks to us from one of the brand's creative hotbeds, his studio in Brides-les-Bains. Kevin Guri, who enlisted into the blackcrows fleet 3 years ago joins us from his home in Les Menuires. Whether he's doing his freestyle, freeriding or the alpine skiing that formed him, he has very different vision of the mountain and how to ride it compared to Remco Kayser, the third and final guest. Remco lives in Geneva and is primarily a street and backcountry skier who hits the park if he has time. He came onto the fold last April with a refreshingly modern spirit if we may say so. Between them they provide a dreamlike picture of this very special ski.
blackcrows: Julien what did you want to do with this mirus cor, who is it aimed at and what does "cor" mean?
Julien Regnier: Cor is the name given to categories that strive to push certain disciplines forward a bit and change things up within the ski market. Avoiding at all costs ending up with a traditional product, which would inevitably subscribe to a certain segment. Every time blackcrows make a cor product it will be in this spirit, with a gamble involved. The mirus has already been well-received by skiers on the scene, which is a good thing even if we don't know exactly what it'll bring commercially.
I wanted to make something that follows on from the way I and skiers like Remco like to ski. I am too old to make it happen technically but I understand it, coming from a freestyle background. I also linked it to the habits of an older skier who loves to carve. So to combine all that, my own freestyle background and what I see the youth doing which is a bit more shred with a little less speed and smaller jumps, I wanted a ski that would carve really well, with an aggressive sidecut but a twin tip profile. I knew that I was going to use them mostly for carving, for pleasure, fun, maybe ski a bit in switch, but I could see that skiers like Remco could use them much more aggressively on kickers or what have you.
Remco can you identify with what Julien is saying?
Remco Kayser: Yes, I haven't skied the mirus that much yet but I've already managed to do some cool tricks and have visualised loads more. There's a real revival amongst the younger generation, searching for turns, dressing in nineties fashion, doing some carves in little quarter pipes…I think this ski is really interesting for jibbing as well, it's got pop, a little rocker I could do some real nose butters with, more so than with the camox for example, there's more flex toward the end… Even for the approach to rails, or potentially in the street, you can use a big carve to get into specific spots.
Julien: I think this ski can open up certain positions, certain kinds of edging into kickers to ultimately bring a bit of a different style.
Remco: I've got this street spot in mind where there's a little narrow ledge that turns really sharply onto a rail. I think that with a normal ski I wouldn't manage to set the edge and turn quick enough to stay on top but with the mirus I'll be able to turn really quickly before the rail. For butters they seem really cool, and responsive too, if there are several rails in quick succession you can quickly carve between the kickers for example.
Julien: The one downside is that it's not a complete freestyle ski: they're a little unstable when you go fast. I knew this though, it's not in their DNA, hitting a 25m table on them is not entirely recommended, if you land a bit sketch then you're done.
Kevin, your thoughts on this ski?
Kevin Guri: Obviously I don't have the same background as Remco, I would be more closer to Julien. Obviously, my background is in alpine skiing and freeriding with a bit of freestyle, but much less shred than Remco. What I loved about it was that I found a real slalom ski that's less dangerous than a real slalom ski, less responsive, so really fun to ski on. For me this is a resort ski, using the lifts when the snow isn't that good off-piste or when the park isn't great or when there are loads of things to shred…It's not a high-speed ski and you find that when you carve if you start to go at really high speeds on them you can soon feel it.
In what way is this ski similar to other swallowtail skis like the Line Blade for example, and what does the tail do?
Julien: Well, the swallowtail doesn't do anything. I actually can't stand the concept of a swallowtail having any use! There are certain shapes that are exceptions to this but I can't really understand any powder ski that has a swallowtail for example. It looks good and it's purely aesthetic on this ski, the swallowtail is really on the last 10-15 centimetres, really out of the rocker and onto the tail part of the ski so if you find yourself putting pressure on this part then you'll be on your back in no time. You could design a ski with a swallow on a flat tail and you could have a flex that would be stiffer when you are not on the edge, which is ultimately not very often, and when you get onto an edge you'd lose half of the flex. The brand Zaï did that on a full carbon ski and it was lovely but you can optimise a ski in a different way without going down such a complicated route that doesn't add much. But they are also aesthetic pieces. In any case, the answer is simple, it doesn't do anything, it doesn't add anything, it's pretty.
To go back to the comparison with the Line Blade, which is wider, everything is magnified, the Blade is more lumbering, heavier underfoot. It's not a responsive ski and doesn't have the panache or desire to perform like the mirus whose limits are only down to the fact it's also a freestyle ski but then you have something that you can attack with, something more aerial.
Remco and Kevin, how does it differ from your normal skis?
Remco: In the blackcrows range, this mirus will definitely be the ski which I use for things I consider "current" in the park: swerving, more butters, and then some nice turns into transitions, everything that's a bit "90s snowboarding". The swallowtail, as Julien said, doesn't serve much purpose but looks cool in pictures. You can crop a big turn in a quarter, slashing the top of a quarter with a swallowtail would make for a cool shot.
Kevin: obviously the aesthetic aspect gives it a little bit more soul. For me, this ski is for days when I want to chill out a bit. That's why I wouldn't take the serpo that day, just to go and do some turns with a relaxed approach and have some fun shredding. I don't have such a high level in this type of skiing but this is a ski that'll help me to improve.  It's destined for a much broader audience I think.
Julien, has the mirus become part of your quiver, like the convertible you take out on a Sunday?
Julien: I think there are already enough all-round skis at blackcrows. I obviously wanted a particular ski, something really precise. As I said, at high speed, yes, you reach its limits and it's a nicer ride at lower speeds so you have to ski it like that. With a serpo or a camox you can have fun at low speeds as well as high speeds: these guys will allow you to ski at a wider range of speeds, more varied terrain and do more stuff. But with the mirus you'll do everything that is low speed, small turns, little jibs, you can find different angles, a different approach. There's less of a broad scope overall but this is not a drawback at all. Because frankly, you could spend a whole season on them and not reach the end. If you are not a powder skier or don't want to go so fast or if you are good on the piste at just doing short turns, for example, I know skiers who only have one pair of slaloms and they are happy. We talk about quivers because we do everything, we ski a lot and in a wide range so yes, we need several pairs of skis. And of course, our all-round pairs of skis will want to do more stuff than the mirus but many people will be good on the mirus all year long.
To finish with a couple of words, what will you use this ski for?
Kevin: for me it's THE ski for all those nice and chilled resort days when there aren't so many other things to do and to train your thighs early season.
Remco: I would love to do a video with a really fast 90s breakbeat featuring me carving really hard.
Julien: It's a cool ski. You really have to own it though, some people don't want to have UFOs on their feet. But in the chairlift queue, it's beautiful, it's different and you'll want to take them out for that reason if nothing else.
come & meet Julien Regnier, blackcrows shaper since 2009 at Paris nest.
Rendez-vous on November 20, 2021 at 12pm #savethedate on Facebook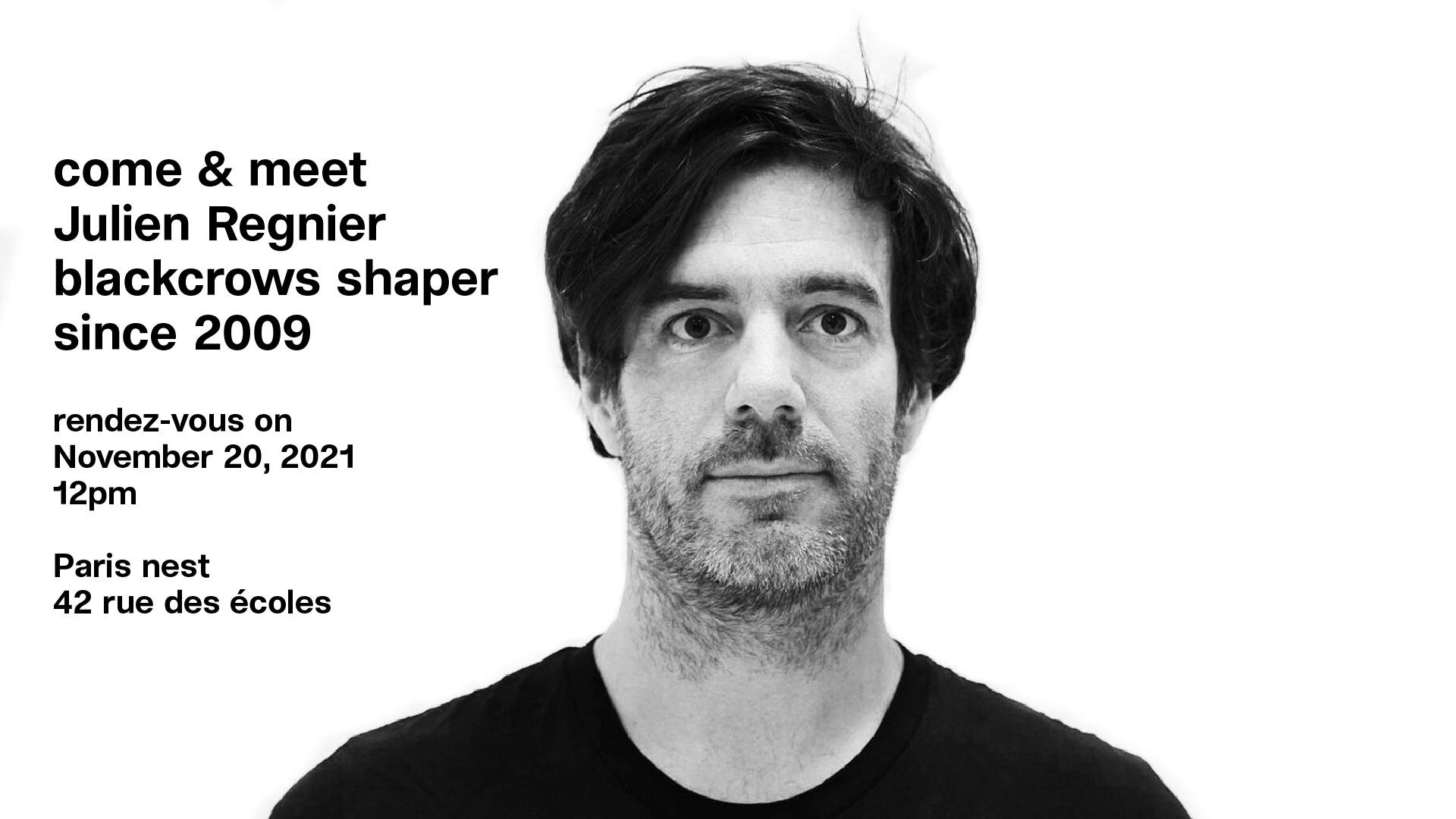 interview made by Mathieu Ros